Malta Airport Transfers
The Simplest And Best Way To Get To Your Destination
Now you have landed at the airport. What is the next step? How do you get to your destination?
There are a number of Malta airport transfers from which you can choose. Either a personalized transfer or a shuttle service sharing the trip with others. For us the best of all is a private chauffeured car. We at Malta Info Guide have used it very often and it is absolutely great and it is our top recommendation.
Disclaimer: We have affiliate links on this website where we receive a small commission at no extra cost to you.
1. A Shuttle Service for Arrivals or Departures

It is good to pre-arrange a shuttle service to meet you at the airport. It is cheaper than a taxi.
It is great to save money if you are one or two persons. It will be ideal to book your transfer on line, no worries for later when you arrive and especially if you will need Euros to pay for the service. The shuttle will also be carrying other passengers and the driver speaks English. This link leads you to the booking of this service.
Shuttle from the airport to your destination. This shuttle had many positive feedback reviews.  
Shuttle from your accommodation to Malta International Airport. The same shuttle goes back the same way. Press the link below to book your shuttle to get you from your hotel (accommodation) to MIA.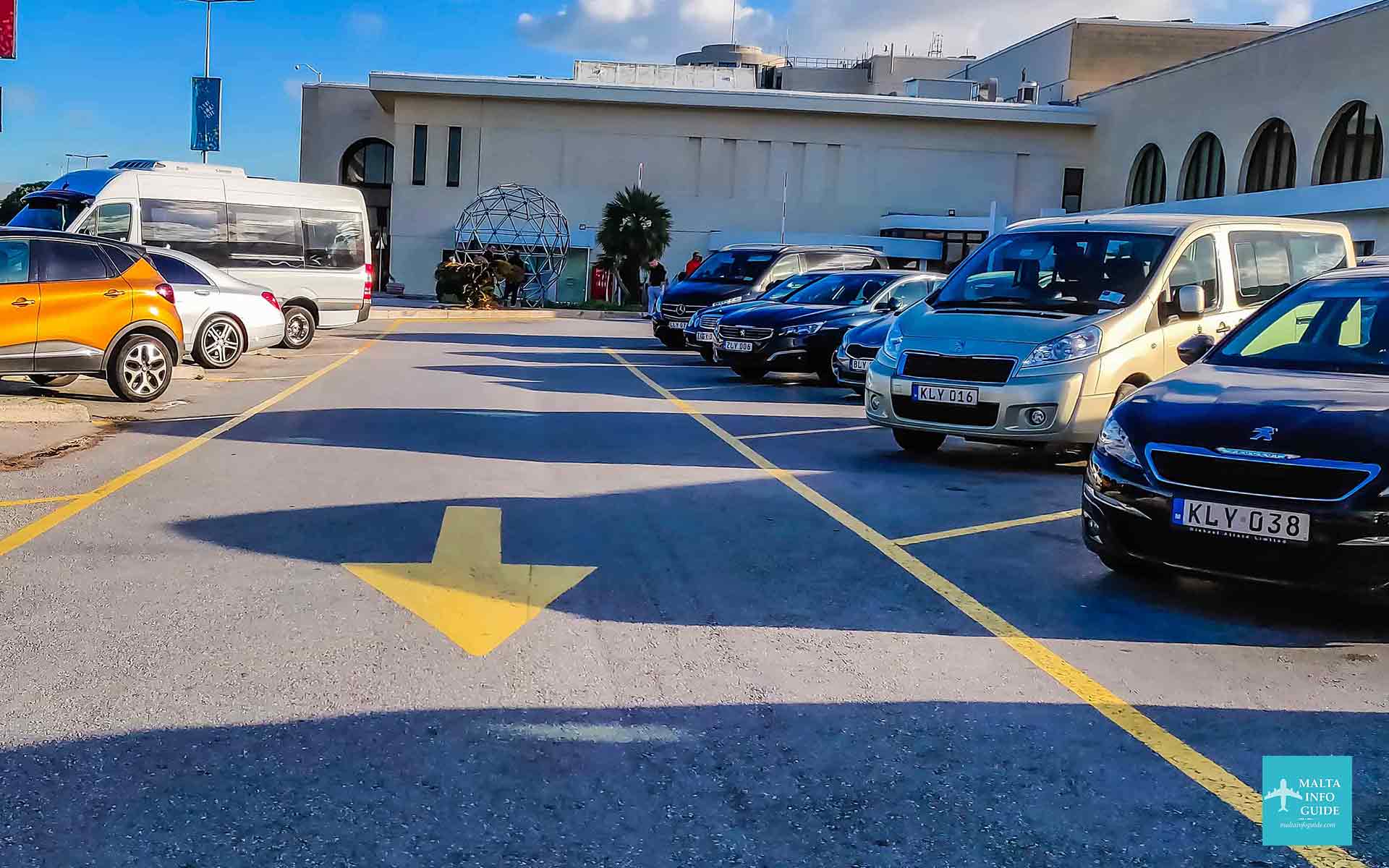 2. Private Transfers for Arrivals or Departures

A private transfer directly to your accommodation. If you are more than one person up to three the cost of a private transfer will cost you less when you consider the cost divided by the number of passengers. The driver will meet you at the arrival lounge and will take you just two minutes walk out of the terminal.
To fly back home the driver will pick you up and will drive you to the airport with enough time to check your luggage in. When making your booking it is important to enter all your details correctly.
3. Private Family Group Transfers for Arrivals or Departures

What is best a taxi or a Van Service?

If you are a group of 4 or more and you have lots of luggage, it will be worthed to pre-arrange a private shuttle van. You will be met at the arrivals terminal and picked up with your minds at rest and it is all organised from beforehand. It is a service that is very frequently used by many passengers.
Book your private group Shuttle service through these links.
4. A Cheap Alternative to your Accommodation or Airport

Take a Public Transport Bus and buy your ticket from within the arrivals lounge area on your exit from the baggage lounge. It is the cheapest way to get to your destination.
You will have to handle your own luggage on the bus and on arrival at your accommodation. You have to walk to the bus stops from where the route bus passes. This takes much more time as the bus goes round various tourist accommodation areas. You need to plan substantial amount of time for this service. See further details on this service where we provide a list of hotels that are close to the various stops along the bus route.
If to include that this services will take around one or two hours.
Approximate Travel Time with Direct Transfers

During the day from Malta International Airport:
To Sliema, Gzira: 30 - 35 minutes
To San Gwann and Kappara: 15 - 20 minutes
To St. Julian's, Paceville, Swieqi, Ibragg, St. George's Bay area: 20 - 25 minutes
To St. Paul's Bay, Bugibba and Qawra and Xemxija: 40 - 45 minutes
To Mellieha and Cirkewwa, Golden bay: 45 - 50 minutes
To Marsascala: 20 - 25 minutes
During the night from the airport:
To Sliema, Gzira: 15 - 20 minutes
To San Gwann and Kappara: 10 minutes
To St. Julian's, Paceville, Swieqi, Ibragg, St. George's Bay area: 15 minutes
To St. Paul's Bay, Bugibba and Qawra and Xemxija: 25 minutes
To Mellieha and Cirkewwa, Golden bay: 30 minutes
To Marsascala: 15 minutes