tips for renting a car in malta in 2023
everything you need to know
Renting a car in Malta and Gozo is ideal if you intend to visit many places in your holiday. Even though our island is small, you will still need a car to travel distances. We are sharing the best tips so that you know what to expect when you arrive.
looking into a malta car rental
You've come to the right place as we live in Malta and we are going to walk you through why you should rent a car and if it is worth it. By the end of this article, you are going to feel confident about the entire Mexico rental procedure and also have useful tips on driving a car in Malta.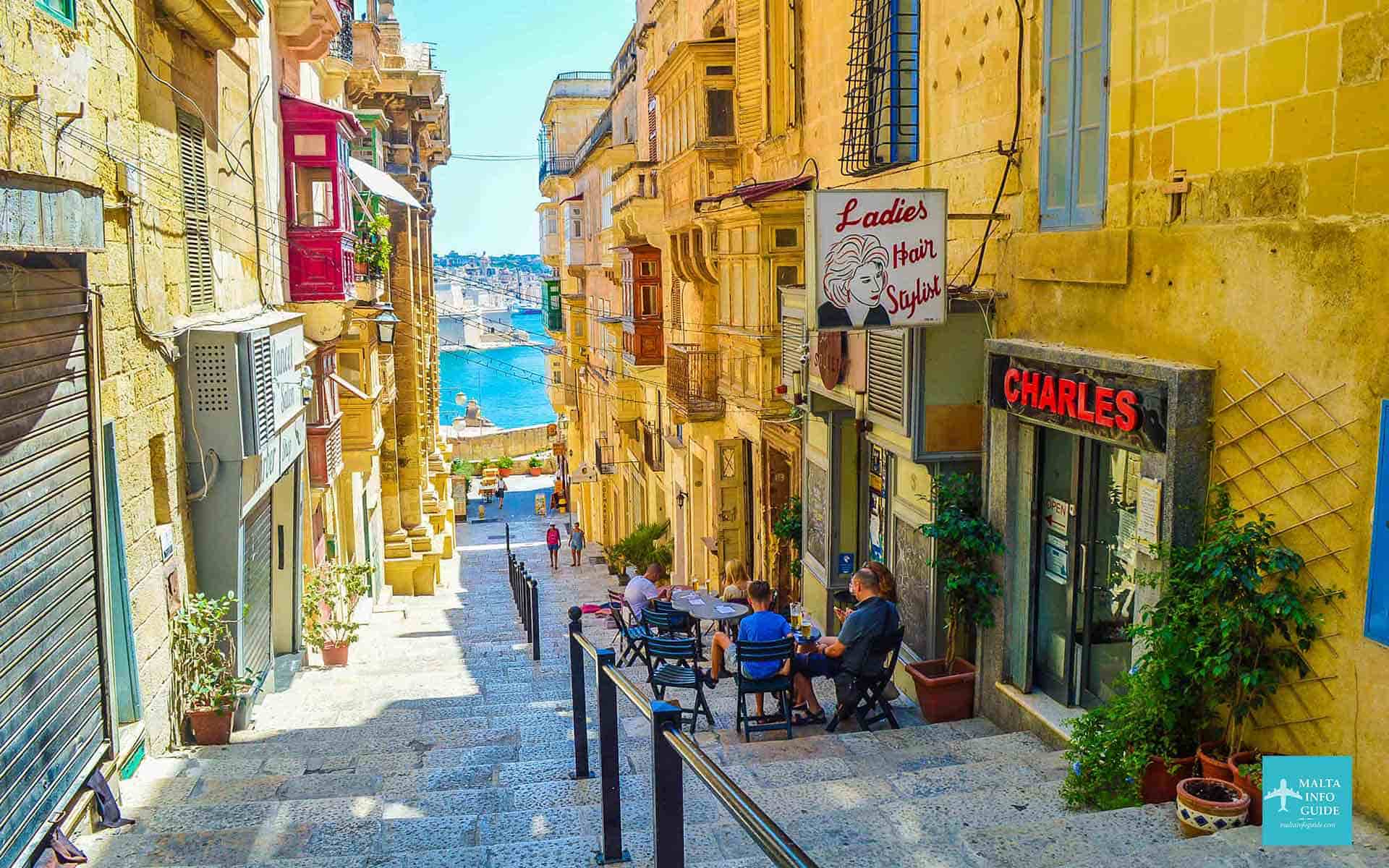 St. Lucy Street Valletta
Disclaimer: On our website, you will find affiliate links from which we receive a small commission.
An overall view of driving in Malta
The islands are full of surprises. An intriguing history, crammed with natural beauty spots, beautiful architecture. With a rented car you will have the freedom to explore as much as you can. The main island of Malta is small enough to drive from one point to the other in around one hour.
You can focus on a route where you can stop on the way and see a variety of interesting cultural attractions like quiet villages, the Hypogeum, crafts village, the old capital Mdina and the farthest north of Mellieha from where you see the other islands of Comino and Gozo.
we recommend and use discover cars

When we rent a car, we always use Discover Cars. They offer exceptionally low prices and offer a variety of vehicles for rent. For a small amount of €7 per day you can opt for a full coverage insurance. Book Now
1. why rent a car in malta
Renting a car helps you get more out of your holiday. The islands of Malta and Gozo have the benefit of being small. You can switch from activity to another in a short time. It is the best way to see as much as possible. You will have the freedom to explore at your own pace the many beautiful places the islands offer.
2. What car is best to rent? Small or big
The size of car to rent depends on the number you will be holidaying together. You have to think of the items you will be carrying during your stay. Like going to the beach and the things you need for your children and yourself.
In which month of the your you are thinking of visiting us. It is good to have a look at our weather pages for each individual month where we give a variety of suggestion to help you plan.
3. driving age
To drive on our roads, you must be 18 years of age any sort of vehicle including motorbikes, mopeds and quadbikes. Drivers must remember to carry with them a valid driver's license, registration documents and insurance documents.
4. renting age
In Malta to rent a car you must be over 18 years old and have already held your driving license for at least two years. To rent a car, the age limit depends on the company.
With Discover Cars the recommended age is between 30 to 65 years. If you are not within that age gap, you must check the rental conditions as there might be applicable charges.
5. Which side do we drive on the road
On both islands we drive on the left hand-side as in the United Kingdom and other few countries that were British colonies. It is good to note that all our cars are right-hand drive which might be a bit tricky as a start.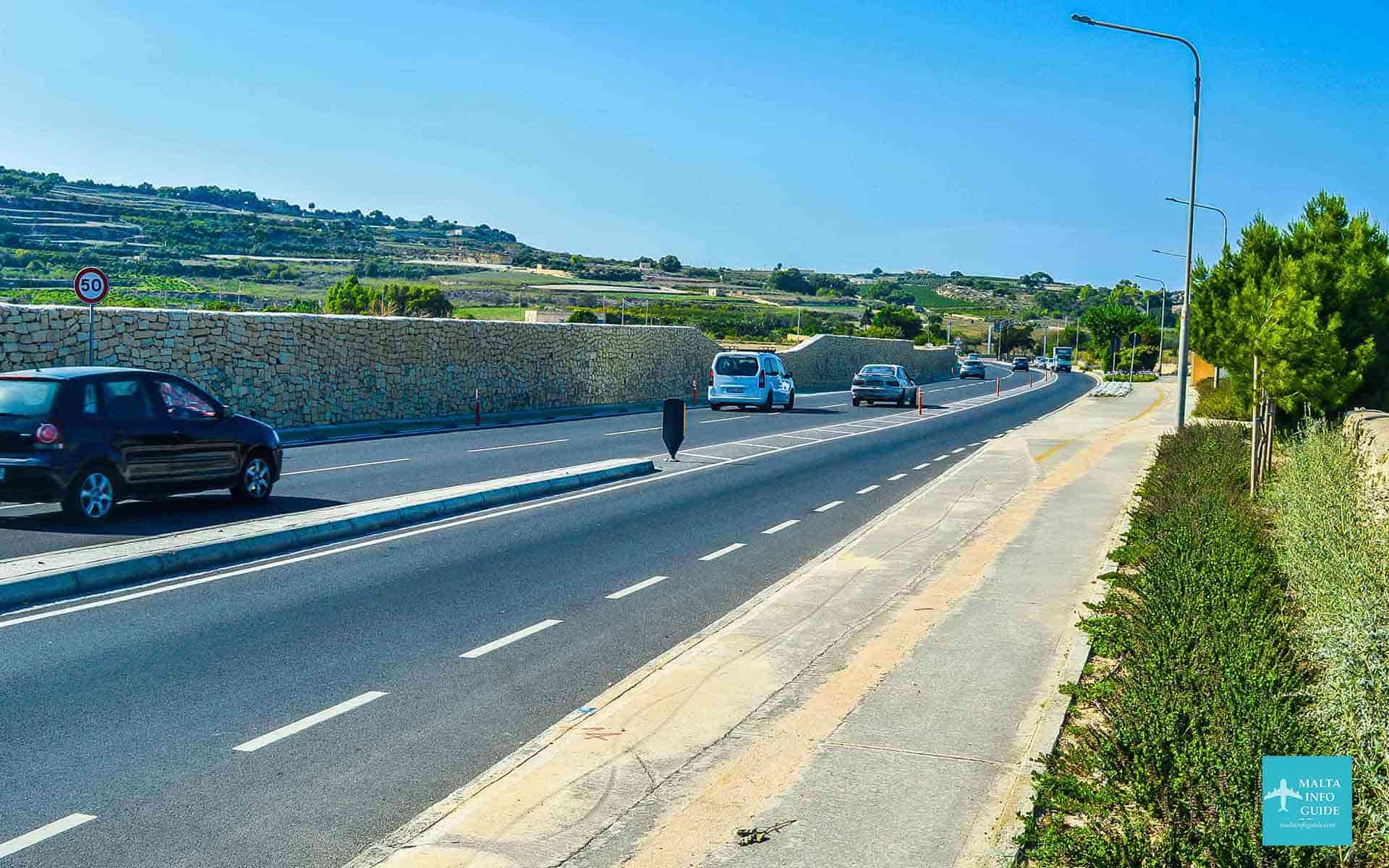 The main road leading to Mosta and other villages
6. speed limits
In all built-up areas the speed is limited to 50 Km/h or 31 mph. On main roads it is between 60km/h to 80km/h (37 mph to 50 mph). Today the main roads are marked with speed signs.
7. Car rental insurance malta
If you intend to rent a car, it is a must to have insurance. Most companies already have a basic insurance with the initial price, but there is an optional package at an extra cost that will cover you further in case of any damages or loses.
The extra insurance is very cheap so it is not worth taking the risk. The insurance will be automatically selected when you view the car on Discover Cars. If you wish not to take the insurance you will need to select 'No'.
8. pedestrians crossing roads
Renting A Car In Malta
Due to the small size of the island many people have to cross roads even without any zebra crossings or traffic lights. Be aware of your surroundings.
9. book your rental car
When we as a family went abroad for a holiday, we always booked our rented car some months before our departure date. We like to think and plan properly. We like to be well prepared and thought of the details in order to make our stay the best we can. Use Discover Cars to get the best deal on your car.
10. road conditions
The road conditions have improved drastically during the last 35 years. All main roads are today completely reconstructed with proper signage, lines, and safety requirements. There are still several other roads where you feel the unevenness of the surface.
11. Parking in Malta
Parking in not easy due to the excessive number of cars being imported every year. If you plan to visit certain locations you must plan ahead to find parking but in certain location it will be easy. Best to ask when you are here, ask the locals for advice where you intend to visit.
12. How the Maltese drive
The Maltese have a way of driving. A percentage of drivers lack respect due to selfishness, pretending they are alone on the road. For many others they are very cautious seeing what the other will do.
Overall, it is a matter of being careful and acquainted with how others drive. You will notice that there are thousands of foreigners who drive on our roads both for works or on holiday.
13. Traffic in Malta
Malta is small, but has quite a big population of around 516,000 as of 2020. Car numbers has exceeded 400,586 according to the Times of Malta. 
Though the local government has embarked to upgrade the quality and number of roads drastically to improve the availability of movement. According to statistics, Malta has one of the highest number of cars per capita in the European Union.
14. Re-fueling your car
Renting A Car In Malta
With 69 petrol station on both islands, nowhere is far to refuel your car. Available are petrol (gasoline), diesel and unleaded.
Not all would provide the following from LPG (liquid gas), CNG fuel (natural gas), high-performance fuel (boost fuel), e-power and e-diesel fuel, racing and marine fuel.
15. Tolls
No tolls are found on both the island of Malta and Gozo.
16. Taking the rental car to Gozo
Crossing with a rental or private car to the island of Gozo is completely possible. A ferry service is available 24/7 where any sizes of vehicles can board the ferry which take 25 minutes. Have a look at the ferry vehicle charges and for passengers.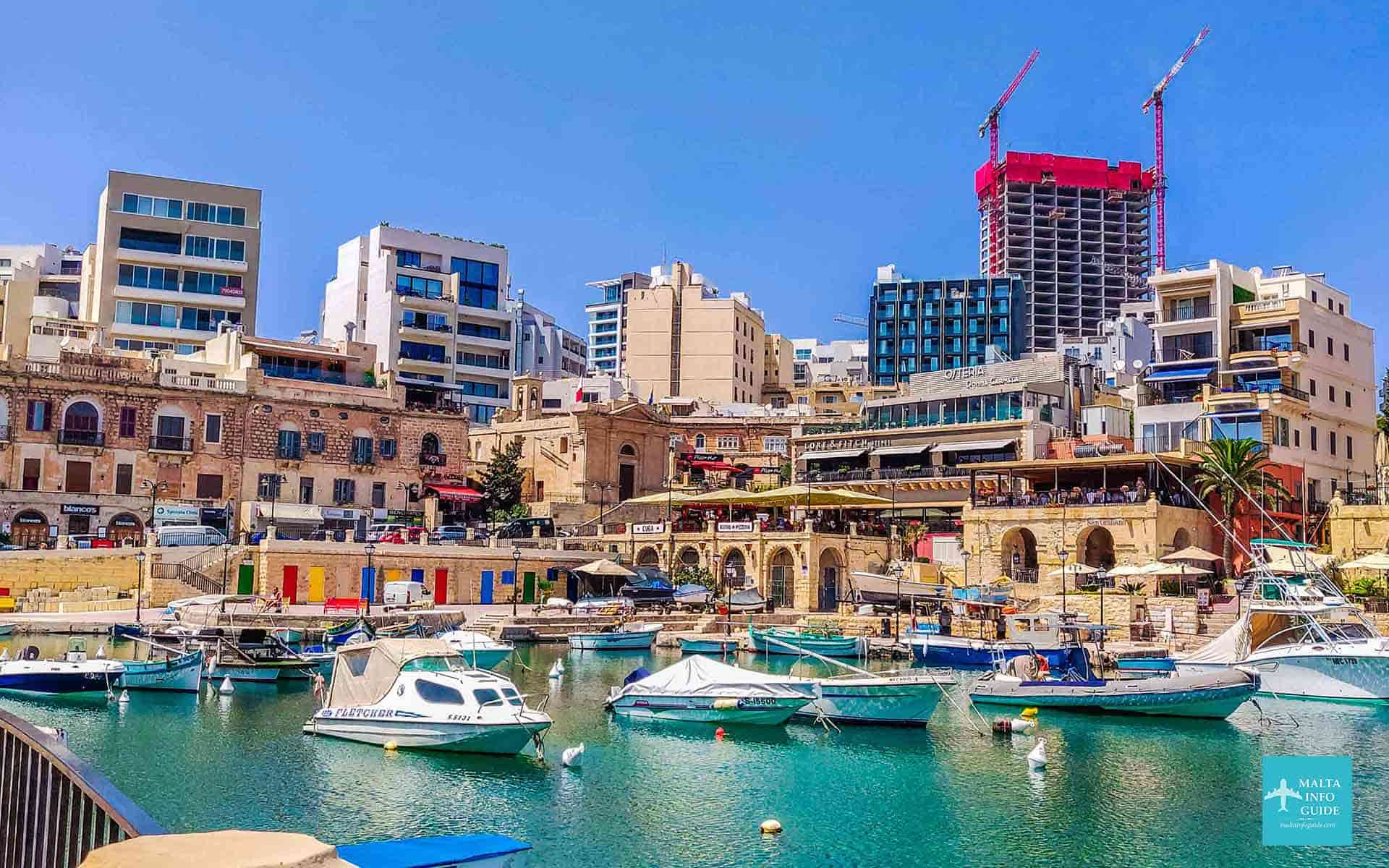 St. Julians Village
17. The roads in Gozo
They are exactly the same as in Malta. All main roads have been redone through EU and local funding. Locations are very close to each other. Local public transport is very efficient but a car can be very comfortable to switch from one place to another in a very short time.
18. Car seats for children and Seat Belts
Renting A Car In Malta
In Malta, as in all other European Countries, the use of seat belts and child restraint systems are compulsory. Children under the age of 3 years cannot travel in cars that are not equipped with safety systems.
Then children between 3 to 12 years of age must be controlled by a child restraint system according to the child's weight. Here is the official document from Transport Malta.

19. Where can't you visit with a car
On the island of Comino, where you find the very popular Blue Lagoon, there are no tarmacked roads. The few country roads are used by the local hotel and the only two residents of the island.
It can be reached by a small ferry boats and through cruises organized almost all year round depending on weather conditions.
20. Speed cameras
Speed cameras are spread on the main roads, mostly in areas of over speeding. See our page with details of locations and speeds permitted. On the island of Gozo there are no speed cameras.
21. Weather in Malta for driving
The rainy season is spreads between September to April. The winter coldest months area January and February. Worst rainy months November to January.
There are some areas which still experience flooding due to their low-lying areas or lack of drain system where they get flooded quickly. Generically all roads are safe. Malta does not register any snow so no snow chains are needed on your vehicles. Hail is not a rarity but not frequent.
want to rent a car in malta?
We have used Discover Cars every time we rented a car. We highly recommend them due to their good service and good prices.
Get The Best Rates On Your Car Rental Now!
need to book a hotel for your malta visit?
Using Booking.com, enter your travel dates and number of occupants then rates will be available for hotels and apartments during your visit to Malta 
Book Your Hotel In Malta on Booking.com for the Best Rates!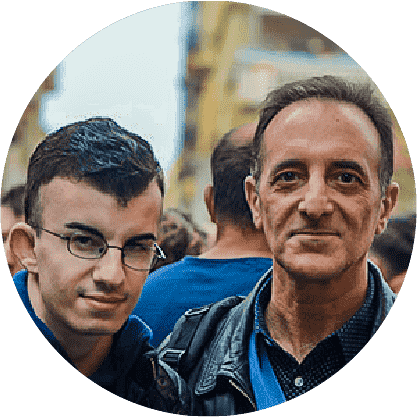 By Albert and Benjamin Magro