Weather in Malta in January
Weather in Malta in January

The Cold Is With Us And Short Days
The weather in Malta in January is cold, but it is also sunny. Still it is pleasant to come during this time of the year. Tourists are much less during the winter months. You will have better quality time to see many attractions and with fewer queues.
Disclaimer: On our website, you will find affiliate links from which we receive a small commission.
It is usually the coldest month of the year, rain, but there could be sunny days too. Wind is another aspect and could be grigal too, meaning bad weather. On the other hand you see tourists in t-shirts and shorts or light clothing. At the same time it can be a very beautiful sunny day.
Malta's climate in January will definitely be preferable to the UK's, making it an ideal winter sun holiday location.
Malta In January – A Quick Glance
Weather In Malta In January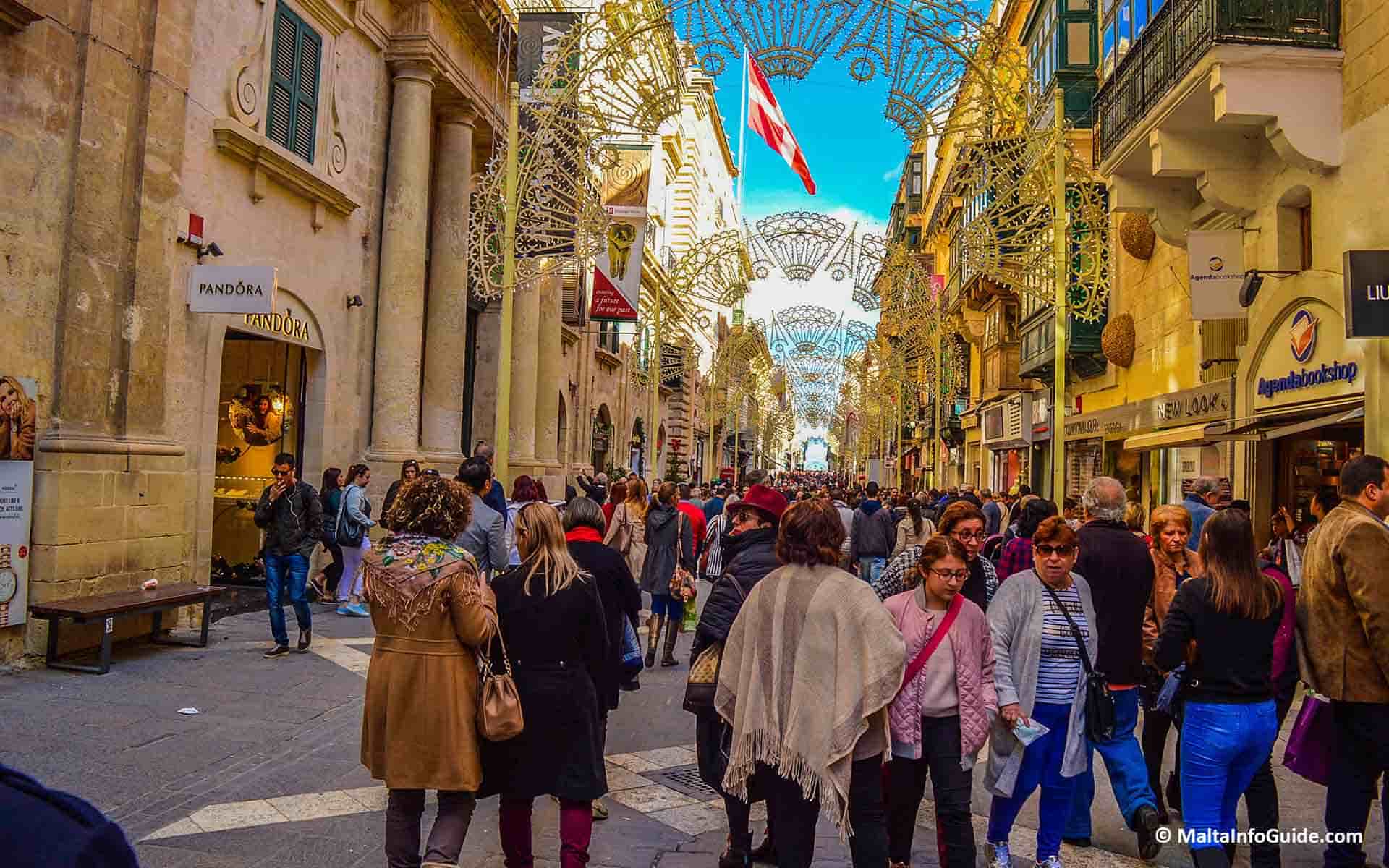 Statistics For January
Weather In Malta In January
Highest recorded 23.6°C (74.5°F) - 9th January 2021
Lowest recorded 1.4°C (34.5°F) - 29th January 1981
Daily Average: Highest 16°C (61°F) | Lowest 10°C (51°F)
Daily Hours of Sunshine 5.5
UV Index 1 to 2
Rainfall 95mm (4")
Malta Weather Compared to European Countries

Austria 1°C | 34°F
Belgium 3°C | 37°F
France 4°C | 39°F
Germany 1°C | 34°F
Ireland 10°C | 50°F
Italy 7°C | 47°F
Netherlands 3°C | 37°F
Poland 2°C | 36°F
Sweden -15°C | 5°F
Spain 9°C | 48°F
Switzerland -1°C | 30°F
United kingdom 5°C | 41°F
is january the best time to visit malta?
January is a wonderful month to visit Malta. It is a low touristic season but the weather is very cold. This month is perfect for indoor activities such as visiting museums, the aquarium, temples and other historical attractions around the island. It depends what you wish to do and the purpose of your visit.

What Should I Wear & Pack?
Weather In Malta In January
The general advice is to dress layer, layer and upon layer. This means jumpers, cardigans, sweaters and knitted tops which will make you warm. This all depends on what type of person you are but proper clothing for the winter period is recommended.
A raincoat, water/wind proof jacket or umbrella is recommended as it will rain during this month. Sometimes umbrellas can be pointless as the wind can be very strong and might end up with a broken umbrella.
Trousers are preferred than shorts, even for women depending how much you feel cold. Long skirts to the ankle are ideal but trousers you feel warm and comfortable. 
Closed shoes or running shoes are better to keep your feet dry and warm. If you intend to explore and walk around Malta, it is better. It is not the time for sandles, as you will probably not go for sunbathing on the sandy beach apart if you wish to stroll around. If you intend walking in the country side, always use closed shoes, or sneakers.
Sandles and flip-flops are useful for when staying at your accommodation, and there is an indoor pool. We do not recommend swimming in the open sea due to being cold and rough and will be dangerous especially if you do not know the area.
Hiring A Car? Check The Best Rates
Looking to hire a car for your holiday? Check Discover Cars for rates.
Things To Do in Malta in Winter during January
Weather In Malta In January
With everywhere looking green, country walks are one of the most enjoyed activities. Lovely open spaces and walk around. Enjoy the versatility of the Maltese countryside.
Picnics in the countryside are ideal away from any busy streets. Plenty of places especially in the areas of Rabat, Dingli Cliffs, Buskett gardens and Pembroke.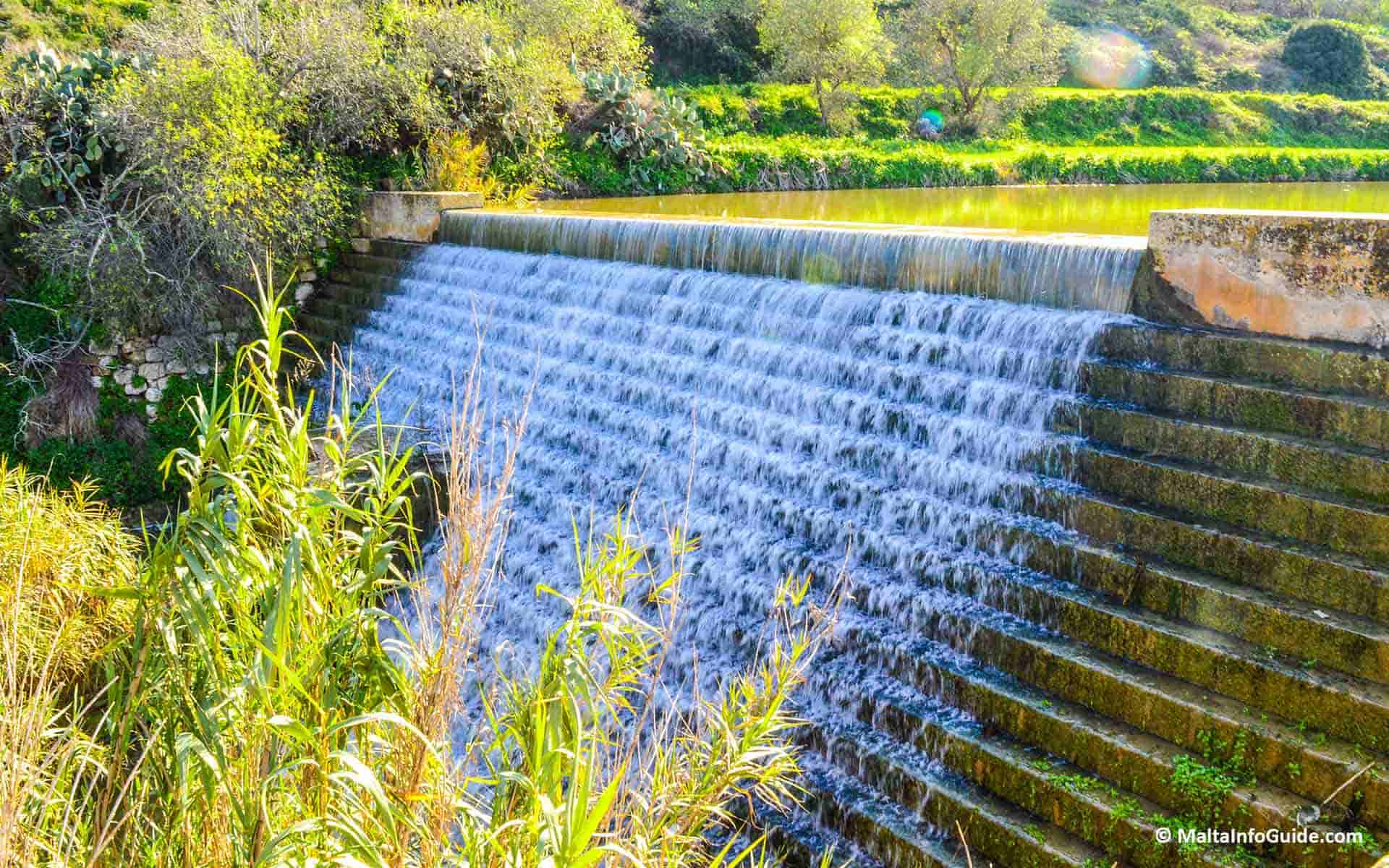 Take a day trip on the Hop-op-Hop-off, either the north or south route. You get to see Malta's top touristic destinations and also visit historical museums on the way.
With village feasts happening all year round, during the month of January there are only a couple of feasts.
Enjoy the sunset at Dingli Cliffs, Golden Bay beach or the surrounding areas along the coast.
Enjoy the In Guardia parade at Fort St. Elmo.
During the month of January you find several activities to attend.
If you decide to go for a swim, the sea is too cold but there are brave ones who take the plunge. If you wish to go for a swim, you can always check with your hotel if they have an indoor pool or go for a day at another hotel.
Check Hotels In Malta Rates For This Month
Find good rates about hotels in Malta from Booking.com.
Tours To Take In Malta In January
Weather In Malta In January
Quick January Weather Malta Thoughts
Weather In Malta In January
January is considered the coldest month of the year. Thick clothing to keep warm is essential. During your vacations you will most likely encounter one sunny day.
You must go for a walk in the countryside or along the promenade. The weather is cold, but you will enjoy the sun.
The weather during December or February is similar to that of January. The weather changes from day to day, but in terms of clothing and what to bring with you is similar.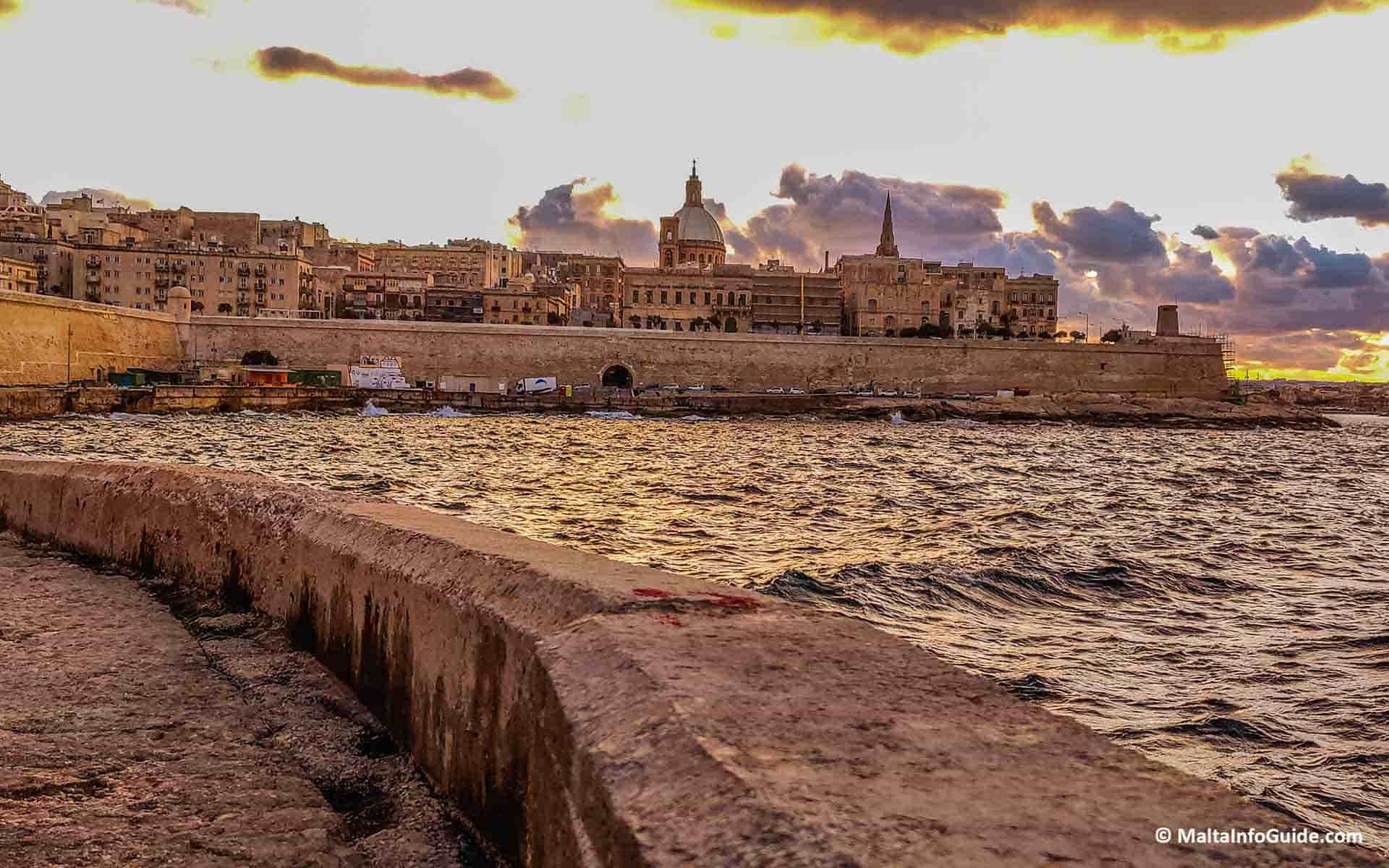 Can we expect snow? No, it does not snow in Malta, but if you encounter lots of hail, Malta will look like a winter wonderland for a couple of hours. If you compare Malta to the rest of Europe, the weather here is quite mild.
Serious bad weather is not common in Malta but it is expected. Windy days are quite popular and hence the temperature will reduce quite a bit. During the evening, the humidity is high.
The sea temperature is around 16°C. It is not ideal for swimming as it is cold. There are some brave ones but very few. The sea might be rough, so we recommend swimming at the many indoor pools hosted by the hotels.
If this type of weather is not what you are looking for and you wish to come to Malta when the climate is warmer but not too hot, we recommend coming in April or May.
Want To Share This Page On Pinterest? Pin It Here!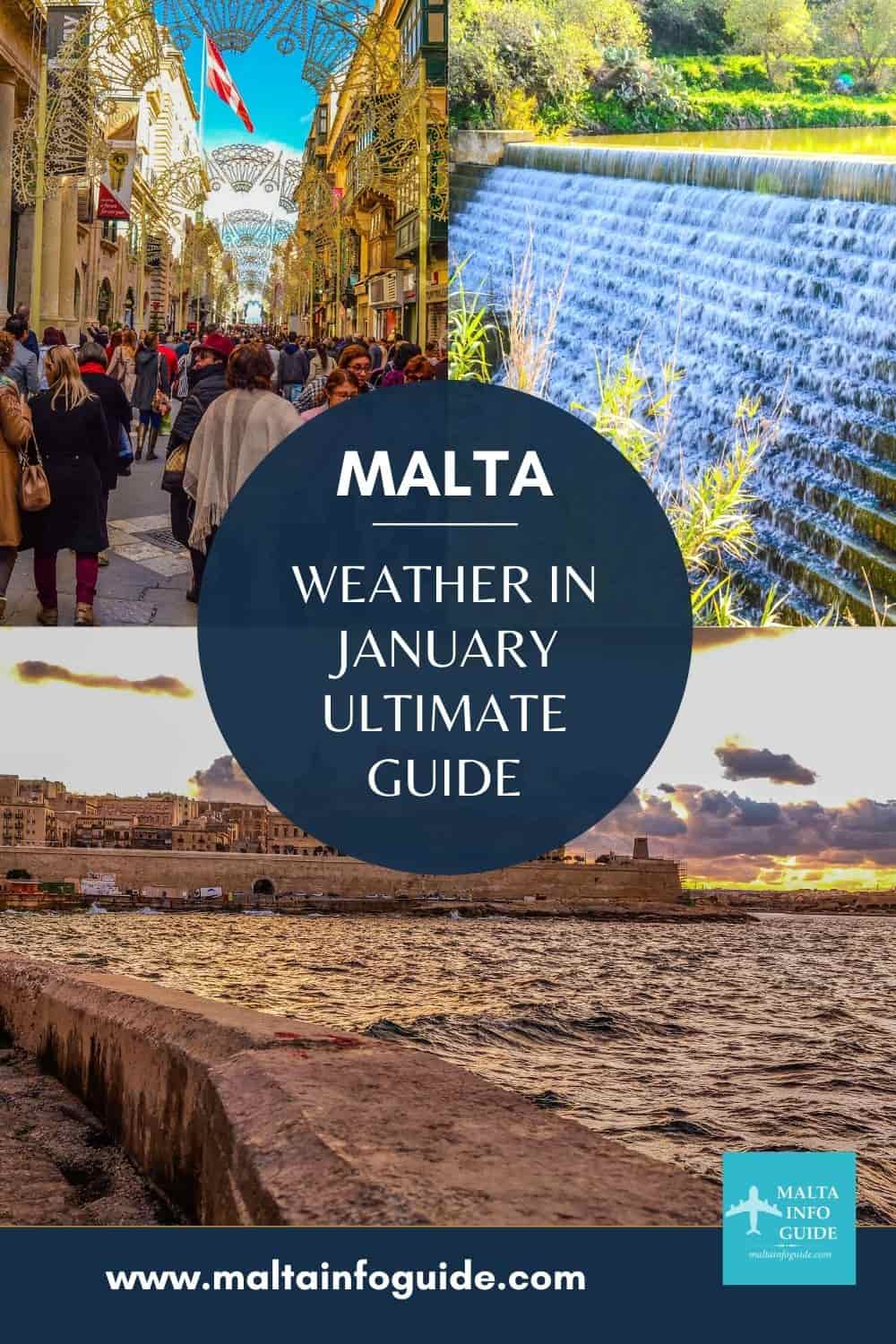 want to rent a car in malta?
We have used Discover Cars every time we rented a car. We highly recommend them due to their good service and good prices.
Get The Best Rates On Your Car Rental Now!
need to book a hotel for your malta visit?
Using Booking.com, enter your travel dates and number of occupants then rates will be available for hotels and apartments during your visit to Malta 
Book Your Hotel In Malta on Booking.com for the Best Rates!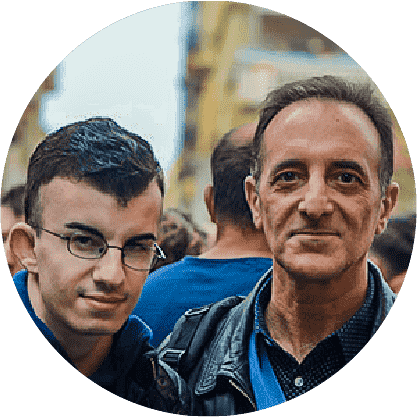 By Albert and Benjamin Magro