Weather in Malta in September
Weather in Malta in September

Beautiful To Swim To Cool Down - But Humid
The weather in Malta in September is very hot at this time. A great time to be in Malta! Long days, sunbathing, long hot evenings, cruises. The ideal time for your summer holiday with shorts, t-shirts, sandals or flipflops.

Disclaimer: On our website, you will find affiliate links from which we receive a small commission.
A Glance Of What To Expect During This Month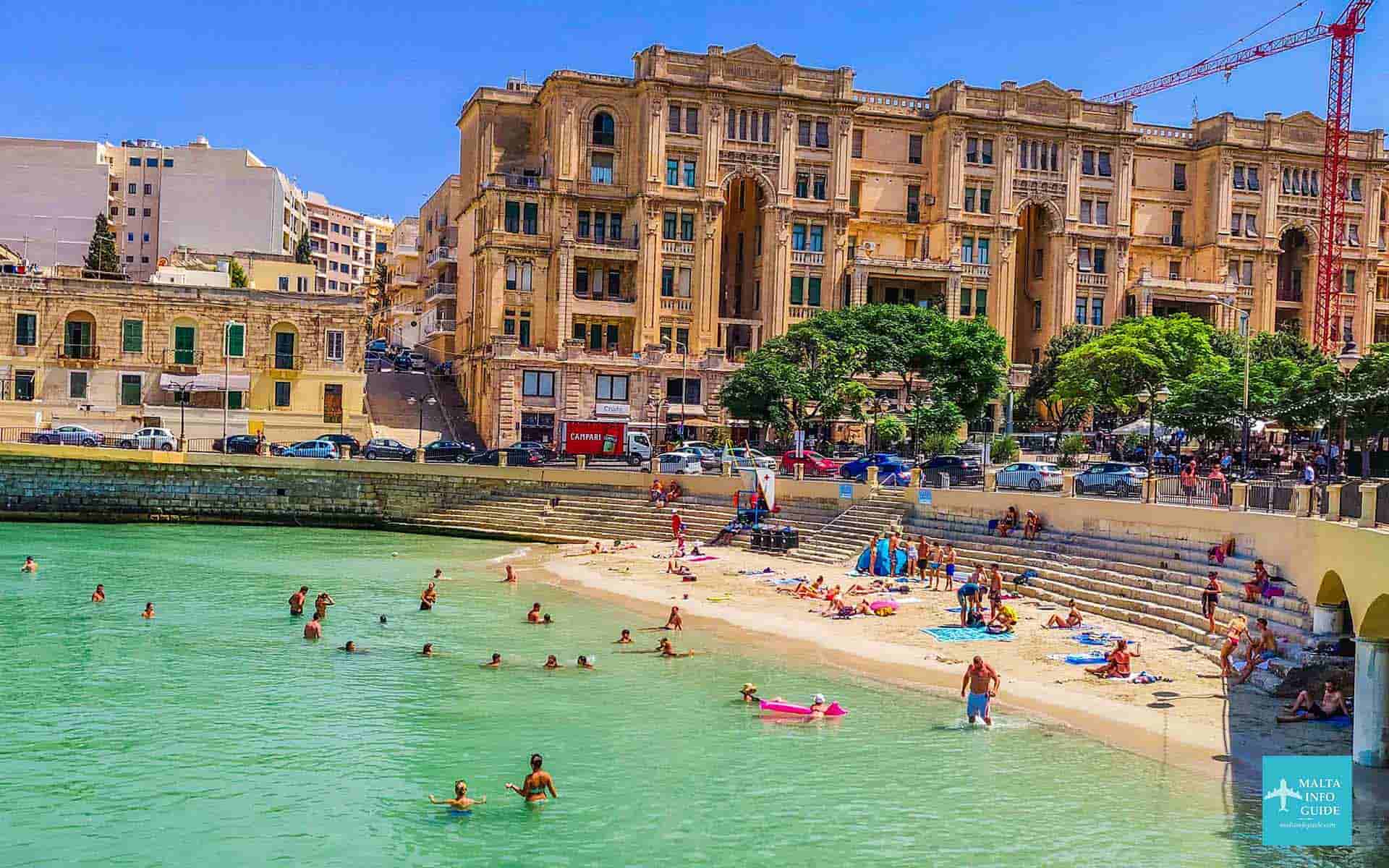 Statistics For Weather In Malta This Month
Weather In Malta In September
Highest Recorded 39°C (103°F) | Lowest Recorded 15°C (60°F)
Daily Average: Highest 29°C (83°F) | Lowest 22°C (97°F)
Daylight Hours of Sunshine 9.0
UV Index 6 to 7
Rainfall 65mm (2.56")
Malta Weather Compared to European Countries

Austria: 16°C | 61°F
Belgium 15°C | 59°F
France 16°C | 61°F
Germany 15°C | 59°F
Ireland 13°C | 55°F
Italy 21°C | 70°F
Netherlands 15°C | 59°F
Poland 13°C |  55°F
Sweden 4°C | 41°F
Spain 21°C | 70°F
Switzerland 14°C | 57°F
United kingdom 15°C | 59°F
Is September The Best Time To Come To Malta?
Well September is typically the end of tourist season as summer starts to come to an end. The weather during this time is up and down. It can be beautiful one day and on another day it can be a stormy day normally stretching for a couple of days. If you are looking for a time when the island will be quieter and the weather is still good, than now is the time.
What Should I Pack & Wear?
Weather In Malta In September
You need only summer clothes. Good clothes changes to get you by your holiday. If you sweat a lot bring extra changes. Humidity at this time of the year is high.
For the beach you will need swim wear, flip-flops, sunglasses, a hat and a beach umbrella if you intend to stay many hours sunbathing alternating from direct sunlight to a cover. Mind you under an umbrella you will still get a moderate tan and so sunscreen should still be applied.
You do not need any cardigans or jackets, use light weight natural fabrics. More important to have a hat, wear plenty of sunscreen.
Hiring A Car? Check The Best Rates
Looking to hire a car for your holiday? Check Discover Cars for rates.
Things To Do In Malta During September
Weather In Malta In September
September is still beautiful for swimming. Unless there are no storms the temperatures are better and staying at the beach is even nicer.
The beaches at this time start to be less frequented and so can be more enjoyable. Visit the sandy beaches of Paradise Bay, Golden Bay, Ghadira Bay. Rocky coastline of St. Thomas Bay, Zonqor Point.
Enjoy a Maltese folklore nights at the open air Limestone Heritage Park and Gardens at Siggiewi.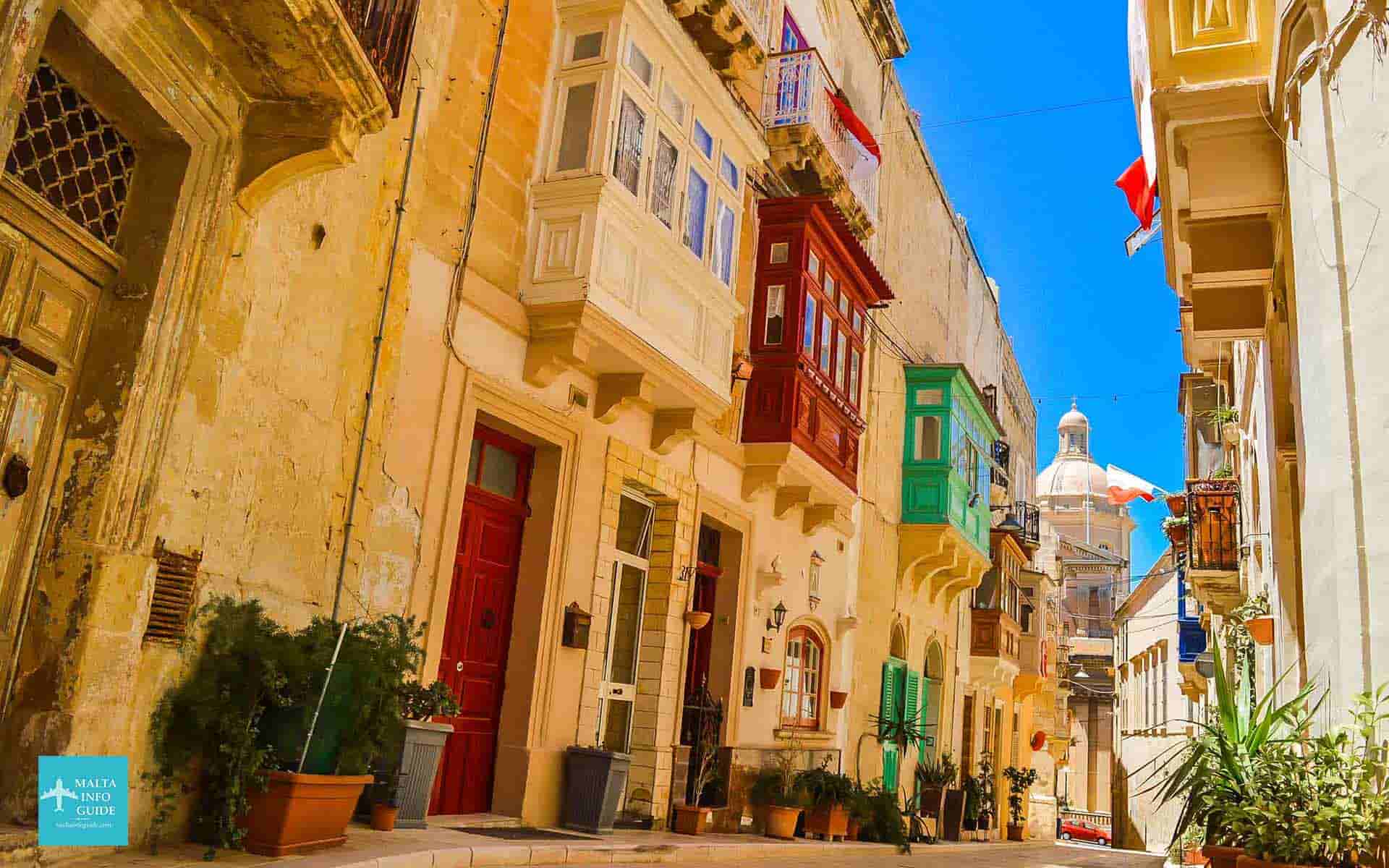 Enjoy several day cruises such as a Comino boat trip, Gozo and Comino boat trip. With these trips you visit the Blue Lagoon, Crystal Lagoon, and Gozo.
Plenty of time to swim and sunbathe in an incredible different relaxing atmosphere.
Although just mentioned above Gozo deserves to be visited alone for at least a day. The hop on hop off is ideal for this as the buses circulate around all the important sites and beaches.
Enjoy a village feast the unique way of celebrating the patron saint of the village, only found in Malta. See details for an evening tour.
Glamour at the illuminated and decorated churches, streets. You can also see Maltese houses with their main door open and all lit up and decorated at their best.
A visit to the capital Victoria and the Cittadella the ancient fortified city at the top of the hill in Gozo with its commanding skyline and military architecture. This is part of one of the sightseeing bus stops outside the old city walls.
Here are more things to do in August while here on holiday.
Check Hotels In Malta Rates For This Month
Find good rates about hotels in Malta from Booking.com.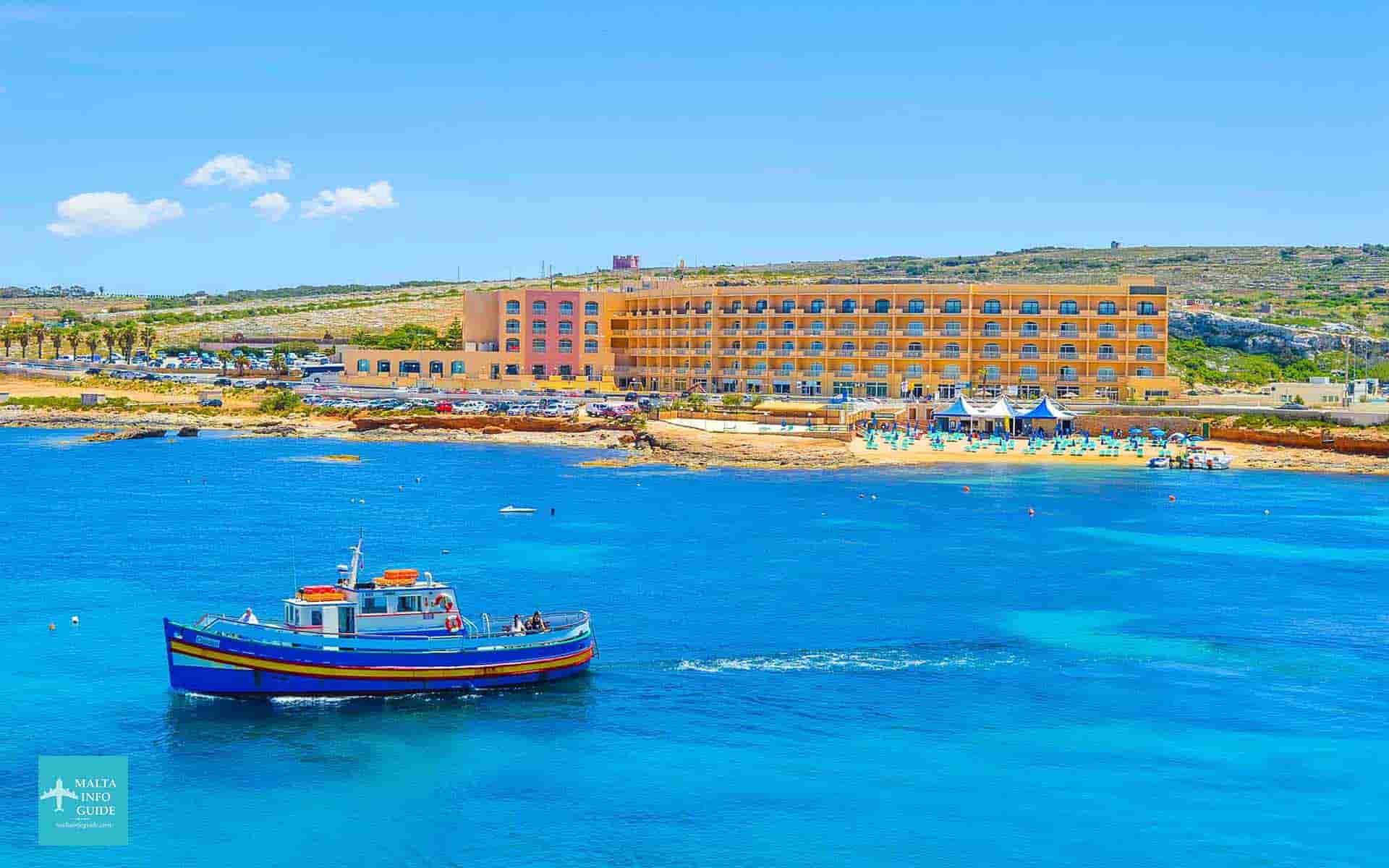 Top Tours In Malta For September
Weather In Malta In September
Quick September Weather Malta Thoughts
Weather In Malta In September
Even though this month is very warm dry and sunny a bad storm could be with us but mostly fantastic hot weather.
In general around eight days during September is generally thundery with moderate downpour. Everyone in Malta is glad to have the first rain after the heat of the last three months.
The temperatures are still strong enough to let you swim. The sea temperature is slightly less than that in August but still warm enough for swimming although the temperatures of the air starts dropping.
Everyone is still at the beach. But as the weeks pass the Maltese tend to decrease their beach visits.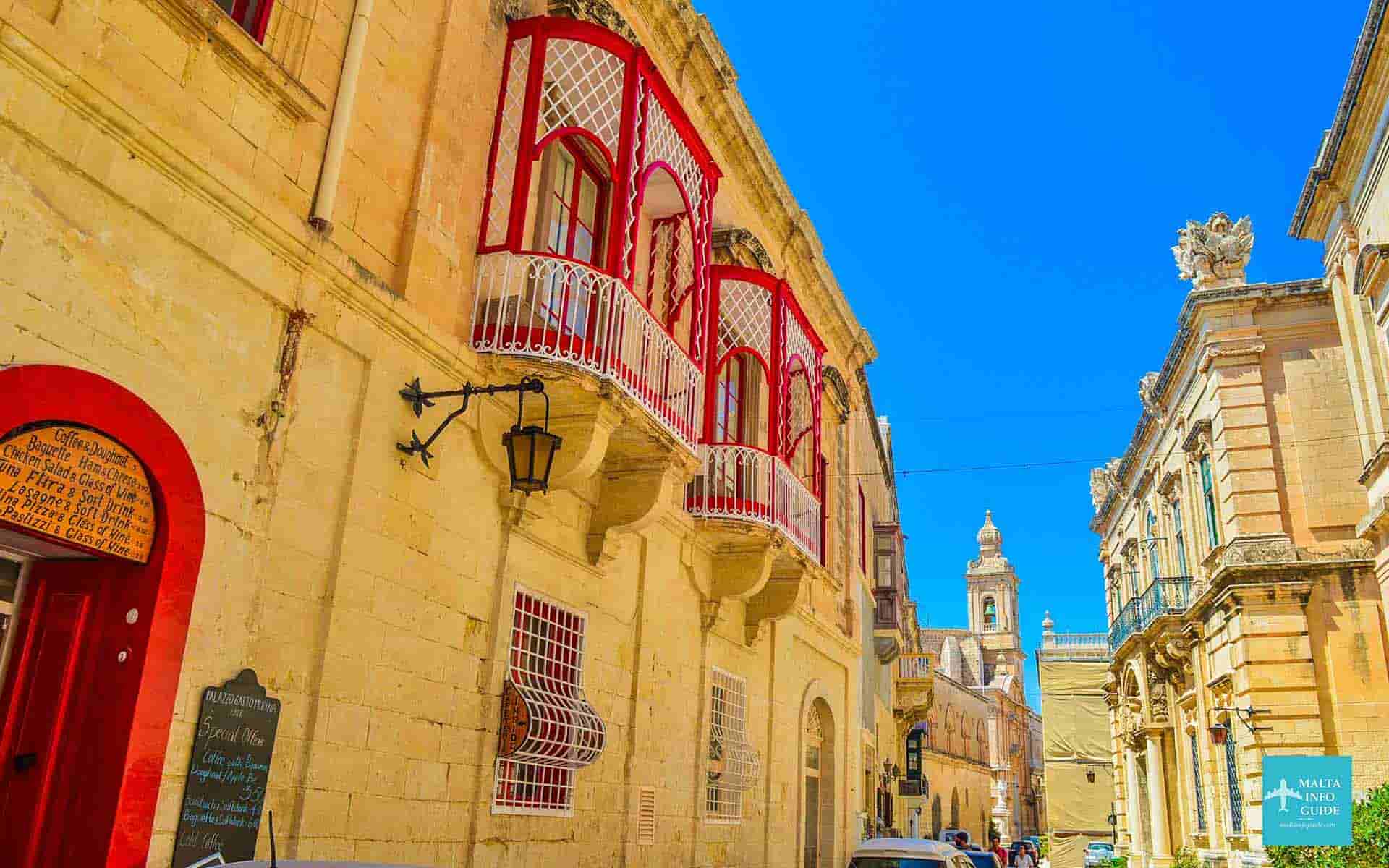 Schools start last days of September and latest beginning October. By the end of the month the beaches are empty of locals but not of tourists.
Daylight average of 9 hours, early sunrise and late sunset days start getting shorter although you will not notice, but sunset is earlier. By 21:00 at night it will be almost dark.
On the other hand it is a relief that temperatures drop from the last months. At this time of the year it gets a bit more humid as the seasons start to change.
Want To Share This Page On Pinterest? Pin It Here!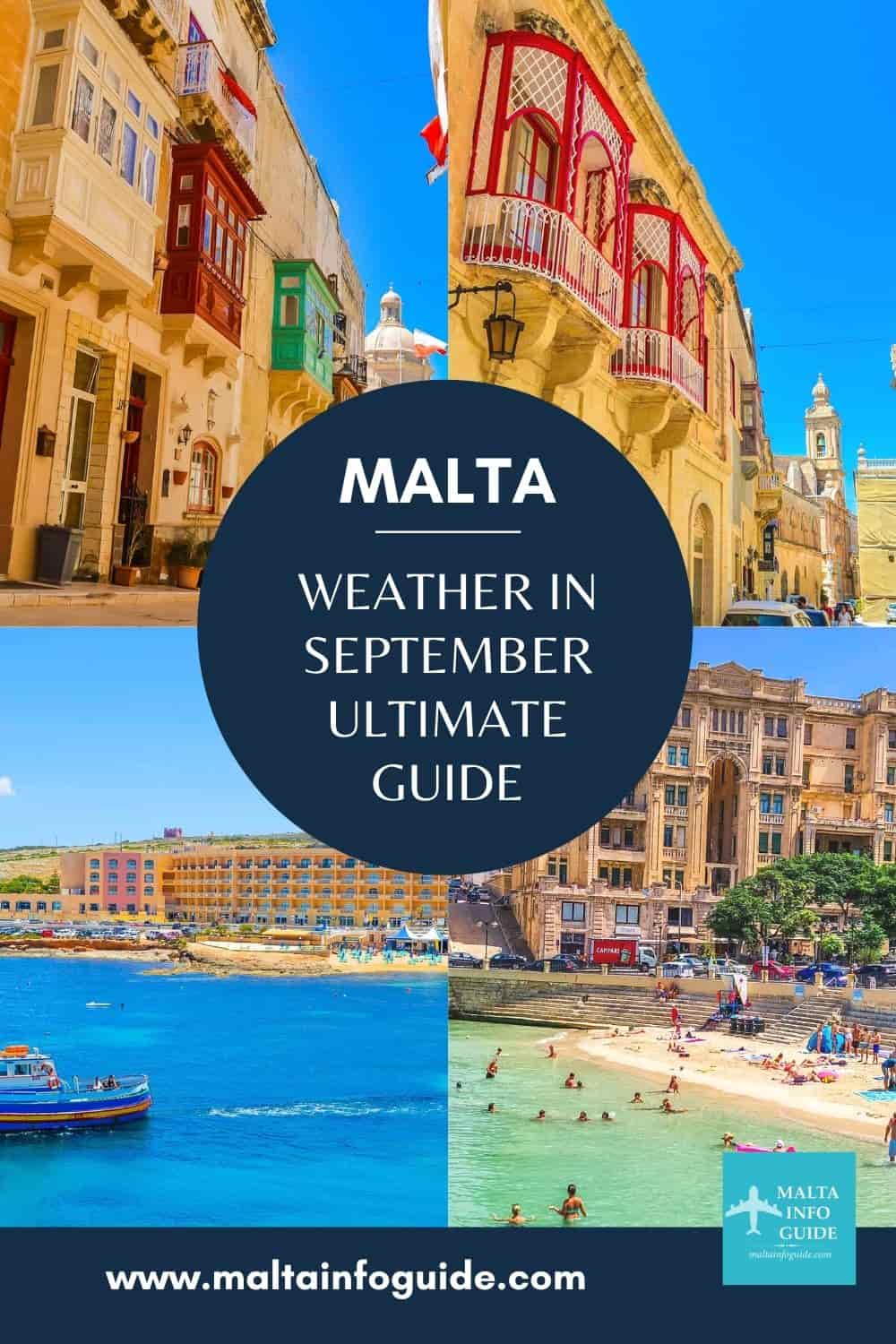 want to rent a car in malta?
We have used Discover Cars every time we rented a car. We highly recommend them due to their good service and good prices.
Get The Best Rates On Your Car Rental Now!
need to book a hotel for your malta visit?
Using Booking.com, enter your travel dates and number of occupants then rates will be available for hotels and apartments during your visit to Malta 
Book Your Hotel In Malta on Booking.com for the Best Rates!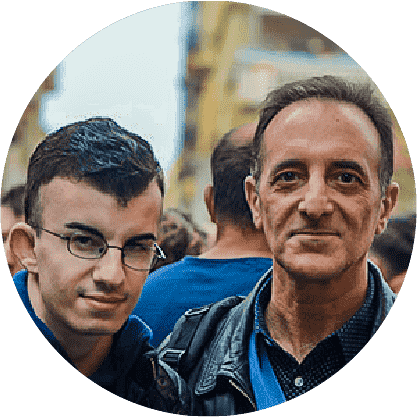 By Albert and Benjamin Magro