Easter Sunday In Malta 2023
Easter Sunday Processions Are As Popular As Those Of Good Friday
Date Last Updated: 10th January 2023

Easter Sunday in Malta commemorates the Resurrection of Christ reminding us that he rose from death. It is the most important feast in the Roman Catholic church calendar.
The ringing of the Church bells both in Malta and Gozo and the processions with the statue of l-Irxoxt, the Risen Christ brings back many customs that the Maltese have had for centuries. This tradition is repeated every year in a number of villages in Malta and Gozo.

good friday zejtun tour
If you are heading to Zejtun Procession, why not go on an afternoon tour to Zejtun including a seat to watch the procession. Transport is included in the tour. Click here to book your tickets.
easter sunday zejtun tour
If you are interested in watching the Zejtun Easter Sunday Procession, then why not book this tour. You get to taste the delicious "figolli'" as well as watch the live procession. Click here to book your tickets.
Disclaimer: On our website, you will find affiliate links from which we receive a small commission.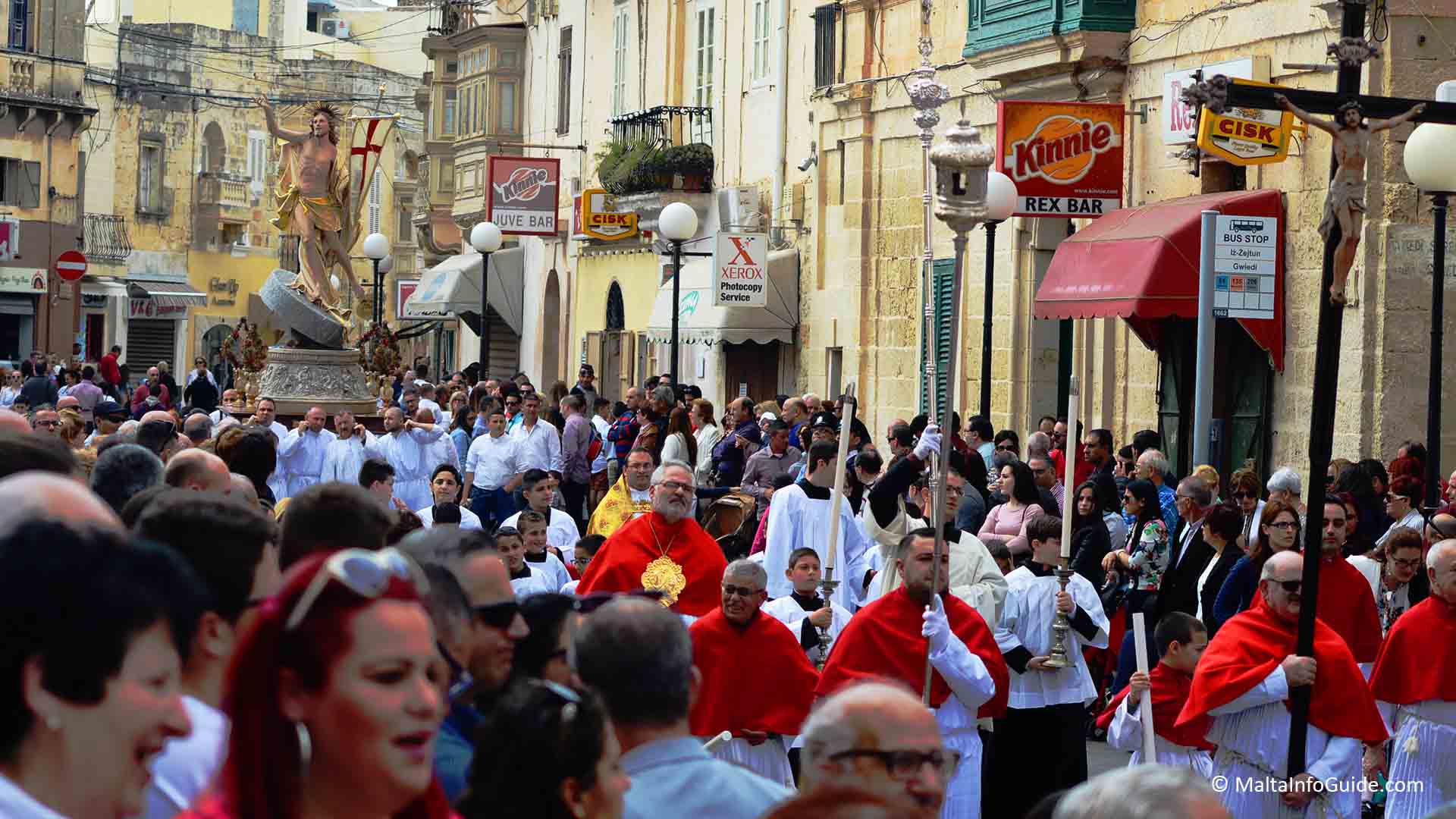 For instance at Vittoriosa, Senglea and Cospicua, where a group of men run the last stretch of roads with the statue and people throw confetti from the windows to celebrate.
If there is any procession times that needs updating click here.
Easter is coming on the 9th April 2023.
Easter Sunday Processions 2023
Easter Sunday In Malta Processions

Birgu | Vittoriosa - 10:00

Birkirkara - 18:00
Birzebbugia - 19:00
Bormla - 09:00
Gharghur - 09:00
Gzira - 09:45
Isla | Senglea - 09:00
Kalkara - 18:30
Luqa - 09:30
Mosta - 18:30
Naxxar - 08:30
Paola - 09:00
Qormi - San Gorg - 09:00
Qormi - San Bastian - 09:15
Rabat - 10:00
Sliema - St. Gregory - 17:30
St. Julians - 10:30
Valletta - Tal-Gizwieti - 18:15
Zebbug - 09:00
Zejtun - 10:00
*Procession starts from the St. Helena band club

Easter Sunday Processions Gozo

The following Gozo processions have been updated for 2023
Fontana - 10:30

Gharb - 18:00
Rabat - Katidral - 11:00
Kercem - 09:15
Nadur - 10:30
Qala - 11:00
Rabat - San Gorg - 08:45
Xaghra - 18:00
Zebbug - 17:00
Read more about Easter In Gozo.
Holy Week Functions & Processions Live On Television
These have not yet been updated for 2023.

TVM/Radio Malta and tvm.com.mt

Good Friday - Adoration of the Cross from Xagħra and at 17:45 the Good Friday procession from Xagħra.

Easter Sunday - 10:00 Holy Mass from The Vatican and at 12:00 (noon) the Papal Blessing Urbi et Orbi. The blessing will also be broadcast by Radio Malta.

TVM2
Maundy Thursday - 09:15 the Holy Mass for Oils from St John's Co-Cathedral.

Maundy Thursday - 18:15 on this channel and Radio Malta will transmit the Solemn Commemoration of the Last Supper, also from St John's Co-Cathedral.

Good Friday - 19:00, the La Valette Philharmonic Society will perform the La Sollevazione Di Cristo, a concert of funeral marches.

Good Friday - 21:15 the Via Crucis from the Coliseum conducted by Pope Francis.

Holy Saturday - 16:30 the Fondazzjoni Pawlus in memory of Mro Joe Vella.

Easter Vigil - 20:00 the Easter Vigil Function from St John's Co-Cathedral. This will also be transmitted on tvm.com.mt and Radio Malta.
Special Schedule Easter Sunday - 15:15 a concert by Fr Karm Debattista – The Rhythm to the Melody Line.
NET TV
Good Friday - 17:30, Procession from the Basilica of St. George Rabat Gozo.
ONE TV
Good Friday - 15:00, Function from St. George's Church Hal-Qormi followed by the procession at 17:30.
Links to TV Stations: TVM | Radju Malta | NET TV | ONE TV
There are villages where the parish priest blesses the children's figolli on Sunday morning. You will surely see many children gathering for this blessing in front of the church.

On this day many people enjoy eating the traditional figolli including a variety of Easter eggs. With regards to the figolli, today they can be bought from many confectioneries but there are still many families who prefer to buy their own ingredients and cook them for their families.

Figolli are usually baked before Easter, different sizes and shapes are done with almond paste in between, covered in chocolate or coloured icing and decorated with little Easter eggs.
Large crowds gather to see the l-Irxoxt procession as it's one of the traditional feast people look forward to see. Children with figolli in their hands. Different shapes and sizes get to eat the delicious Easter eggs and figolli.
During the processions the band clubs, will now also accompany this procession playing joyful and happy mood marches compared to the Good Friday sombre marches.
After the morning procession people either go out for lunch or spend time with their families and have a lovely Easter meal. The traditional lamb, vegetables and potatoes are generally cooked.
Malta offers various sites and beautiful villages to see and knowing that during Easter there is so much to see and do even if you are not religious.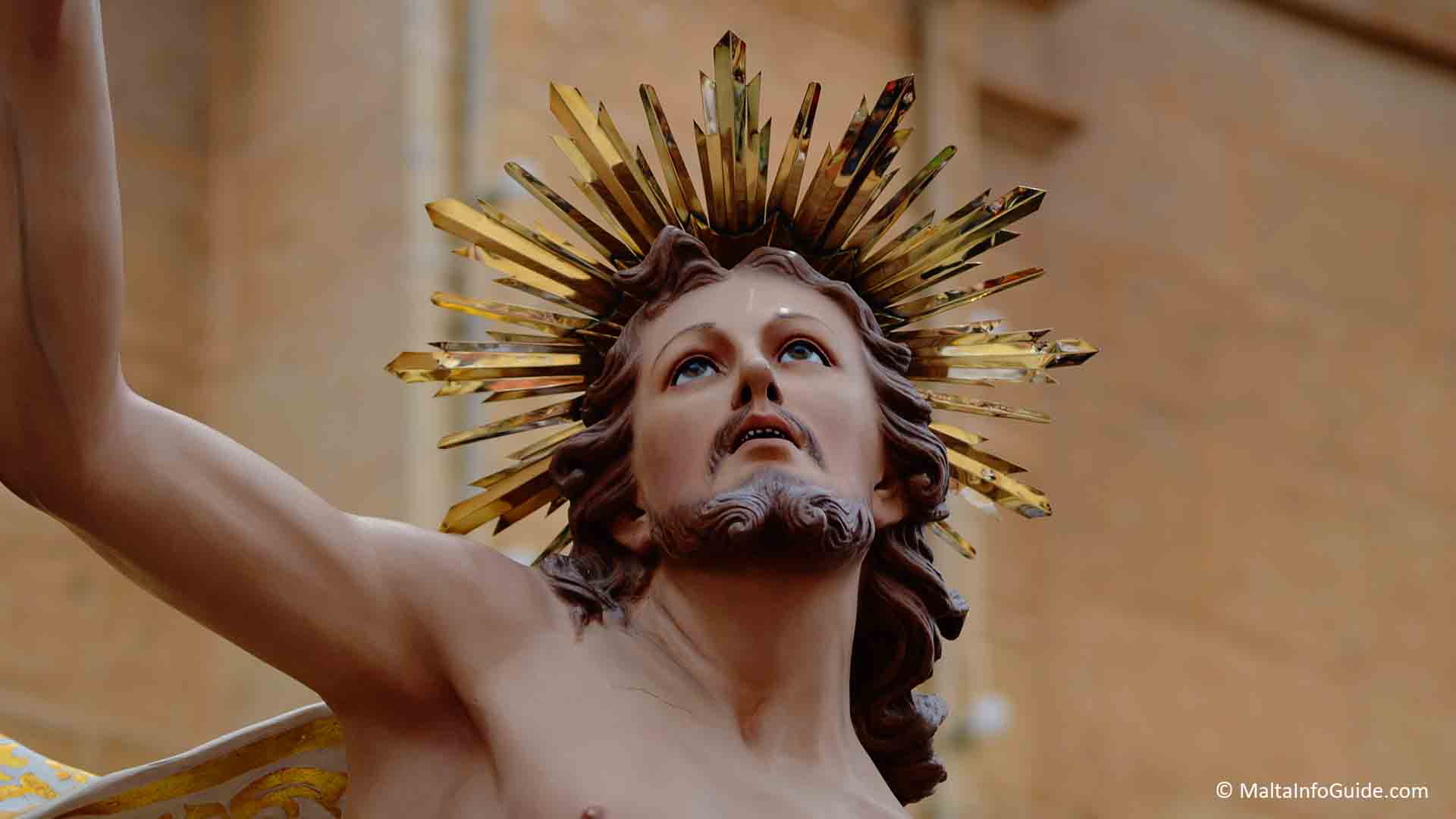 You will have numerous ceremonies at church, impressive processions and decorations to fill up your time. The Maltese people through their faith and devotion and all the traditions that they have inherited from their ancestors can offer you an incredible holiday.
You can savour our traditional food, sweets and lovely warm weather for the time of the year. The evening tends still to be a bit chilly but knowing that there is so much to absurd and enjoy why not see what Malta has to offer around Easter.
Easter Sunday in Malta and all the Holy Week activities are a great time to have a taste of the Maltese culture.
want to rent a car in malta?
We have used Discover Cars every time we rented a car. We highly recommend them due to their good service and good prices.
Get The Best Rates On Your Car Rental Now!
need to book a hotel for your malta visit?
Using Booking.com, enter your travel dates and number of occupants then rates will be available for hotels and apartments during your visit to Malta 
Book Your Hotel In Malta on Booking.com for the Best Rates!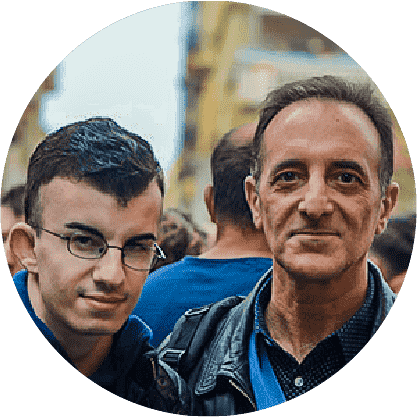 By Albert and Benjamin Magro