Weather in Malta in August
Weather in Malta in August

Hot! Hot! Hot! Just Hot – Swimming To Cool Down
The weather in Malta in August is very hot at this time. A great time to be in Malta! Long days, sea and sun! It is required to bring your sunblock with you as you can get sunburnt. The ideal time for your summer holiday with light clothing and comfortable flip flops.
Disclaimer: On our website, you will find affiliate links from which we receive a small commission.
A Glance Of What To Expect
Weather In Malta In August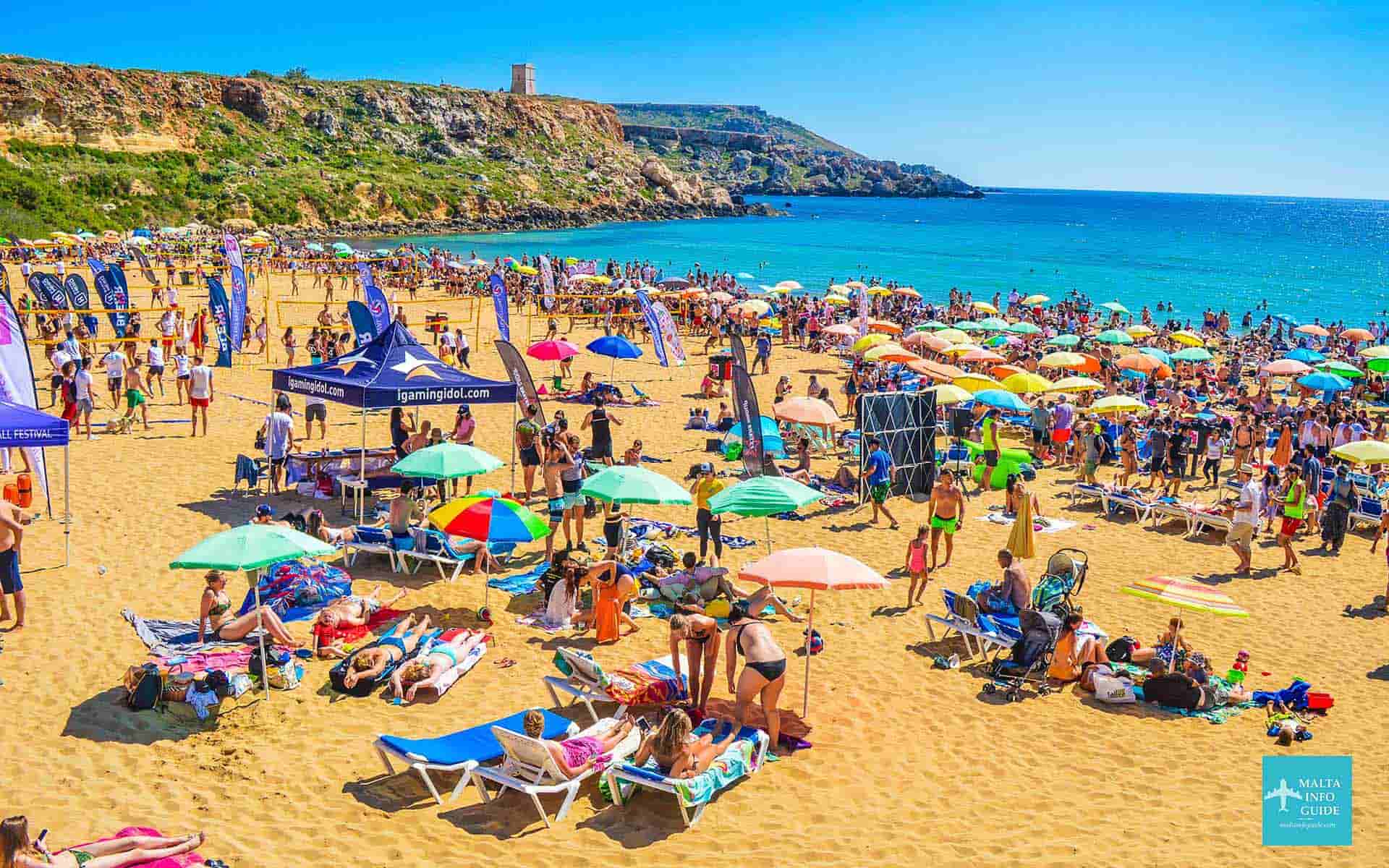 Statistics During The Month Of August
Weather In Malta In August
Highest Recorded 43°C (109°F) | Lowest Recorded 18°C (64°F)
Highest Daily Average 32°C (89°F) | Lowest Daily Average 24°C (100°F)
Daylight Hours of Sunshine 11.4
UV Index 9/10
Rainfall 6mm (1/4")
Malta Weather Compared To other Countries
Austria: 21°C | 70°F
Belgium 18°C | 64°F
France 20°C | 68°F
Germany 19°C | 66°F
Ireland 16°C | 61°F
Italy 25°C | 77°F
Netherlands 17°C | 63°F
Poland 17°C |  63°F
Sweden 10°C | 50°F
Spain 25°C | 77°F
Switzerland 18°C | 64°F
United kingdom 16°C | 61°F
Is august The Best Time To Come To Malta?
August is one of the hottest months of the year but also one of the most active months. Is it the best time? If you love summer, swimming, festivals, feasts and parties then yes its the best time to visit as Malta offers all that during August.
What Should I Wear & Pack?
Weather In Malta In August
For this month you only need summer clothes.
For during the day you do not need any warm clothes. Shorts, bermudas, short sleeve tops, tank tops and flip-flops or tennis
All you need for a day by the sea is swim wear, flip-flops, sunglasses, a hat. Preferably with rented beach umbrellas for total cover. Still although covered you will need sun screen protection several times during the day as by the evening you will be sunburnt and suffer consequences.
No need of any cardigans or jackets, use light weight natural fabrics. More important to have a hat, wear plenty of sunscreen.
If you are not acquainted to the intense heat and you are sunbathing, bring a light long sleeve top for the beach to protect yourself and stay in the shade.
Bring with you smart casual wear for your evening out. It will be enough and you will feel relaxed to mix around.
Packing ideas as suggested and adjust to your needs and your family. Travel as light as possible. In this way you can save on luggage expense.
Hiring A Car? Check The Best Rates
Looking to hire a car for your holiday? Check Discover Cars for rates.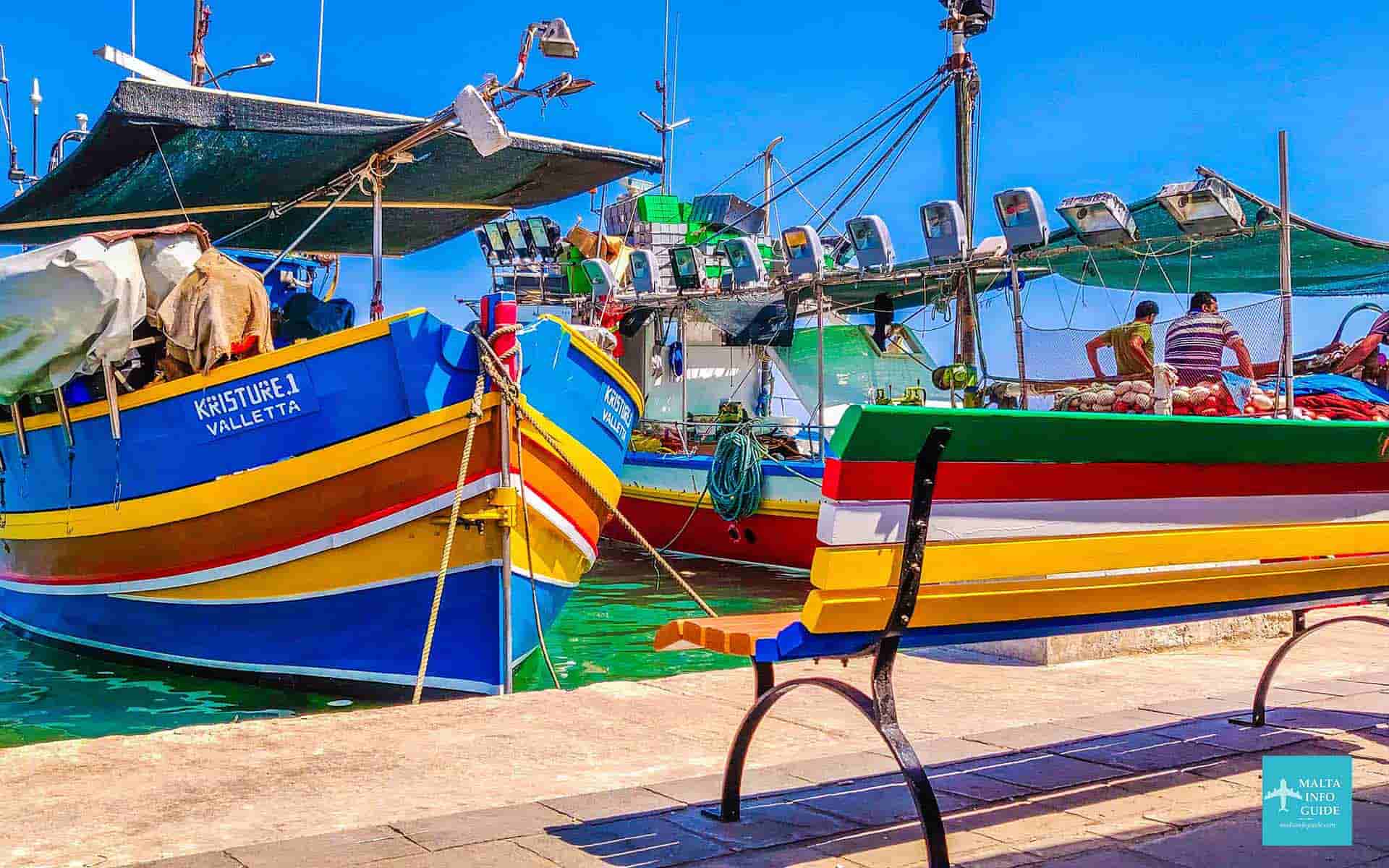 Things To Do In Malta During August
Weather In Malta In August
Beach life is at its best with high temperatures, everyone enjoys a different area of the coastline beaches. You can also enjoy a day at one of the many hotels and beach clubs with their swimming pools, restaurant and bars. 
Go for walks along promenades such as from Gzira to Sliema up to St. Julian's which tend to be the most popular.
The Bugibba and Qawra promenade is also popular even though the area being very dense with hotels, holiday apartments, bars and restaurants apart from being a popular swimming area.
Dance your night away at regular events at open air discothèques such as Aria dance and night club at San Gwann, Gianpula Village limits of Zebbug, Numero Uno at Ta' Qali. These venues have regular organized international entertainers with local and foreign DJ's. For those who like to dance to the 80's and 70's nights.
For the island of Gozo there is one in particular the La Grotta, on the main road very close to Xlendi bay. It is always a buzzing location where many Maltese go especially around the weekends and holidays.
Visit the Bugibba water park at the side of the promenade. It is ideal for children to play during this hot summer month. It is located close to the breakwater.
August is the month for the popular village religious feast days. See the calendar of village feasts for the islands. Only in Malta you will find such intricate colourful festivities.
Take an evening tour to one of the feasts. Click here to see a detailed list of locations where the tour can take you.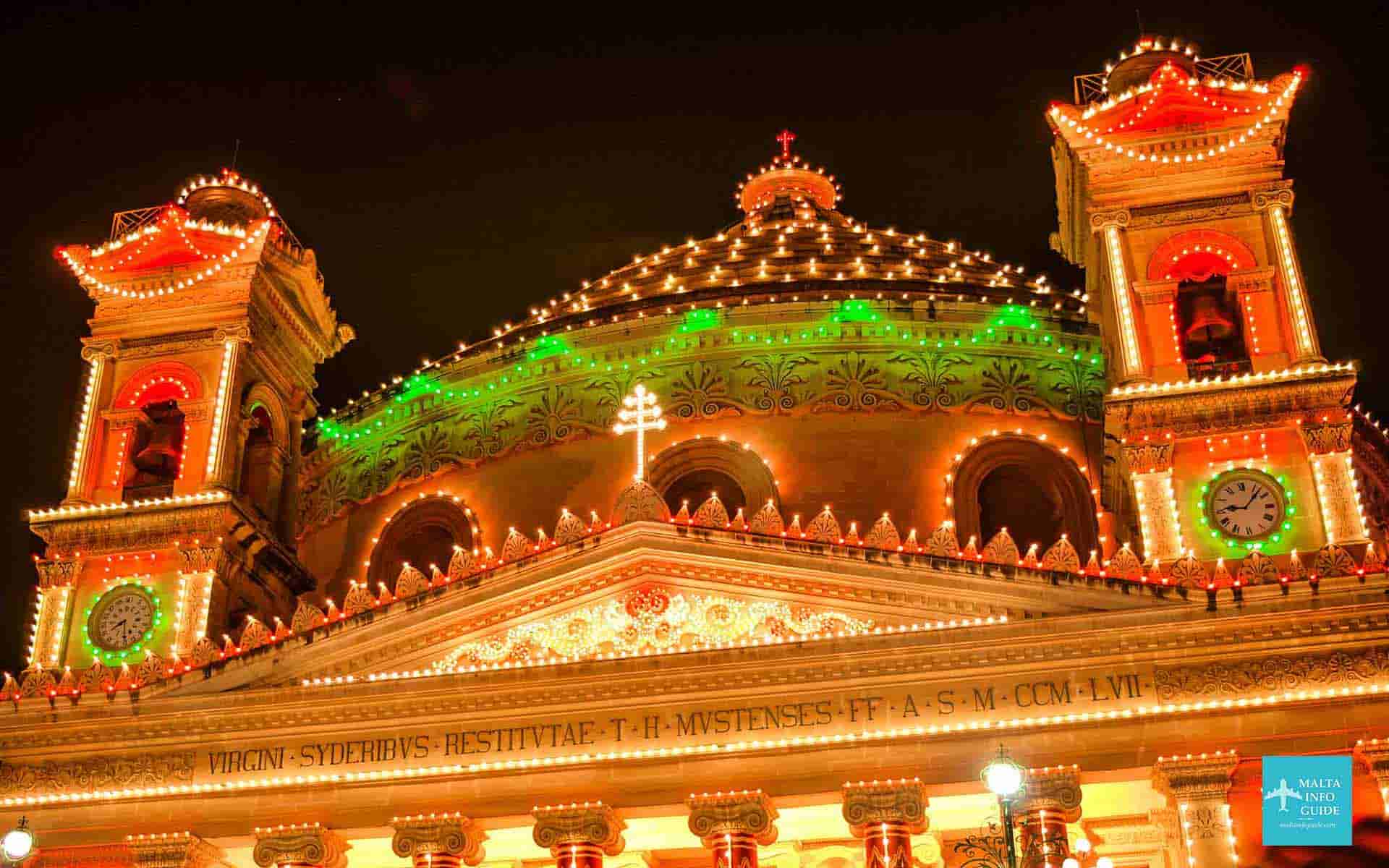 15th August is the peak of the month, a public holiday where there is the feast of Saint Mary (Santa Marija), On this day eight feasts are held at the same time in eight villages.
During August the Maltese go on shut down. This does not affect any activities related to tourism. All shops, restaurants, bars and entertainment establishments remain open.
Due to the good weather it is ideal to rent a boat and go to Comino, visit the Blue Lagoon, the many caves around the island, visit Gozo coastline and the main island's beaches.
You can enjoy a Maltese folklore nights at the Limestone Heritage Siggiewi in the open air within an on old limestone quarry. Link to see further details and to book.
Or Ta' Marija Restaurant in Mosta where you can enjoy a Maltese folklore night. See calendar with dates where you can book your reservation.
Check Hotels In Malta Rates For This Month
Find good rates about hotels in Malta from Booking.com.
Top Tours In Malta For August
Weather In Malta In August
Quick August Weather Malta Taughts
Weather In Malta In August
Day light average is 11.4 hours, early sunrise and late sunset Days start getting shorter although you will not notice, but sunset is earlier.
By 21:00 it will be almost dark. 
The sky is generally clear from clouds. Cloud coverage varies from 9% to 19% by end month.
The nights are hot too. You will need ventilators although even these might not be enough. Air conditioning is better. You can just wear a shorts and remain uncover during the night and you will still sleep comfortable.
Siesta time. You will see many at the beaches take a nap on the sunbeds.
It is intense heat. Many do take a nap at home. Many take holidays and many offices are on half days.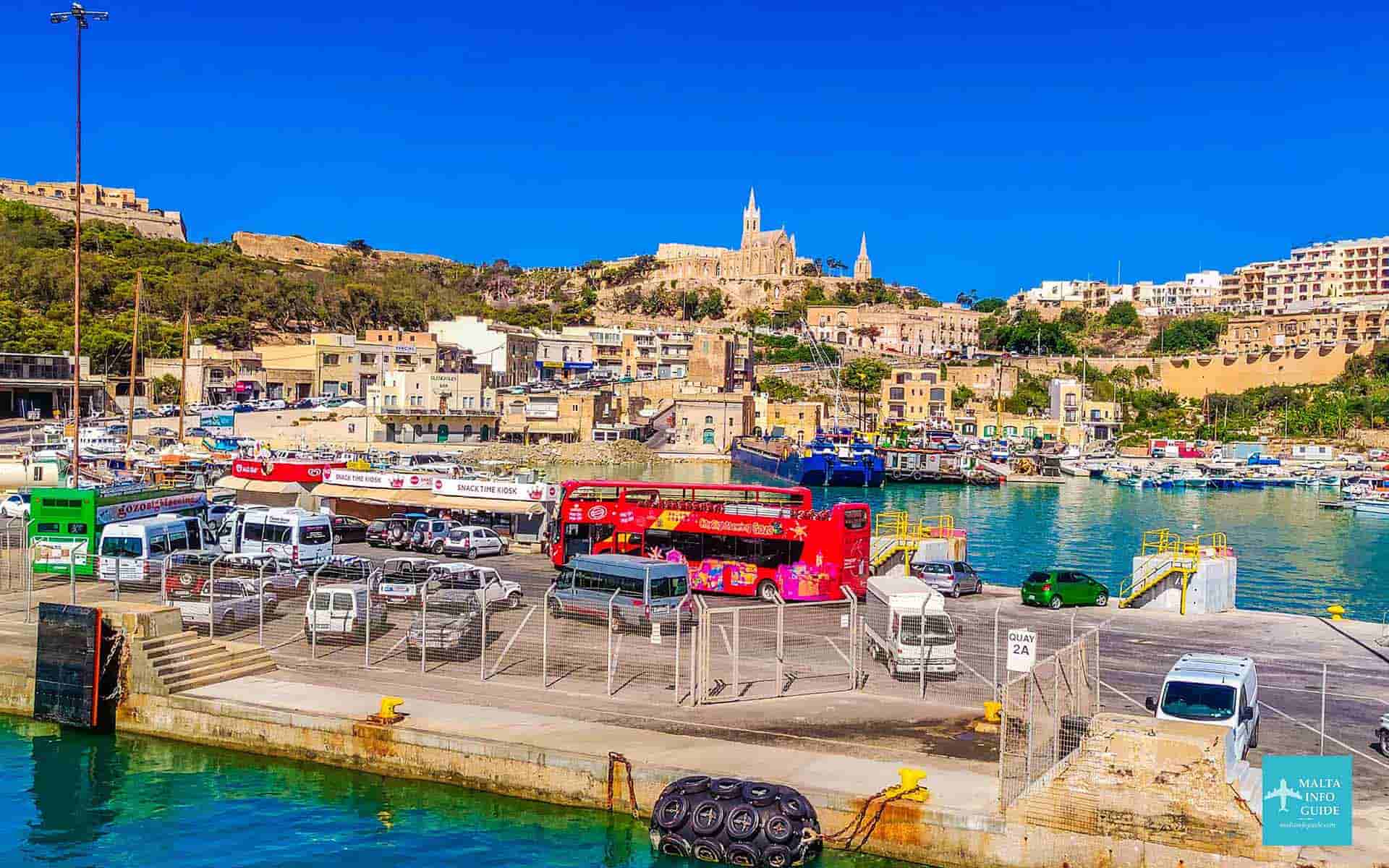 Due to the heat the locals do stay late in the evenings out, walks along beach promenades to try and feel any breeze. Mdina is the place to go in the evening as it feels fresher by the bastions edge. 
Rainfall is minimal and surely will not see any during your stay.
Though it is said that August gets with it the first showers. On record average rain for several years was 6mm. 
Morning and evenings are warm too a good indication that the day will be really hot. Drinking of water is highly recommended. 
Strong winds can occur make it feel cooler too. 
You can sunbathe as much as you want subject that you have sunscreens.

Important to have at least an umbrella to shade yourself. Too hot. Drink a lot of water.
When you for sightseeing on buses and tours around historical locations do take with you a hat and apply sunscreen.
Want To Share This Page On Pinterest? Pin It Here!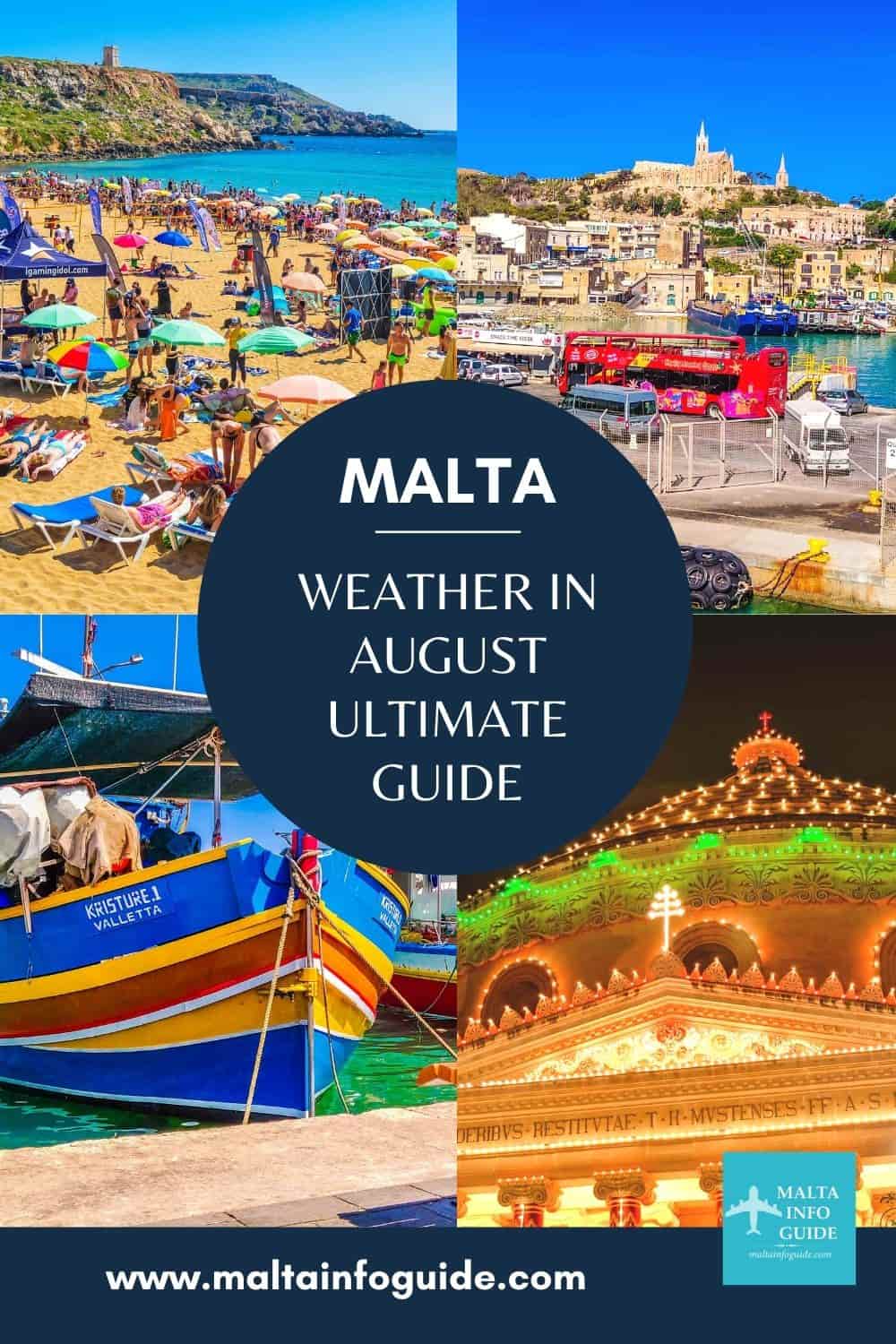 want to rent a car in malta?
We have used Discover Cars every time we rented a car. We highly recommend them due to their good service and good prices.
Get The Best Rates On Your Car Rental Now!
need to book a hotel for your malta visit?
Using Booking.com, enter your travel dates and number of occupants then rates will be available for hotels and apartments during your visit to Malta 
Book Your Hotel In Malta on Booking.com for the Best Rates!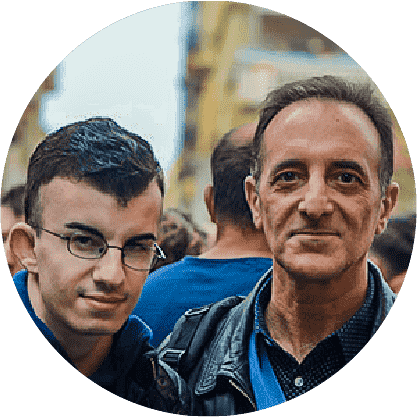 By Albert and Benjamin Magro