Weather in Malta in October
Weather in Malta in October

Cooler At Last Somehow - But Still Beautiful
What is the weather in Malta in October like? It is autumn time where the leaves begin to fall.  The weather is still hot but in the evening you need to wear a cardigan. It is lovely to explore and if you want a swim the sea is still lovely.  There are plenty of things to do while here both indoor and outdoor.
Disclaimer: On our website, you will find affiliate links from which we receive a small commission.
Here Is What You Need To Know
Weather In Malta In October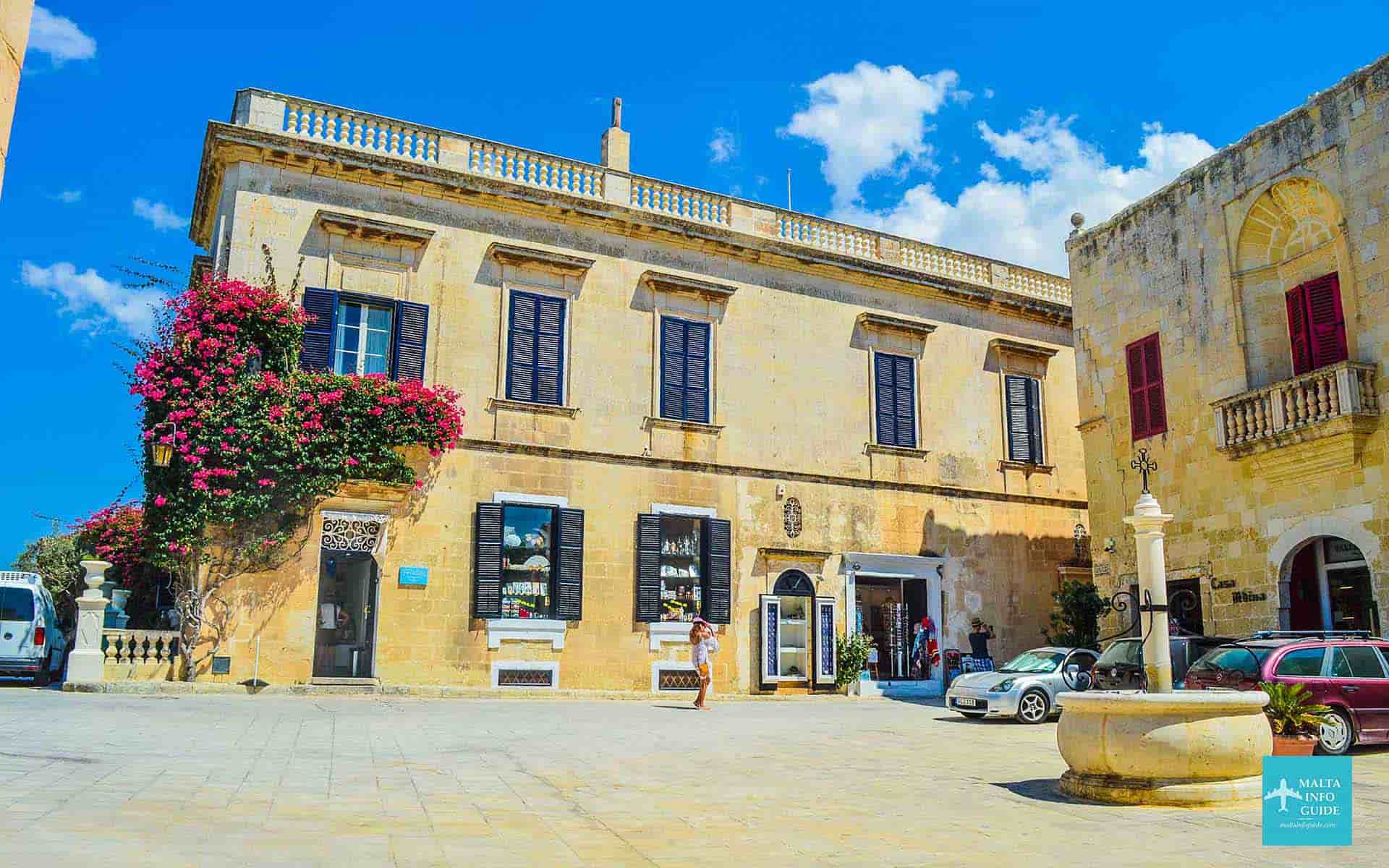 Statistics For October
Weather In Malta In October
Highest Recorded 34°C (92°F) | Lowest Recorded 11°C (52°F)
Highest Daily Average 25°C (77°F) | Lowest Daily Average 19°C (91°F)
Daylight Hours Of Sunshine 7.2
UV Index 5 to 6.
Rainfall 77mm
Malta Weather Compared to European Countries

Austria: 10°C | 50°F
Belgium 11°C | 52°F
France 12°C | 54°F
Germany 9°C | 48°F
Ireland 10°C | 50°F
Italy 17°C | 63°F
Netherlands 11°C | 52°F
Poland 9°C |  48°F
Sweden -2°C | 28°F
Spain 18°C | 64°F
Switzerland 9°C | 48°F
United kingdom 12°C | 54°F
is october the best time to visit?
It is expected to say that October is generally one of the quietest months of the year in terms of touristic seasons. During this month the temperature are still quite warm but do expect rain and thunder. If you want a calm holiday where you don't find lots of tourists and you can skip lines faster then yes October is your month to visit.
What Should I Wear & Pack?
Weather In Malta In October
A mixture of summer and mild winter clothes.
Very light clothes perhaps with a light cardigan for the evening if the weather is slightly chilly. Clothing mentioned in the first months of the year will do for this month.
It can get chilly at night so pack a light sweater - but during the day it is still warm in the sun.
We start wearing the light winter clothes in October, but sticking heavy clothes surely not.
Swimwear, hat, sandles
A small compact Umbrella will definitely help you stay dry during Malta's wetter periods, be it from the rain or the sea spray. 
Sunblock & Sunglasses
Closed Shoes
Hiring A Car? Check The Best Rates
Looking to hire a car for your holiday? Check Discover Cars for rates.
Weather In Malta In October
Things To Do During October
The beaches at this time of the year can be enjoyed, subject that the weather is good and no heavy winds. Take the opportunity to sunbathe with a much less UV index stress. 
Discover the beauty of the Blue Grotto in the outskirts of Zurrieq south of the Maltese island. Take a 20 minutes boat trip to see this natural wonder.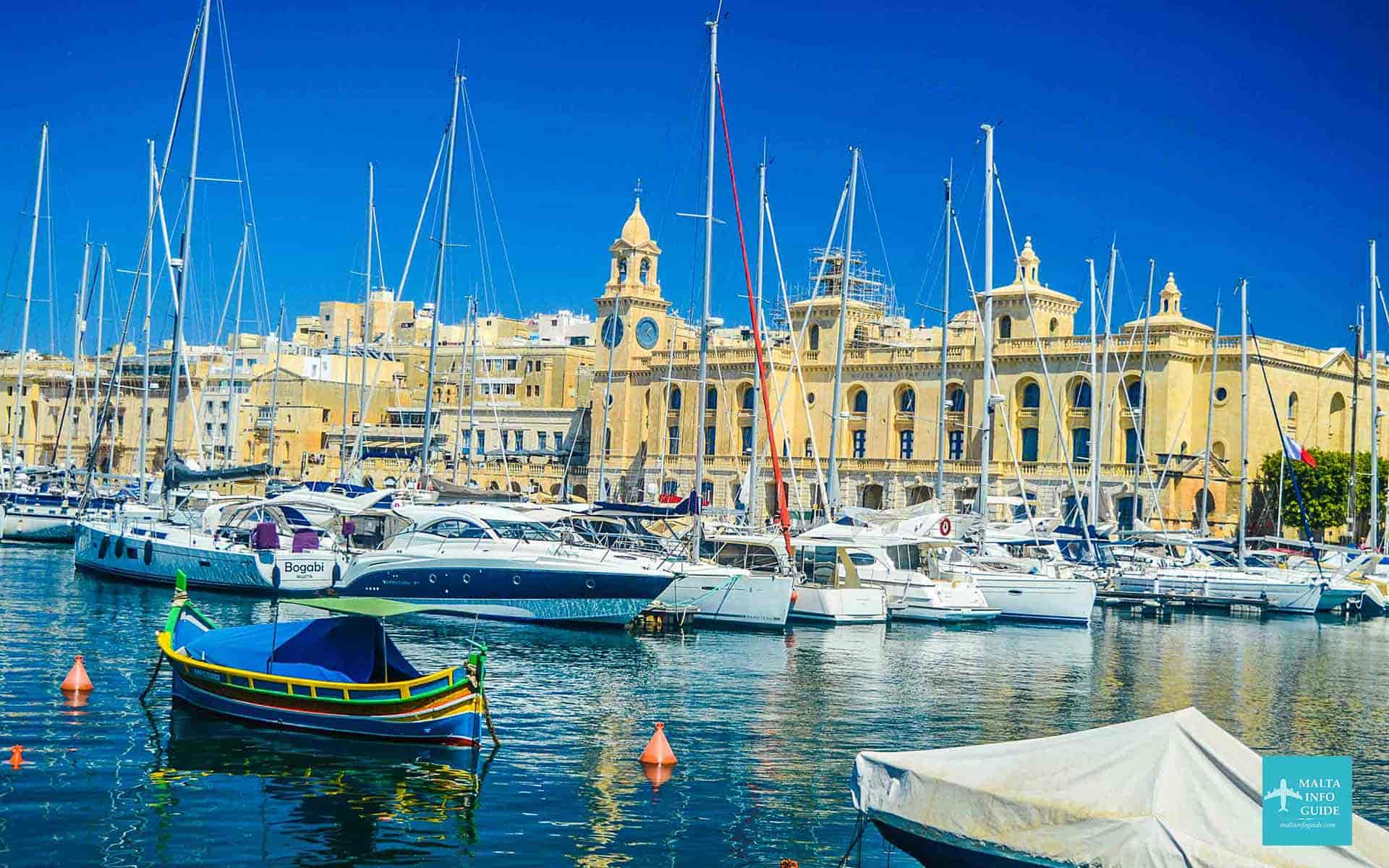 October is the popular month for the Rolex Middle Sea Race. See the start from the Upper Barrakka Gardens viewing gallery over the Grand Harbour or from various vintage points around Valletta.
Participate free of charge at the Notte Bianca open air annual festival within the capital city Valletta. The unusual biggest annual event from 17.00 till late at night. A memorable celebration of arts and culture with state museums and places open free to the public.
By now the countryside is beautiful covered in greenery after the first rains in September and October. Here are the best hiking trails you can take. Temperatures are less strong and permits country walks.
Visiting the Blue Lagoon is still fine but tours are less frequented and weather permitting. You will find fewer people and will be great to sunbathe in such an extraordinary location.
Here are other suggestions of events and things to do during October.
Check Hotels In Malta Rates For This Month
Find good rates about hotels in Malta from Booking.com.
Top Tours In Malta For October
Weather In Malta In October
Quick October In Malta Thoughts
Weather In Malta In October
Very few Maltese frequent the beaches by now as schools re-open and a different routine is required.
The heat intensity is much lower than the summer months but you must still take care and not spend too much time in the sun.
The temperature of the sea will still be warm although cooler than other months.
It is not unusual for a heavy thunderstorms with heavy rain, typically at the beginning of the months but it can vary.
Daylight average is 7.2 hours, early sunrise and late sunset. Days start getting shorter although you will not notice, but sunset is earlier.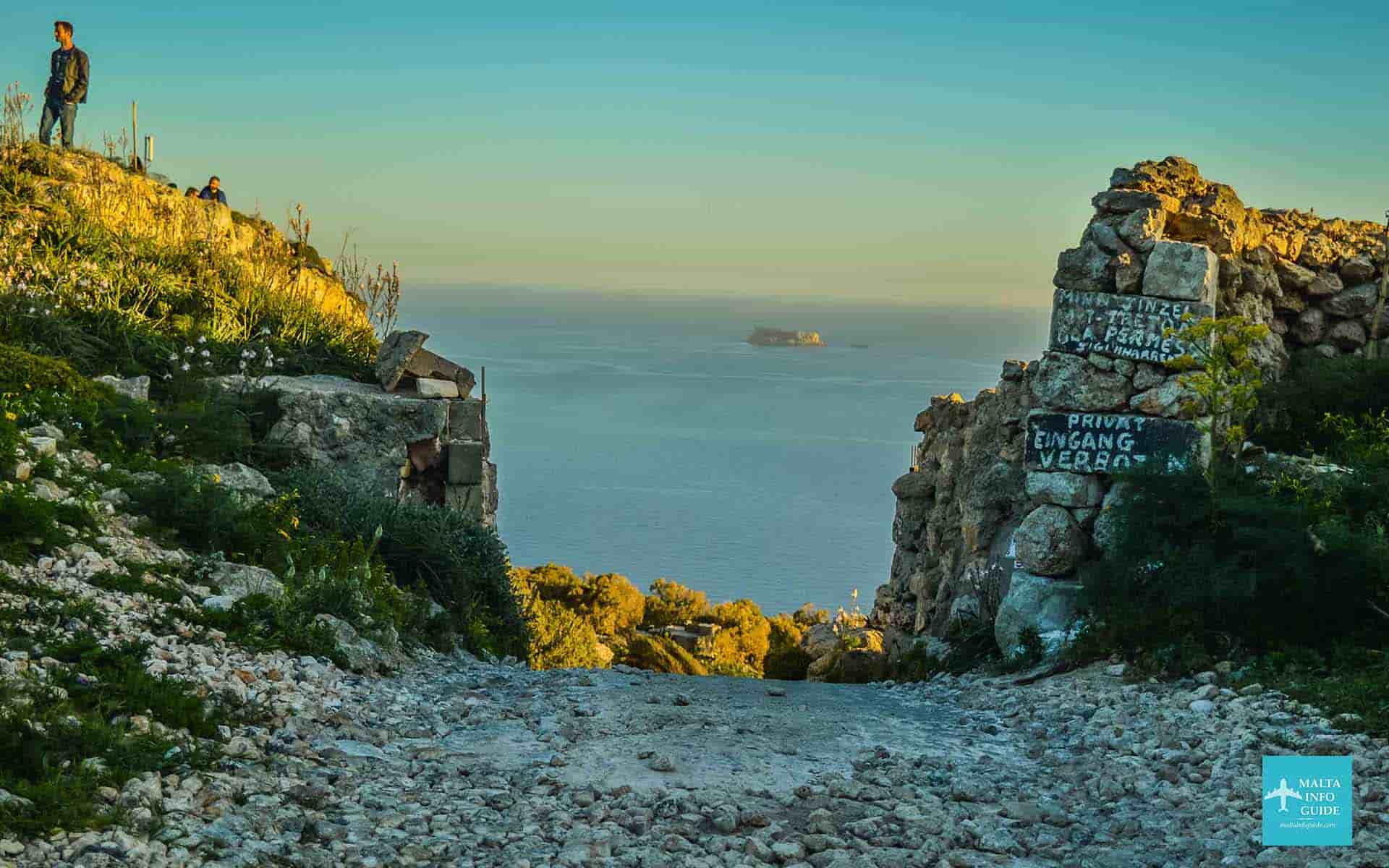 The touristic season during the months is much quieter than the summer months.
The weather during September or November varies due to the fact that in November the winter weather starts. The weather changes from day to day, but in terms of clothing and what to bring with you is similar.
Visit Malta during October with temperatures dropping to the mid-20s making autumn a delightful time to visit the island if you do not mind the occasional rainfall.
Want To Share This Page On Pinterest? Pin It Here!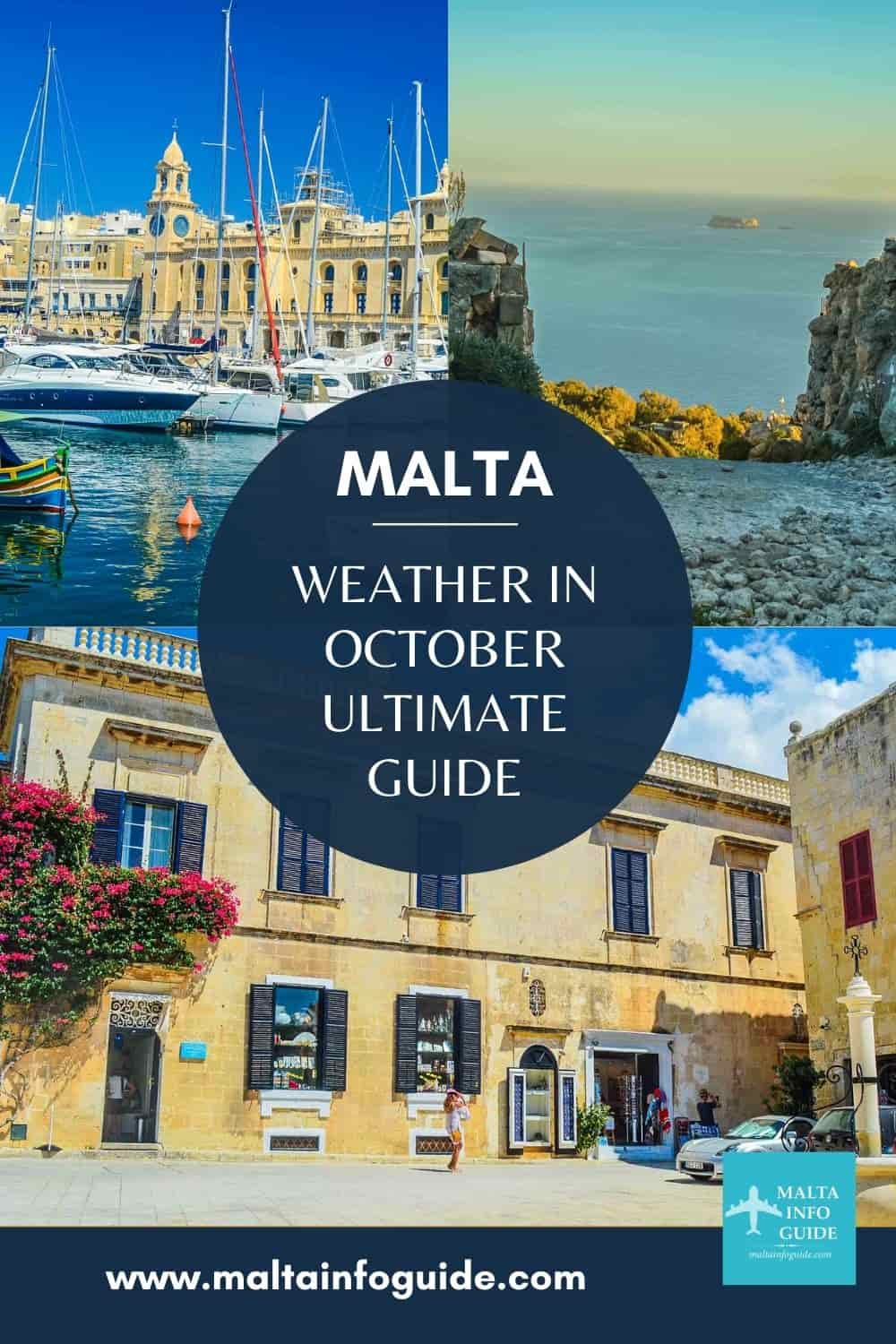 want to rent a car in malta?
We have used Discover Cars every time we rented a car. We highly recommend them due to their good service and good prices.
Get The Best Rates On Your Car Rental Now!
need to book a hotel for your malta visit?
Using Booking.com, enter your travel dates and number of occupants then rates will be available for hotels and apartments during your visit to Malta 
Book Your Hotel In Malta on Booking.com for the Best Rates!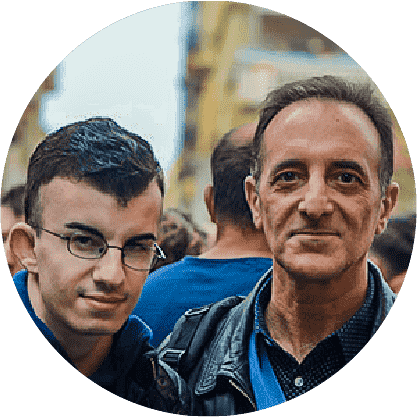 By Albert and Benjamin Magro