Fun Things For Kids In Malta
Visiting Malta with your Kids? What are the best things to do?
Is Malta for kids! Like any other country which you wish to visit Malta offers a variety of activities. Kids want to have fun like adults and this makes their holiday enjoyable. At the same time it helps parents to relax knowing that their kids are enjoying their time.
In summer the sea is very attractive and so a day by the beach is ideal. You can take a cruise to the island of Comino swimming at the Blue Lagoon and a visit to Gozo island. This might be more suitable for teenagers or children around 7 years upwards who can appreciate what they see. 
At the same time for younger children a day at a sandy beach is attractive for them. Other activities going to play mobile or a pony park for a younger age.
During winter the country side will be ideal for walking, cycling, driving which are all ideas for all the family. One can take a sightseeing hop-on hop-off tour around the island either in Malta or Gozo showing you all the main attractions and at the same time having time to see which every activity you like when you are off the bus at your own leisure.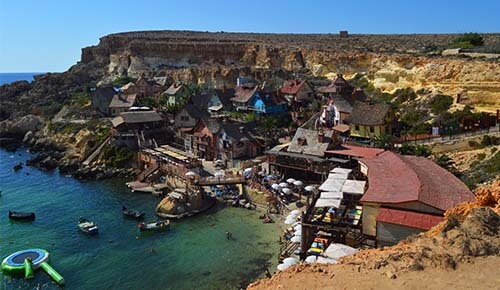 What about history and culture. If your children are covering certain topics at school, they might be interested in visiting the Neolithic temples very unique in Malta, or a tour about the history in Malta from the Knights of St. John to the Napoleonic and the British period.
We do receive various questions about requests for fun things to do with your kids. Typical questions that people ask when they start researching about Malta are the following:
- Can I have fun in Malta with my children? Yes 
- What is there to do? Many activities which are listed below.
- What is best for the children? What is the best for young ones? What is best for teenagers?
- Is Malta good for a family holiday? Yes

We help you plan activities either if they are free or have to pay for tours and entrance fee.
Fun Things for Kids in Malta - Admission Ticket
Suggestions of Tours or Cruises to do with Kids
Things to do with Kids - Malta Tours
Activities for Teens and Kids
Sightseeing in Malta & Gozo Tours
Fun Outdoor Things to do in Malta
- BOV Adventure Park, National Park Ta' Qali - FREE
- Limestone Heritage, Siggiewi
- Splash and Fun, Bahar Ic-Caghaq
- Mediteraneo Marine Park, Bahar Ic- Caghaq
- Sandy & Rocky Beaches - FREE
- Bugibba Water Park close to the boat  mouring jetty - FREE
- National Park at Ta' Qali close to the crafts village - FREE
- Bird Park Malta, St. Paul's Bay
- Chinese garden of Serenity located at St. Lucia on the way to Malta International Airport - FREE
- Playing fields in every village - FREE
- Mellieha Bay Nature reserve
- Mdina, Rabat and Marfa tourist sightseeing train
- Valletta Bugibba and Mdina train rides
- Gardens in Valletta Upper, Lower Barakka Gardens, Hastings Garden, Argotti Botanic Gardens - FREE
- Extreme Paintball, Ta' Qali

Fun Indoor Things to Visit with your Kids
- Mdina Dungeons
- Mdina 5D Show
- Toy museum in Republic Street Valletta
- The armoury Museum at the Presedent's Palace valletta
- Eden Superbowl at Paceville
- Esplora Interactive Science Centre
- Laser Tag, Level 4 Baystreet, St.George's Bay
- Cinemas: Eden at Paceville / Empire, Bugibba / Embassy Complex, Valletta / Fgura Cinemas
- Malta 5D movie in Valletta about the history and culture of Malta
- Playmobil Fun Park in Malta at Hal Far including shop