4 days in Malta Itinerary
Enjoy A Short Break On The Maltese Islands
What do 4 days in Malta sound like? We have created the perfect guide that will help you get the most out of your holiday. While 4 days may not sound like much, you can still fit the main highlights Malta has to offer.
This guide is tailored for people who will be spending at least four full days. Your arrival and departure days do not count as full days.
the 4 days in Malta itinerary
Day 1 of 4 in Malta
During your first full day in Malta, we recommend that you get a taste of what the island offers by visiting Valletta. Since Valletta is the capital city of Malta, you can expect to find a wide variety of things to do. It is worth spending an entire day exploring the history and culture of this city.
Mdina, which will be mentioned further down in this guide is another old city that is worth visiting for a day. You can choose which city to visit first, but we put Valletta as a first choice since it's a large city and it will allow you to start getting used to the surroundings.
the capital city valletta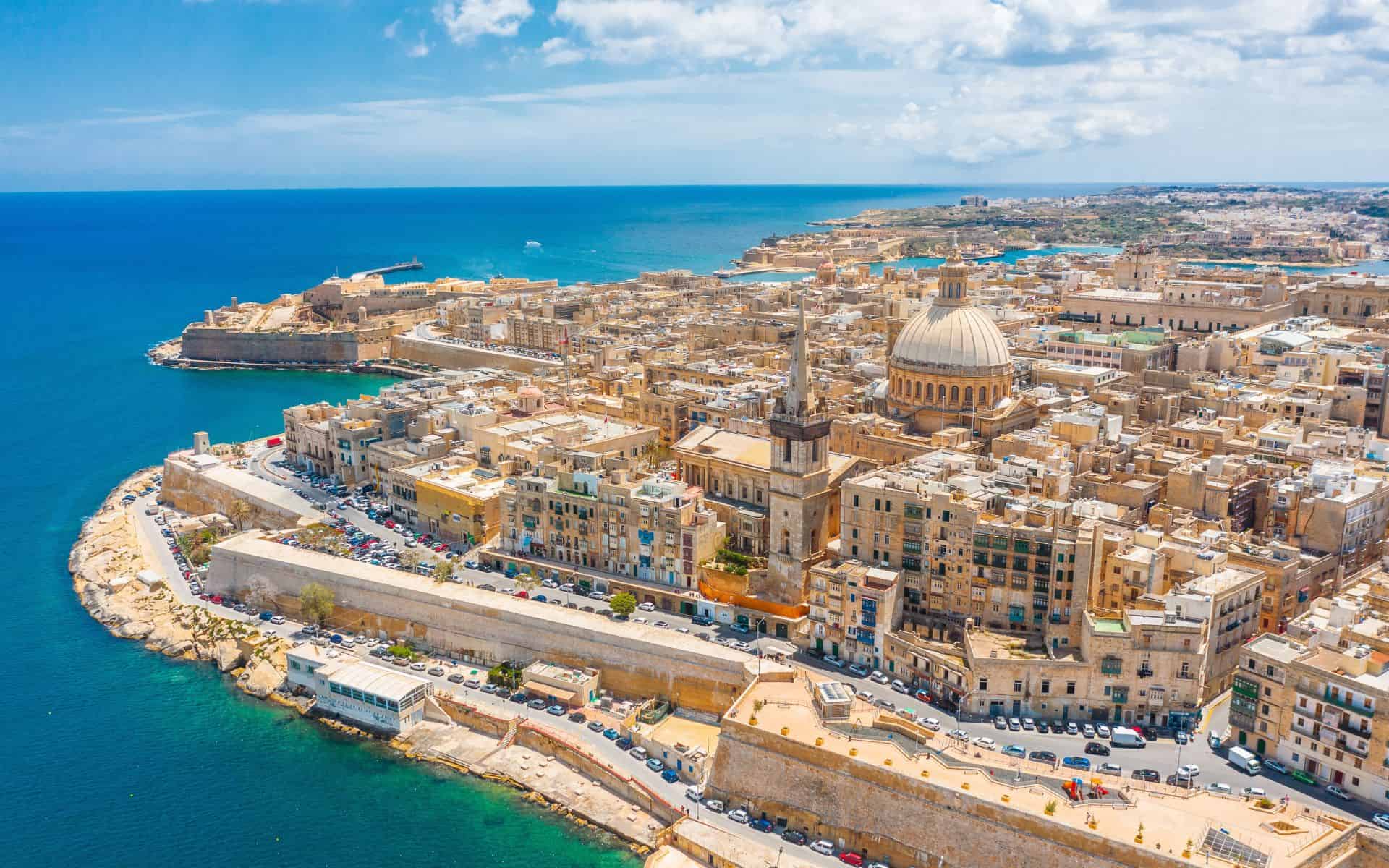 4 Days in Malta - Valletta Malta
Our capital city Valletta is known as The City or 'Il-Belt' in Maltese. It is a beloved destination among tourists visiting our island. As a UNESCO World Heritage site since 1980 and the European Capital of Culture in 2018, our capital city holds immense cultural significance. Valletta was originally constructed in a baroque style by the Knights of Malta in the late 16th Century. Today there are plenty of things to do in Valletta as the city stands as the epicentre of Malta's cultural, culinary, and commercial activities.

As a start to your visit to Valletta, you can start by going to the marvellous St. John's Co-Cathedral which is a Baroque cathedral. Inside this co-cathedral are Caravaggio's paintings as well as an intricate and detailed interior.
During your visit, you will most likely walk along the two most popular streets which are Republic and Merchant Streets. These streets stretch across the entire capital city where shoppers and locals go about their daily lives. Along the streets, visitors can find an array of museums and cultural attractions, adding to the city's allure.
We highly recommend having lunch at Café Cordina, one of Valletta's oldest café. After a nice lunch, head up to Upper Barrakka Gardens to admire the marvellous panoramic views of the Grand Harbour. Around the capital are several immersive experiences as well as museums. You might want to visit one or two during the day.
To end your visit to Valletta you can head down to Valletta Waterfront for a spectacular dinner at one of the restaurants inside an 18th-century warehouse. Later on, enjoy a walk along the waterfront leading you back inside the capital city via the Upper Barrakka Lift.
where to eat
Cafe Cordina - One Of Europe's Oldest Cafés
Nenu The Artisian Baker - A Traditional Maltese Restaurant
Is-Suq tal-Belt - Valletta Food Market
Noni - A Michelin Star Restaurant
Day 2 of 4 On The Maltese Islands
The Maltese archipelago is comprised of multiple small islands. Gozo and Comino are the other two islands that are inhabitable and accessible for people to visit. Each deserves a dedicated full day to be able to appreciate the beauty of these islands.

Being that this guide is dedicated just for four days, you can choose between one of the islands or a combination of both. If you are visiting in the summer and you want to have a unique Maltese summer experience we recommend going to Comino. If you are coming between the autumn and spring period, then Gozo is the island to visit.
As mentioned above you can visit both islands in a day, but this can be done with a dedicated tour where you will spend some hours in Gozo and then head to Comino for another few hours.
Below is a detailed itinerary of what to do on both islands for a full day.
the island of gozo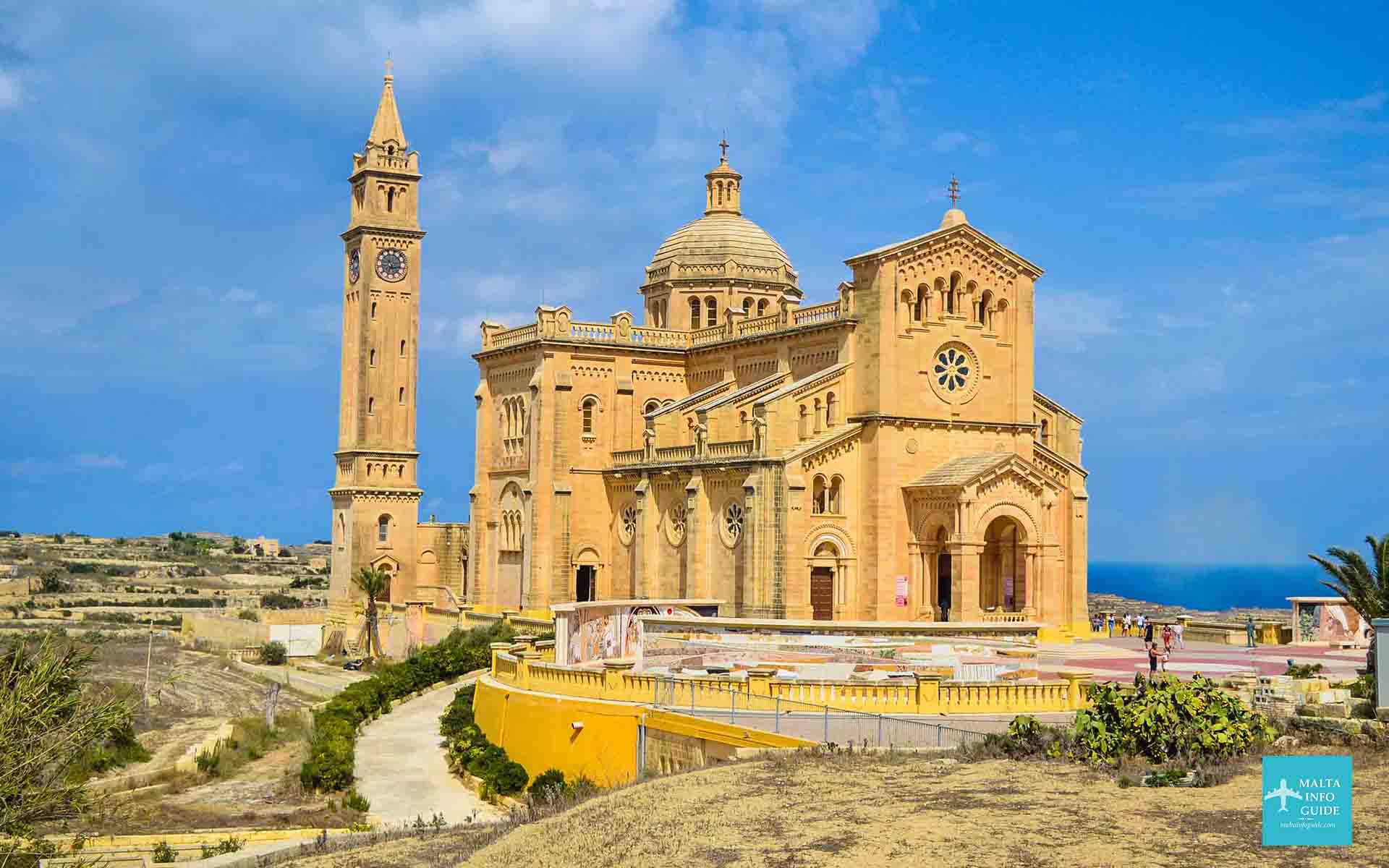 Ta' Pinu Basilica Gozo
What's better than spending an entire day on the island of Gozo? Only 20 minutes away via the Gozo Channel or around 45 minutes by the Gozo Fast Ferry. Since Gozo is quite large to explore in an entire day, here is a short itinerary on how to explore the main sights in just one day.
We recommend catching an early boat to make the most of the day. There is no need to pre-book, so just go to Cirkewwa and wait for the next boat. Upon arriving head straight to the capital Victoria. An old city with charming narrow streets and is also home to the Citadel which sits upon a hilltop. If you enjoy history, visit the Gozo Museum of Archaeology which is inside the Citadel fortified city. Around the capital are several restaurants of cafeterias for a bite to eat.
After spending a few hours in the capital city, the next visit is Ta' Pinu Basilica which is around 3.5 km away. Ta' Pinu is a national shrine with gorgeous architecture and wonderful landscapes. You can enter the Ta' Pinu for free and explore this amazing place. Dwejra Bay is the next location on the itinerary. Here is where the iconic Azure Window stood until its collapse in 2017. It is still considered a tourist spot for its landscapes and views.
Depending on how much time you have left on the island you can visit the Ġgantija temples which are considered one of the oldest in the world and they are also a UNESCO World Heritage site. There is a fee to enter this historic site. As a last resort and to end your marvellous time at Gozo, visit Xlendi, a picturesque fishing village with sunset views. Xlendi has plenty of restaurants by the water to enjoy a lovely dinner
The amount of things that you can get done, depends on the mode of transportation you are using. To be able to discover as much as possible we recommend either renting a car or using a taxi/cab. This is just a snapshot of what can be done on the island of Gozo and is in no way obliged to keep to this itinerary. Here we are only recommending the best of the best to be able to see the highlights of the island.
the island of comino malta - Mostly a summer destination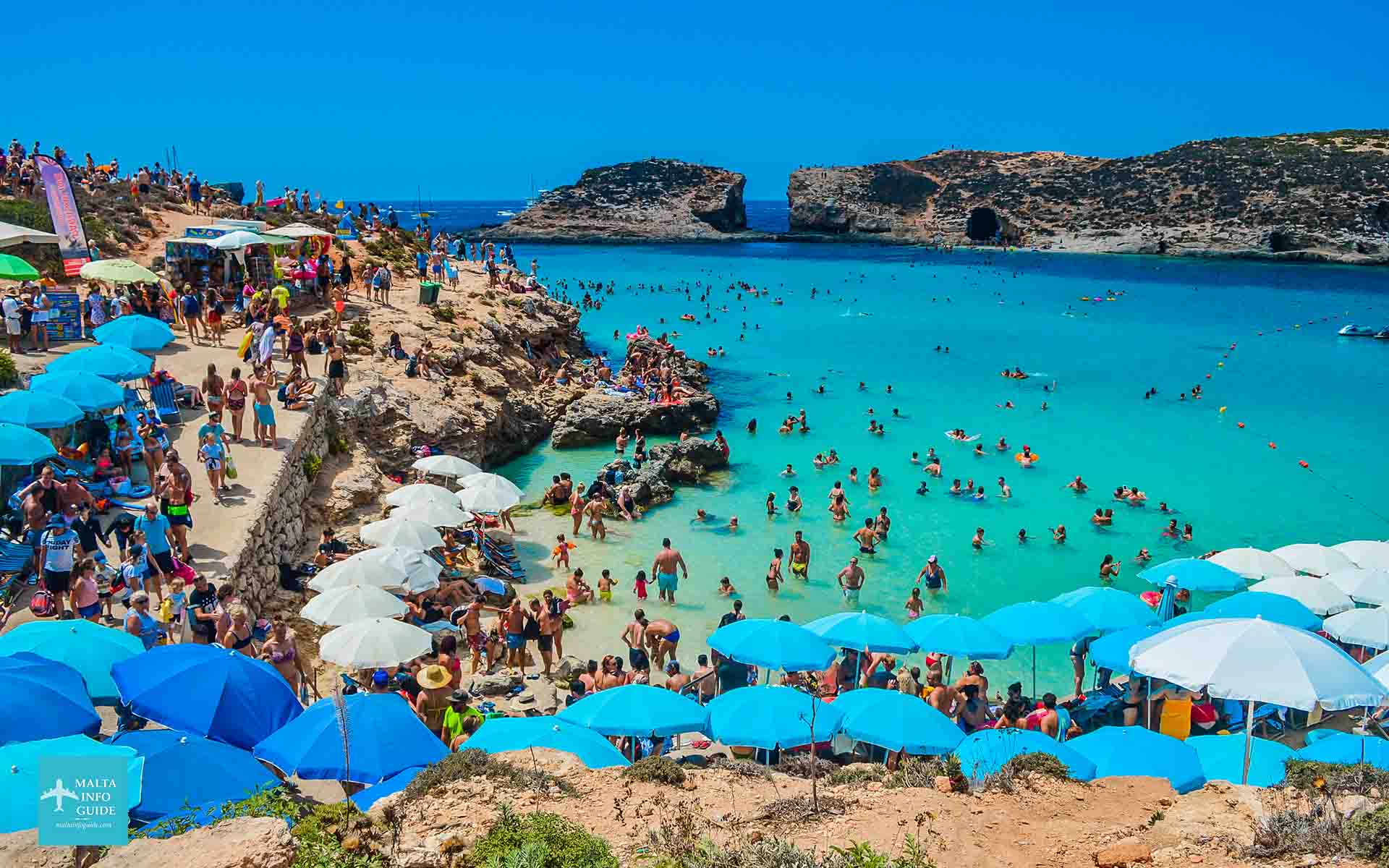 4 Days in Malta - Island of Comino
Comino is a small island sandwiched between Malta and Gozo. With its unique location, you get 360-degree views of both islands while soaking in the sun on the island. Thousands of people visit this island every year and especially during the summer months, it will be jam-packed so be prepared for some crowds.
What is there to do in Comino? Generally, there is no itinerary of what to do since all there is are just a few beaches, a church, a police station, a tower and a hotel (currently closed). The main reason people visit is for the beautiful crystal-clear waters of the Blue Lagoon. This site is probably one of the most visited areas in the whole archipelago. There are plenty of different tours that go or stop at Blue Lagoon.
Our itinerary for the day would be as follows. If you are heading up to Comino with a short boat trip we recommend coming early to try and get a sunbed at the Blue Lagoon. Swim and stay here for a few hours then grab yourself some lunch at the multiple kiosks that can be found lined up by the beach.
Later on, we highly suggest you explore the island by walking around the trails and admiring the views of the open waters and rocky formations of the island. The last boat typically leaves between 4 pm and 5 pm but if you are on a tour, you generally leave slightly earlier.
top places to visit
Santa Marija Tower
Santa Marija 
Cominotto Island
St. Nicholas Comino Beach
Day 3 of 4 in Malta
For the third day of your trip in Malta, we are heading to Mdina also known as the Silent City of Mdina. Although not as big and lively as Valletta, this city is amongst the top tourist destinations in Malta. Mdina is a maze of narrow winding streets that speak history.
the silent city of Mdina and rabat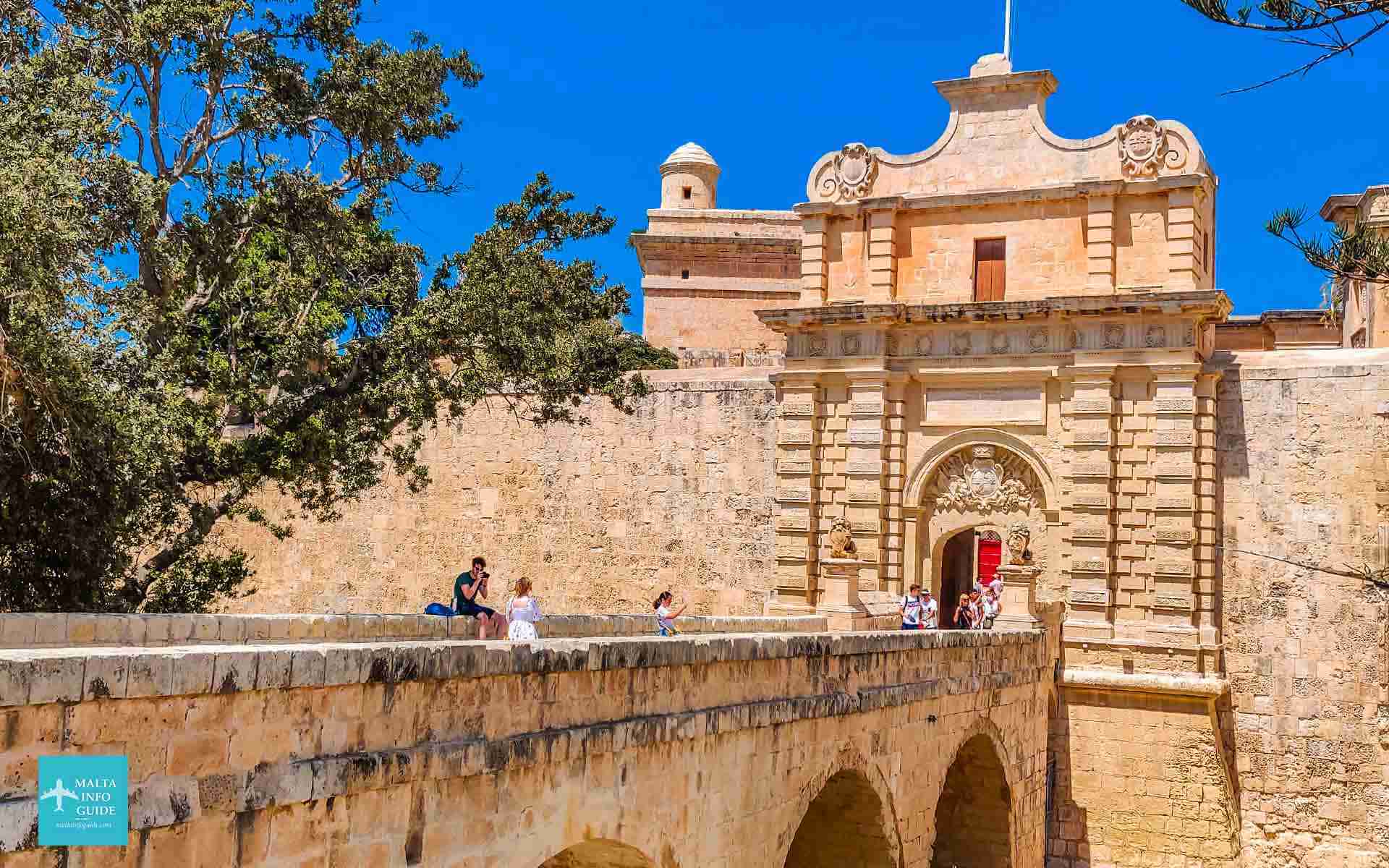 Mdina in Malta Gate
Due to Mdina being so small, you can walk around the entire perimeter multiple times. If you are wondering what to do in Mdina, there are several museums and attractions that help you learn about this city. During the day especially in summer, the city will be packed with tourists and locals.
Your trip to Mdina can start by taking a walk around the narrow streets to get familiar with your surroundings. As mentioned above, Mdina is pretty small so a walk around the entire city shouldn't take longer than 1 hour.
On your walk, you can visit St. Paul's Cathedral located in the heart of Mdina and then proceed to the bastions to witness the exceptional panoramic views that will take your breath away. From the bastions, you get to see a large portion of the island with your own eyes.
For lunch, we recommend you have a bite to eat at Fontanella, a highly popular place to eat. If you want to learn about the horrors of the past, then you can visit the Mdina Dungeons located at the main gate. Next door to the dungeons is the Museum of Natural History located within Palazzo Vilhena.
Since the city is small, you can easily complete your trip to Mdina in half a day, it all depends on how fast you explore. If you still have time to spare, you can walk to the neighbouring village of Rabat and explore the streets and culture. To end your day, you can have dinner at a restaurant in Rabat or walk back into Mdina.
For a full detailed guide on what to do in Mdina, check out our day trip in Mdina itinerary.
what to visit
The Mdina Gate

St. Paul's Cathedral
The Mdina Experience - Audio-Visual Show
The Mdina Dungeons Museum
Palazzo Falson - A Norman House
Vilhena Palace & National Museum of Natural History
where to eat
Bacchus Restaurant - Fine Dining
Il-Veduta Restaurant - Gorgeous Panoramic Views
Fontanella Tea Garden - Malta's most popular tea and cake destination
Trattoria AD 1530 - At Xara Palace Relais & Châteaux
Day 4 of 4 on the Island of Malta
On the fourth and last day of your holiday, we are mixing a couple of different things to do. Since Malta has so much history, you can choose to visit multiple megalithic temples. You have a choice of visiting them yourself or taking a half or full-day tour. The other option is having a free day to roam and shop around.
megalithic temples of malta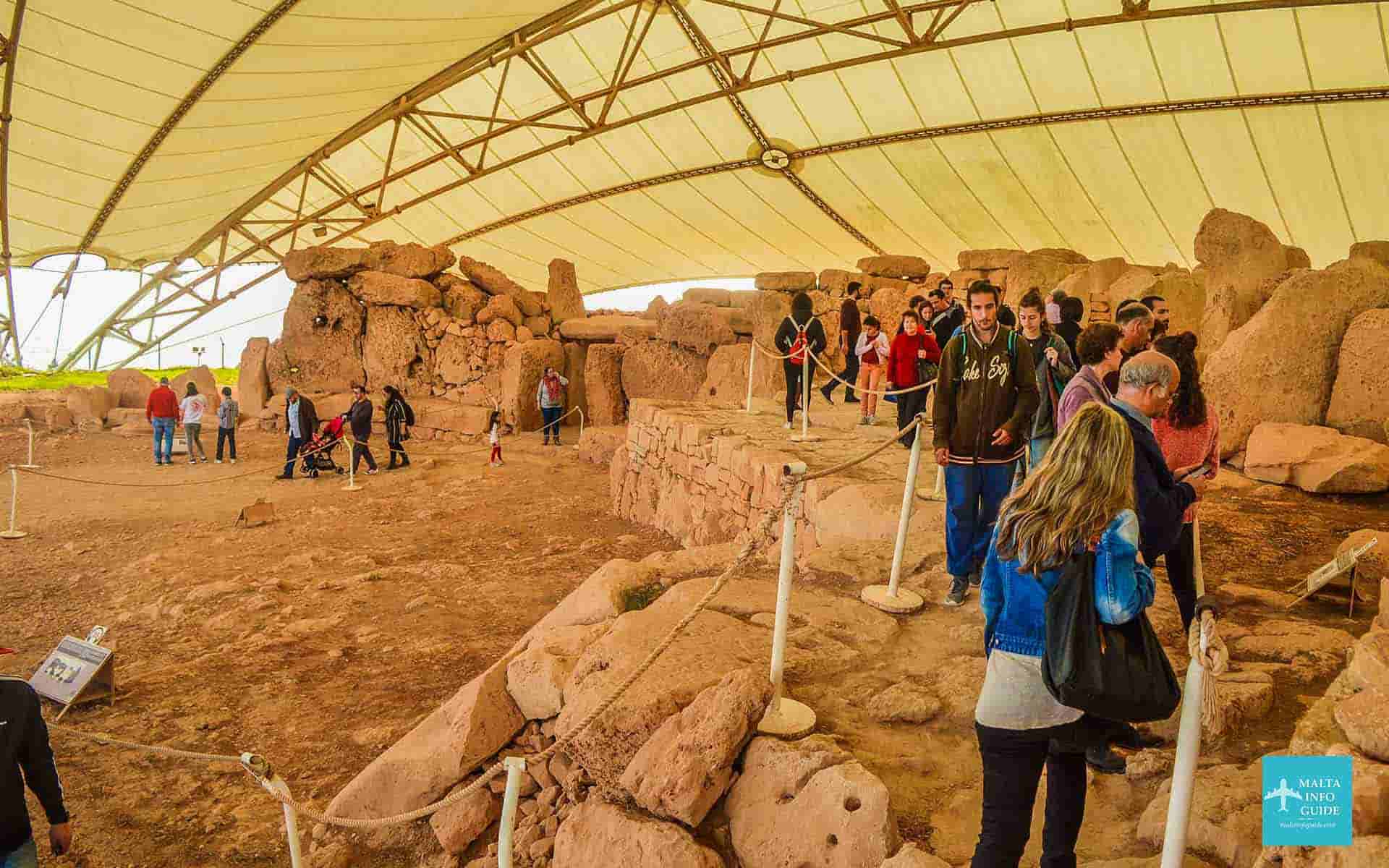 4 Days In Malta - Mnajdra Temples
As mentioned above there are plenty of megalithic temples on the islands that can be visited on your own or by a tour guide.
There are seven megalithic temples in Malta which can be visited totally by yourself. They are all opened at a fee which can be paid at the door or online. Some of the historic temples include Ħaġar Qim, Mnajdra, Ġgantija and Tarxien. When you are visiting these temples alone you have ample time to explore the structures, marvel at the massive stone slabs and also read all the historic signage explaining the history of the temple. Take the time to capture memorable moments by taking your camera or mobile phone.
If you are slightly sceptical about which ones to visit and in which order, then a tour is the best way to explore them. There are two types of tours, the half-day and the full-day. The difference is that on the half-day you will visit two different historic sites whilst on the full-day you will visit three historic sites plus a visit to Marsaxlokk and Blue Grotto. Together with the tours, you will have an expert guide who will provide insights into the temples.
tours to take
Private Half-Day Archaeological Sites Tour
From Malta: Gozo Day Trip Including Ggantija Temples

Prehistoric Temples, Limestone Heritage & Blue Grotto

spend half or full day shopping in malta
Enjoy a delightful one-day shopping adventure in Malta, starting in vibrant Valletta. Discover a mix of high-end boutiques, designer brands, and local artisan shops, indulging in fashion, jewellery, and accessories.
Another shopping spree area is Sliema, a bustling coastal town with modern malls, department stores, and trendy fashion outlets offering international and local brands. The most famous shopping mall The Point is located in the Tigne area in Sliema. It is the largest mall in Malta offering three floors of shops and places to eat.
Explore Mosta, known for its iconic Rotunda, and its surrounding streets filled with quaint shops selling unique souvenirs, handmade crafts, and traditional Maltese products. Conclude your shopping experience in Mdina, Rabat and Ta' Qali, where charming boutiques offer local artisanal goods and crafts. Malta fulfils every shopaholic's dream!
Where to stay in malta - 4 days in malta
To make your holiday more complete, choosing the perfect place to stay is a high priority. Malta has a wide variety of different accommodations ranging from budget-friendly to high-class luxury. Prices of accommodation differ on your choosing and length of stay on the island.

Tip: If you are visiting Gozo and wish to stay one night, you can always book a separate accommodation on the island.
Hotels are scattered all over the archipelago, but the most convenient places are Valletta, St. Julian's, Sliema, Bugibba, and Mellieha.
Have a look at multiple pages with our recommended hotels found on the island of Malta.
If you are looking to stay in the capital city, check out where to stay in Valletta:
how to get around malta
Transportation has a vital role in your holiday in Malta even though our island is very small. Both islands, Malta and Gozo, have the same transportation system. If you intend to rent a car and drive around the island, this mode of transportation will benefit you to explore more of our marvellous island in a freer way.

If driving is not something you wish to do, then public transport is another option. Yes, travelling around will take more time, but you will get to see the island stress free.
If time and patience driving is not something you have, then grabbing a taxi is also an option. Although it is more expensive, the chances of getting from one place to another faster are much higher. With the number of taxis on the island, you will definitely find one a few minutes from where you are.
In our opinion, the most fun way to travel around the island is by sightseeing buses. These buses give you a deeper insight into the island as well as you can get from point A to point B.
This is the end of our guide on how to spend 4 days in Malta. If you are still not sure how many days to do in Malta, check out our guide. We also have another in-depth guide to 2 days and 3 days in Malta.
Valletta Aerial Photo - Depositphotos
want to rent a car in malta?
We have used Discover Cars every time we rented a car. We highly recommend them due to their good service and good prices.
Get The Best Rates On Your Car Rental Now!
need to book a hotel for your malta visit?
Using Booking.com, enter your travel dates and number of occupants then rates will be available for hotels and apartments during your visit to Malta 
Book Your Hotel In Malta on Booking.com for the Best Rates!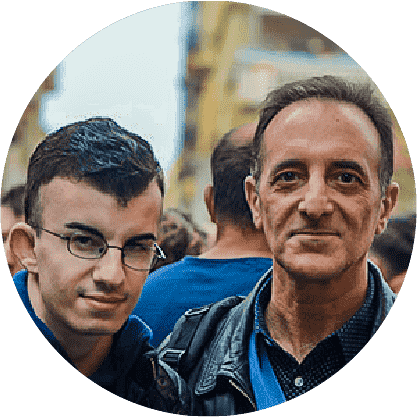 By Albert and Benjamin Magro