St. Peter's Pool Marsaxlokk
Remote little hideaway, secluded, out of the beat
St Peter's pool Marsaxlokk is another lovely beautiful natural peaceful inlet pool that is frequented by many tourists locals. It is an ideal location where you can relax away from the daily busy tourist areas. Located between Marsaxlokk fishing village and Delimara Point.
It is located in the south of Malta surrounded by the lovely blue deep waters and natural limestone rocks. It attracts swimmers for its crystal clear azure and light green colours and also offering ideal areas for snorkelling.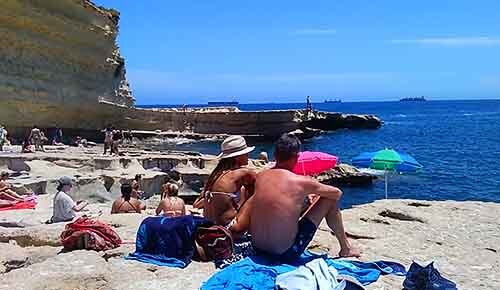 When the sea is calm it is a beautiful green and blue color.

Worth visiting for people to like to snorkel and divers to discover the lovely fish and rocks that they can discover whilst exploring the area. 
How to go from Marsaxlokk to St Peter's Pool by Bus?
- There are no public transport buses to this bay.
- The closest bus stop is Abdosir with route numbers 81, 119 and 210 which is outside Marsaxlokk village. 
- From here you have to walk for 2.3 kilometres which will surely take you 30 minutes.
- If you stop at the centre of the village, beside the parish church in front of the beach, you will have around 3 kilometers.
- We suggest that you take comfortable walking shoes for the way as it will be easier to walk than with flipflops. If in summer it is recommended to take water with you. There is a fairly steep hill going towards the bay.
Parking at St. Peter's Pool Marsaxlokk
- There is parking on top of the cliff half way from the main road to the bay. 
- The road leading there is very bad but there are many who drive slowly towards it.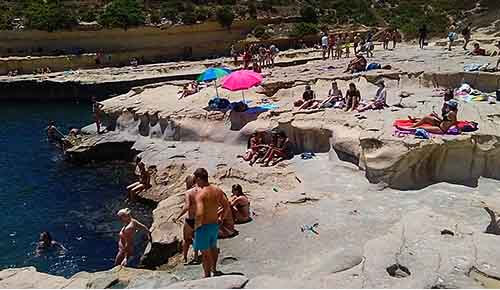 - Then you find a field where there is ample parking space. 

- This road is narrow and only one car can pass at one time although it is two way.
- Parking by the main road is recommended but spaces are limited since the road is narrow.
- Ladders are available to access the sea and the more adventurous bathers have the option of diving into the waters from a few meters up. 
- Ladders are installed for the peak summer months between June to beginning of September.
- On the other hand there are a few steps but in the rock seashore to help you come back up on land. They might be a bit difficult for older people.
- One should have a look before going down in the sea if the steel ladders are not installed for the summer period.
How to get to St.Peter's Pool Bay from the Car Park
- From the car park there is a steep track leading down to the bay. At the end there is a flight of stairs without any handrail.
- The older generation due to the rather dangerous unpaved path, needs to be careful and cautious how to reach the bay.
Water Taxi From Marsaxlokk
- On calm weather days can be reached by fishing boat hired from the pier or is a short €10 euro ride in a private taxi.
- Do remember to book your return taxi with a fixed time to collect.

More To See & Do in Malta
- This natural swimming pool may not be suitable for small children at all times.
- We only recommend this bay for children if only confident in swimming and they are well attended.
- The sea is all deep and since the bay is open it can be choppy or rough on windy days but on calm days the bay is beautiful.

- Here you find no chair and umbrellas to rent. No restroom. No water sports rental and no lifeguard.

- Make sure that you bring whatever you need for a day out as there are no facilities whatsoever.
- There is a nice friendly ice cream man in the car park.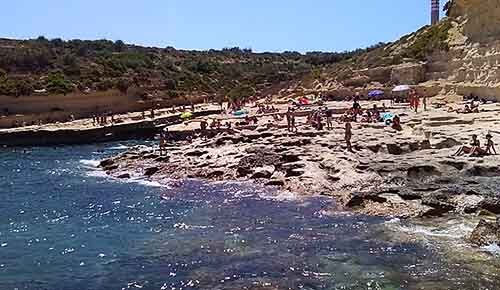 - He also sells water, soft drinks and basic Maltese Ftira with tomatoes, oil etc.

- This service is mostly available during summer.
- We still recommend that you get your own as you will not find any food and drink in this area.
- The closest place is Marsaxlokk village.
- Prime Minister Dom Mintoff lived nearby and swam here daily in the past for many years.
- It used to be a very quiet spot where you could descend the stone steps and swim in the sea.
St Peter's Pool Dog Titti
- Diving Dog: Pet Jack Russell 'Titti' Jumps From Rocks With Her Owner
Marsaxlokk Fishing Village
- Close by St. Peter's pool is the village of Marsaxlokk which is a fishing village where you can see local fisherman mending their nets.
- A good location for beautiful photos and plenty of restaurants for sea food lovers to meet every budget.
- You will love it and surely return to visit again.

Delimara Bay:
- Located just up the road around half a kilometre.
- There is more space to park and a shorter walk to reach the beach.
- It is all rocky and the sea is all deep.
- Naturally it is more crowded.
- We suggest that you visit the bay for a good swim where you can relax surrounded by natural rocks and plenty of space to lay your towel for sunbathing.
Il-Ħofra l-Kbira:
- Beside St. Peter's Pool there is another two rocky bays adjacent to each other.
- They are called Il-Ħofra L-Kbira and Il-Ħoffa ż-Żghira.
- Recommended a visit for a swim. The location is very quiet where you can relax away from crowds.
St. Peter's Pool Marsaxlokk