Activities In Malta May 2020
the best Fun Things To Do In Malta

Date Last Updated: 25th May 2020

The activities in Malta for May 2020 is the start of the summer season with plenty of fun and big events. Find all the current events in Malta for this month including Lost and Found Festival, Green Festival, Mdina Medieval Festival and Fashion Week Awards.
Apart from attending an activity, many Maltese and tourists start sunbathing at prominent beaches especially at sandy beaches.
It is the time for exams so many are constrained indoors but activities are not least. Relaxation moments in the countryside are very common with greenery still at its best and the heat would not be that strong. 

Malta Public Holidays

Celebrations during May
Malta Village Feasts May 2020

1st - St. Joseph the Worker, Birkirkara - Public Holiday

9th - St. George Preca, Swatar
24th - St. Paul's Shipwreck, Munxar Gozo
24th - The Annunciation, Tarxien
31st - St Anthony of Padua, Għajnsielem, Gozo 
Click here to send your activity to us.


Restrictions in Malta started to be lifted but events are still not being held. We will update the activities as they start being held. In the meantime you can browse our things to do and activities for this month as you can imaginatively plan you trip for summer 2021.
What To Do Whilst Here In malta in May

Top Activities To Do In Malta
Activities In Malta May 2020
We highly recommend this popular cruise as we tried it ourselves. Hop on a boat and enjoy a trip to one of Malta's surrounding islands. A trip that takes a whole day. You visit and swim at the Crystal Lagoon then proceed to the famous Blue Lagoon Malta. You can also visit Gozo as it is an additional tour.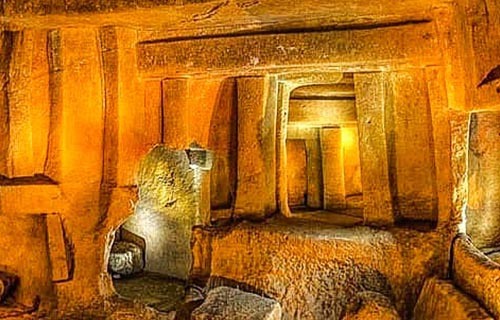 Discover one of Malta's oldest burial ground. Thousands of people visit every year. Hypogeum Malta is known to be one of the best preserved prehistoric sites in the world. A tour not to be missed. Tickets should be booked from weeks before. Make sure you get yours now!

Why not spend a morning exploring two very popular attractions. First stop will be the magnificent Blue Grotto. An optional 20-minute boat trip can be taken to the stunning caves. A destination everyone who comes to Malta wishes to visit. Later that morning you will visit the small fishing village of Marsaxlokk, where you can buy local specialties and souvenirs.
A tour we highly recommend you to try out! With Malta being so tiny, you can take a cruise and travel round the whole island in a day. Explore the wonderful coast our island offers and also stop at the beautiful island of Comino. Be treated to a complementary buffet lunch together with free flowing drinks throughout the entire duration of the cruise.
Top Malta Day Tours 2020
Activities In Malta May 2020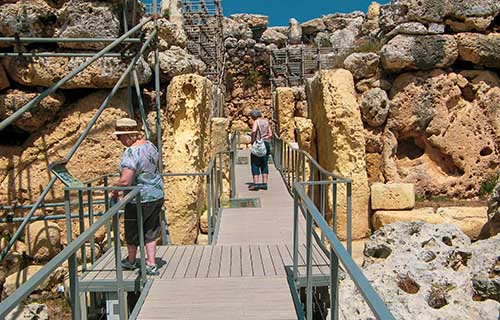 Drive around the island of Gozo in a Jeep. Experience the beauty Malta's sister island has to offer from the stunning countrysides all the way to the gorgeous small villages. You will also visit the Ggantija temples. A unique powerboat ride is included where you will pass by Comino caves and the Blue Lagoon. To make your trip more relaxing, hotel pick-up and drop-off is included.
See the three villages on a full-day tour led by certified guides. If you want to visit the three most popular villages on the island, then we recommend this tour. You will not only visit these villages but find out why they are so popular and why tourists visit them so much. Your first stop is the Mosta dome, told to be the third largest dome in the world. Next you will visit Ta' Qali Crafts Village, Mdina, Rabat then Dingli Cliffs.

Explore the tiny sister island of Malta the best way. Spend a whole day at Gozo island by first crossing to the island by ferry. The tour will take you to the islands hot spots such as Xlendi Bay, Ta' Pinu Basilica and Cittadella. Everything included - Pickup and drop off, Gozo ferry ticket, buffet lunch, train ride to Cittadella and certified guide.
Top Places To Visit In Malta
Activities In Malta May 2020
The Capital City Valletta
The smallest capital city in Europe. Valletta, a fortified city built over 450 years ago by the Knights of St. John. Today, thousands of people visit Valletta on a daily basis. This city is full of churches, shops, boutique hotels, Museums, historical sites, baroque architecture and antique palaces. We suggest you visit the capital city when you are on holiday in Malta.
Mdina Malta - Former Capital City
Malta's former capital city. One of the most visited locations on the whole island. Mdina is situated at a very high altitude, where there are views of the whole island. A location where Game of Thrones season 1 was filmed. Home to one of the most expensive hotels in Malta. What can you do in Mdina? There are plenty of things to do and many points of interest that you may want to visit.
Top 7 Events In May 2020
Activities In Malta May 2020
1. Lost & Found Festival 2020
The Annie Mac Presents Lost and Found Festival held in Malta for the last six years between the last days of April and beginning May. From day to night with breath taking boat parties with formidable back ground of Malta's coastline and blue Mediterranean Sea.
Spread over four days a formidable line-up of international artists entertains you from day to night at the Café Del Mar. It is where the daily pool parties are held starting at 12:00, with other unique stunning venues around the island with open-air arena and four stages to entertain you at the Numero Uno ta' Qali.
The Lost and Found Malta festival is a true fusion of different music styles attracting diverse people who like a variety of music styles meet together once a year on this island.
lost and found festival details
Venue: Café Del Mar, St. Paul's Bay
When: Thursday 30th April to Sunday 3rd May 2020 New Dates: Thursday 10th to Sunday 13th September 2020
Click the button below to have a great time
Best Hotels near Café del mar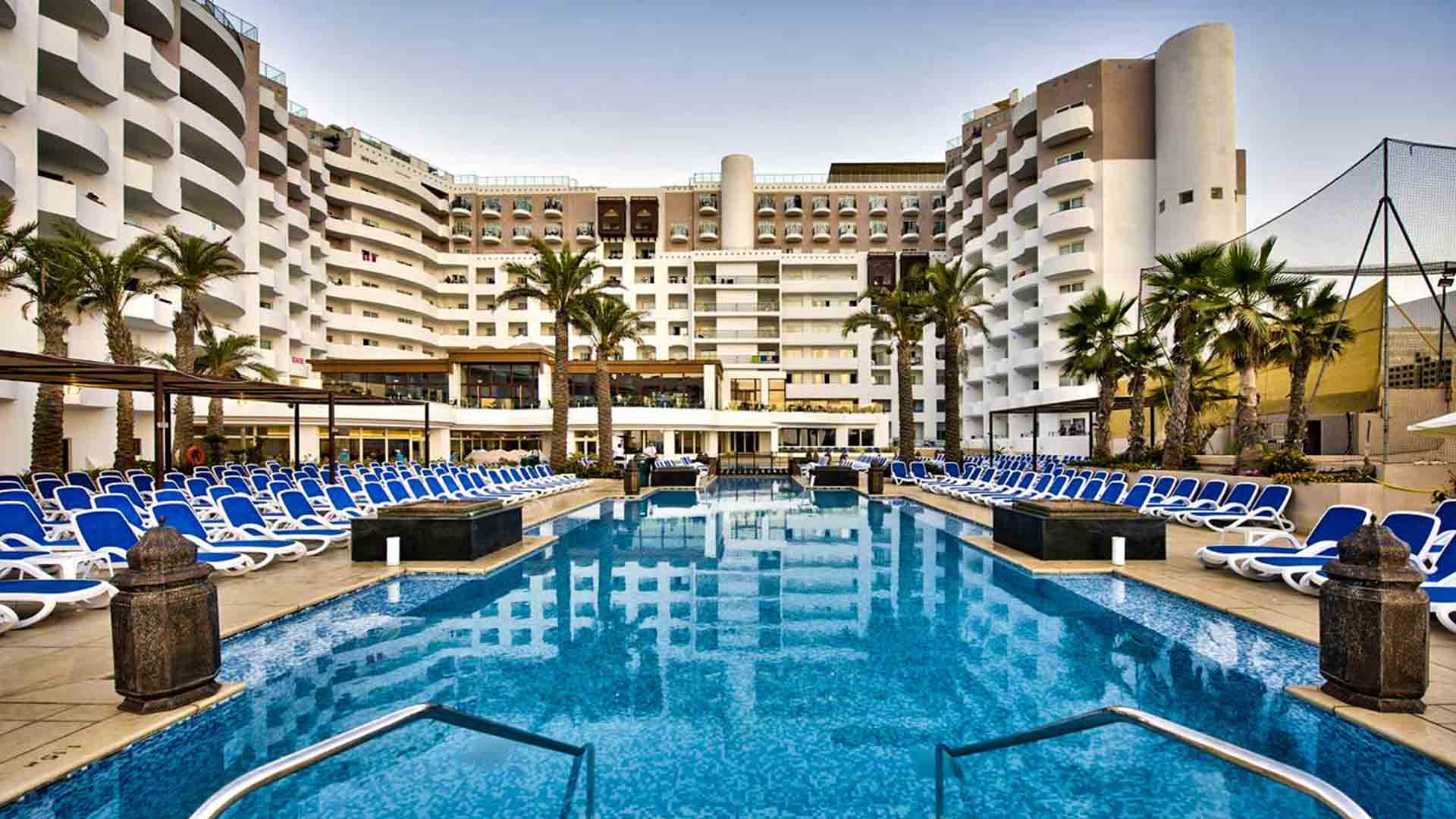 If you are attending the Lost and Found Festival, here are some suggestions of hotels nearby where you can accommodate yourself for the duration of your stay. We are also including the distance of each hotel to the venue.
4 star hotels
Check out more hotels near Café Del Mar
2. In Guardia Parade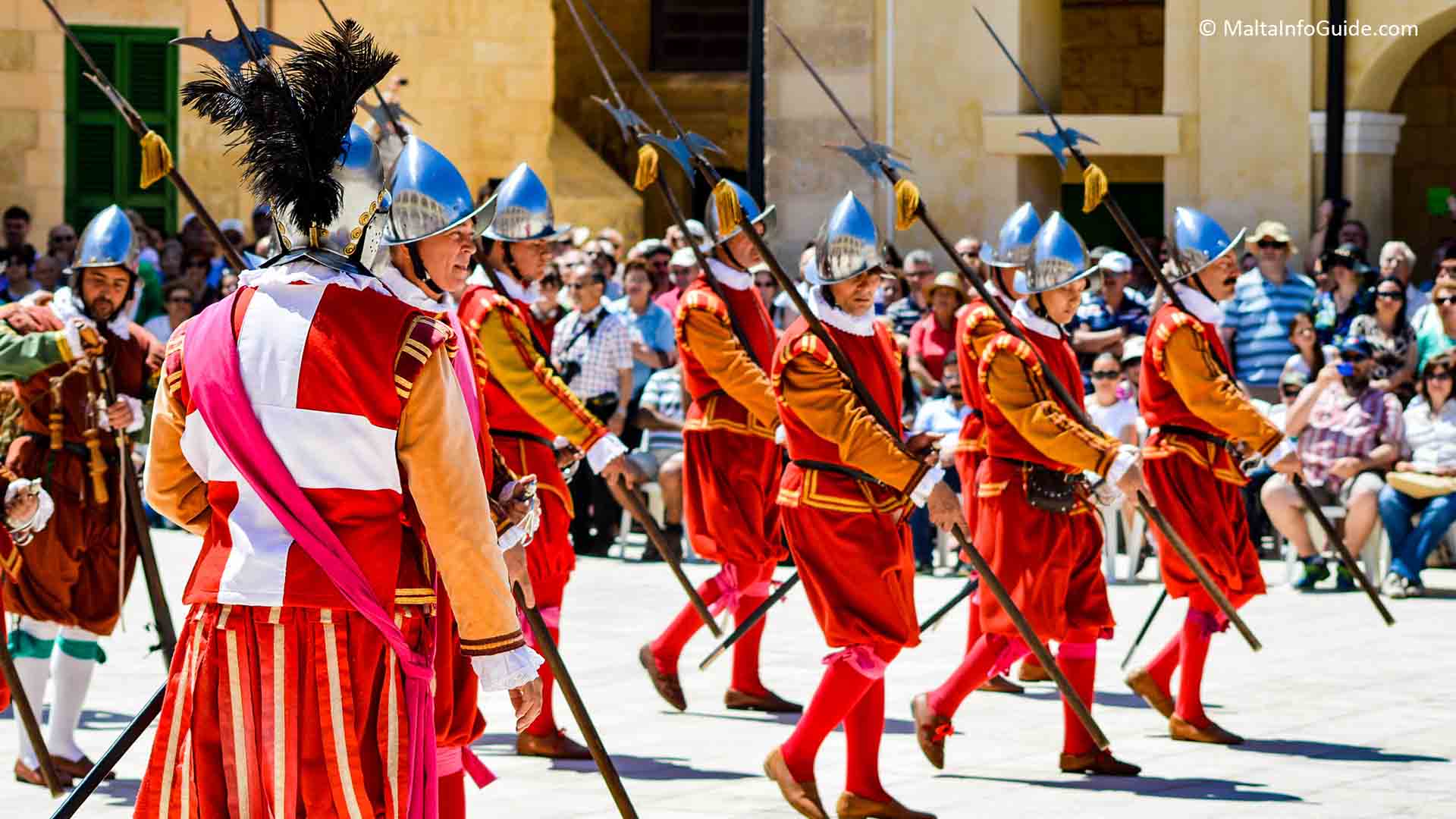 The In Guardia Parade is a re-enactment of an actual historical event that used to take place at Fort St Elmo during the time of the Knights of St. John.
It used to be an inspection of the local troops by the bailiff to check their capability of resisting a Turkish attach against the fort. The fort used to guard the entrance of the two main harbours of Malta where the Knights of Malta used to keep their fleet as protected as possible. The knights were known across Europe for their ability of holding the Turks back from attacking mainland Europe.
The re-enactors are dressed in period colourful costumes performing, drills, fencing, fire arms and canon firing.
To buy tickets you have to see when the shows are held as they are not frequent. Once at the fort you can visit the National War Museum.
Details about In Guardia Parade
Venue: Fort St. Elmo, Valletta
When: Sunday 3rd, Sunday 17th & Sunday 31st May 2020
Time: 11:00 - 11:45
3. Valletta Green Festival 2020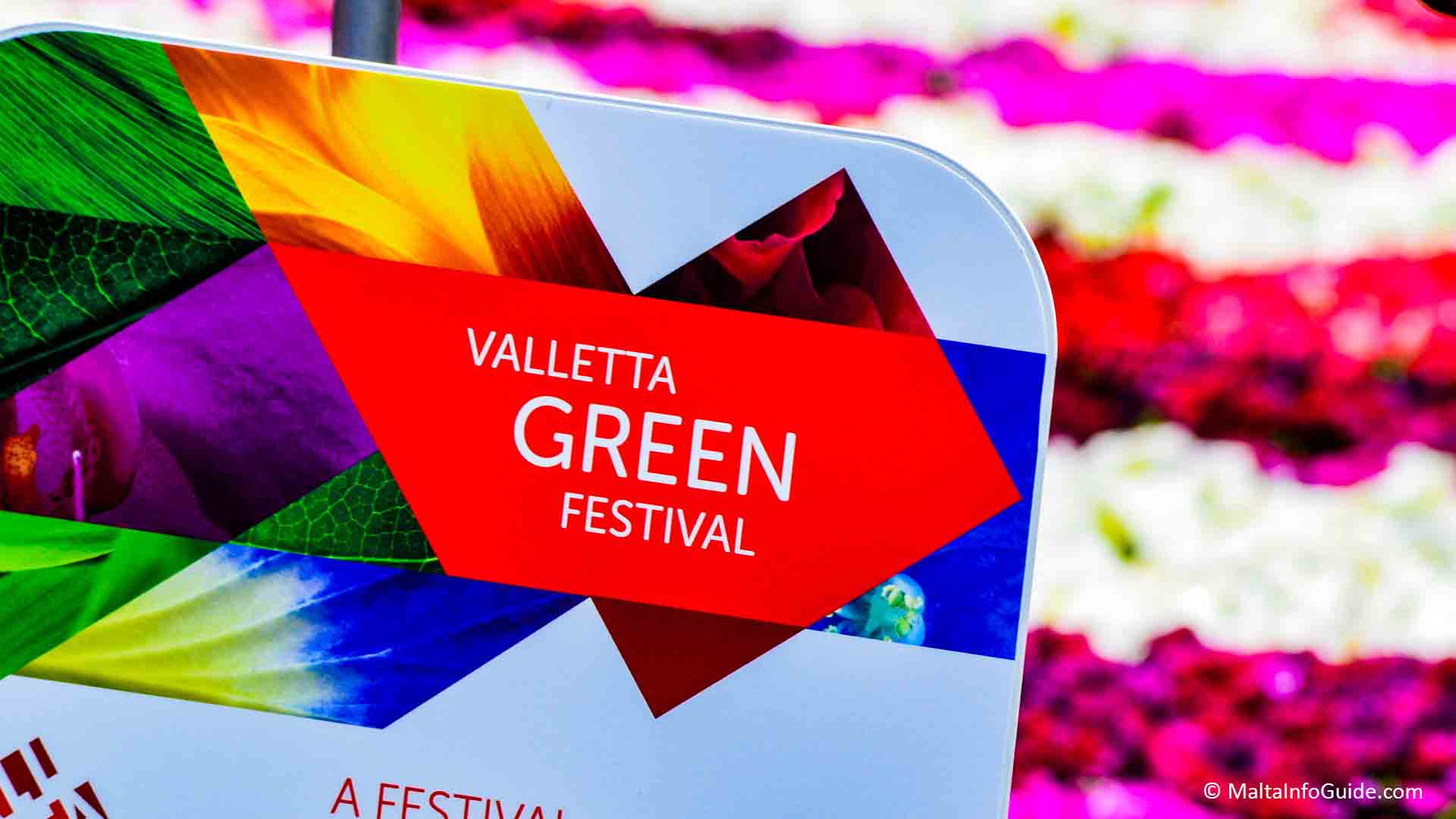 The Valletta Green Festival is a yearly opportunity to enrich the capital city Valletta with a green element of a huge flower carpet spread on the floor of St. George's Square in front of the President's palace.
More than 80,000 seasonal flower plants crammed tightly together are planted time before to be in blossom for the infiorata to create an intricate design of white, yellow, purple, red and pink colours for visitors to see, walk around and take photographs.
It is held every spring aiming to inspire residents to grow their own flowers in their own houses around the villages and towns of the island.

Details About valletta Green Festival
Venue

:

St. George's Square, Valletta
When

:

Thursday 7th to Sunday 10th May 2020 - This is an online exhibition.
This is an outside display of colourful plants which can be seen all through the day.
4. 13th Mechanised Ground Fireworks Festival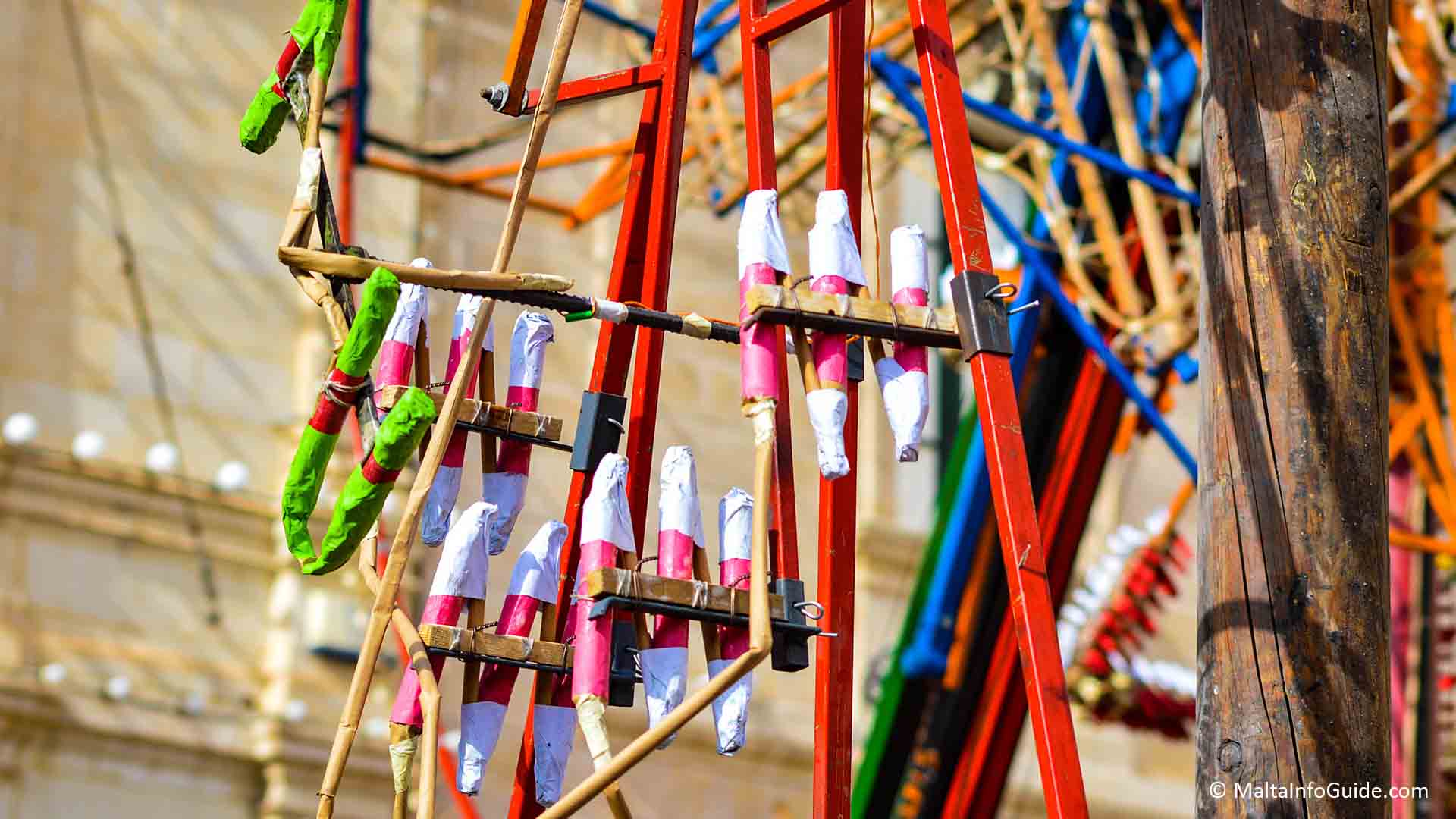 The popular Mechanical Ground Fireworks Festival is held during the feast of St. Publius Floriana celebrated during this month of May. All local Maltese and Gozitan feasts celebrate their patron saint feast with ground fireworks. They are a unique Maltese pyrotechnic tradition with highly elaborate fireworks techniques manufactured by local village enthusiasts.
This festival is a result of this huge interest where the Local Council of Floriana organizes a competition between ten different companies for the best Catherine wheel mechanized fireworks. Thousands flock to watch this event from all villages around the island.

Details About the mechanised firework festival
5. Mdina Medieval Festival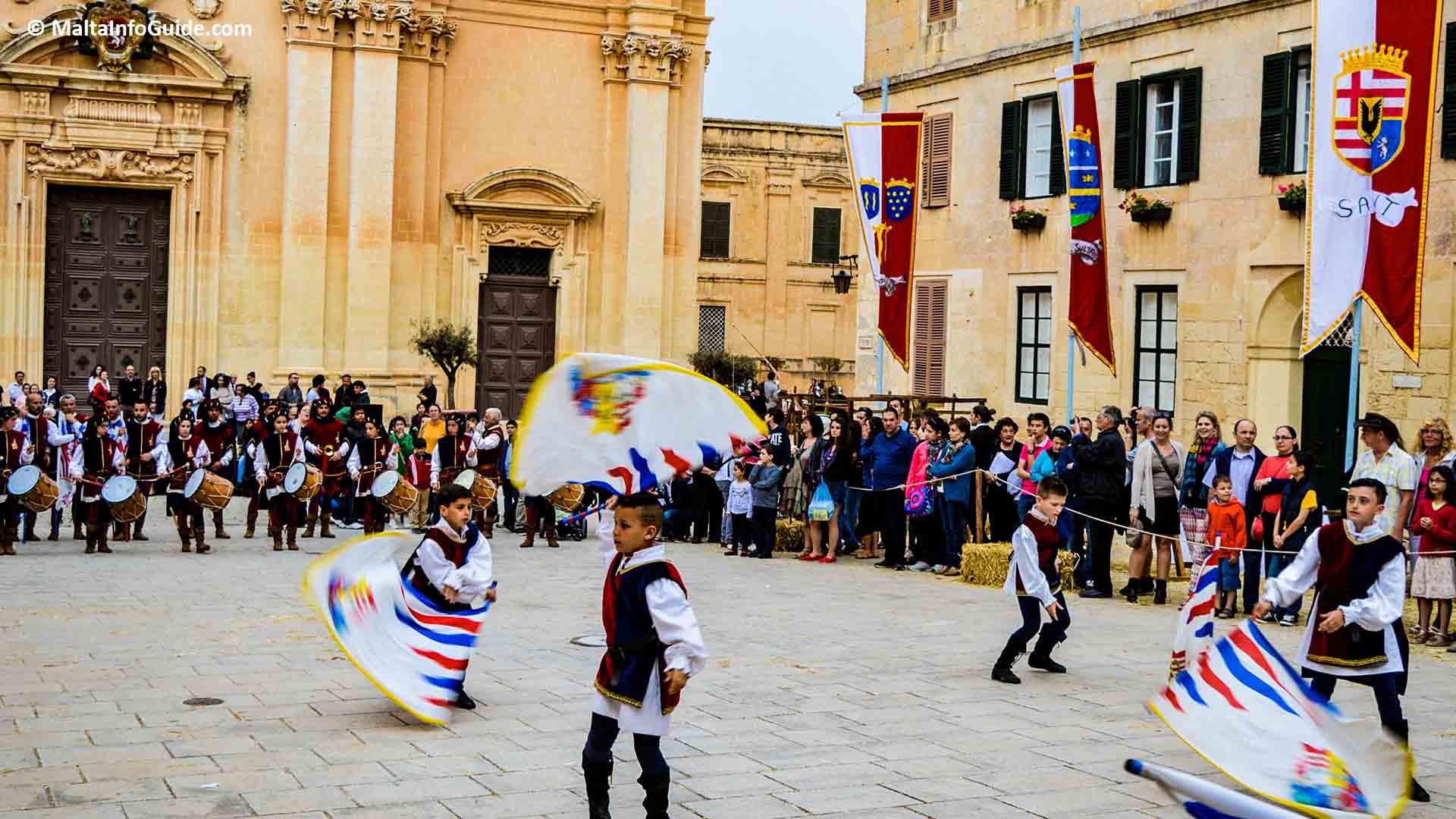 It is a two day of re-enactments and pageantry, the Medieval Mdina has been happening since 2015 to arouse awareness about Malta's late medieval period from 1200 to 1500 AD.
It is usually organized during the first day of May where activities are spread in the streets of the old capital and around the bastion walls. During these two day foreign and local groups are invited to perform re-enactments.
It features a medieval market and music, Falconry and birds of prey, children's area, lectures and concerts, not least a food and drinks areas. Various battle scenes which attracts many people around the old capital ditch.
All these activities attract a very large number of visitors and so did the festival became a very popular with the locals and tourists.

details about medieval mdina
6. Beland Music Festival 2020
The Beland Music festival consists of local established music artists who are invited to participate has been held at the village of Zejtun since 2011 during the month of May. Many music lovers await for this festival with a varied program of events for all audiences
Through the Beland Music Contest the organisers enables new emerging artists, musicians and groups to participate and win through their performances. The will have the opportunity to exhibit themselves in front of a large audience during the three day festival.
The festival is supported with the collaboration of the Arts Council Malta.

details about beland music festival
Venue: Zejtun
When: Friday 8th to Sunday 10th May 2020
Click here for details about Locations and Times
7. Malta Fashion Week & Awards
The Malta Fashion Week and Awards has become a platform for Malta's top-shelf talented artists to unveil their local fashion creations to the international scene. This incorporates, makeup artists, designers, models, and hairdressers.
The shows are all set in the heart of Valletta apart from exhibitions, design workshops and pop-up shops has today become one of the most-attended events on the islands.

Organiser: Unique Fashion Studios
Venue

:

Fort St Elmo, Valletta
When: Wednesday 20th to Friday 29th May 2020
Other Activities During This Month
Things In Malta May 2020
2020 Ocean Lava Malta 113km Triathalon

Venue: Bahar Ic-Caghaq
When: Sunday 17th May 2020
Time: 07:00 to 13:00
Click here for details
Beethoven 2020

Venue: Manoel Theatre
When: Friday 22nd May 2020
Time: 19:30 - 21:00
Click here for tickets
Qormi Music Festival 2020

Venue: Qormi
When: Saturday 23rd May 2020
Time: 20:00
Thomas Anders of Modern Talking Live at Summer Lust

Click here for more information
Ira Losco and Friends Live at Summer Lust

Click here for more information
Gozo Alive 2020

Venue: Gozo
When: Friday 29th to Sunday 31st May 2020
Al Bano and Romina Power In Concert

Al Bano and Romina Power will be performing together as a duo for the first time in Malta along with 4 backing vocals and a 5-piece band under the direction of Maestro Alterisio Paoletti.

Venue: MFCC, Attard
When: Friday 29th May 2020 Monday 7th September 2020
Time: 20:00
Click here for tickets
The Grid 2020

Venue: Pembroke
When: Saturday 30th May 2020
Time: 07:00 - 14:00
Click here for tickets
Valletta Concours D'Elegance 2020

Venue: St. George's Square, Valletta
When: Sunday 31st May 2020
Time: 07:00 - 14:00
Click here for tickets