St. Patrick's Day Malta 2024
Celebrate St. Patrick's Day with the Maltese the Irish Way
St Patricks day in Malta is the time for everyone to drink and celebrate the Irish style. It is the day where many take leave from work, meet friends and head on to the big gathering at St. Julian's.

Disclaimer: On our website, you will find affiliate links from which we receive a small commission.
When is St. Patrick's day 2024

It is always celebrated on the 17th March which is the costumery death date of Saint Patrick who is the main patron saint of Ireland. AD 385–461).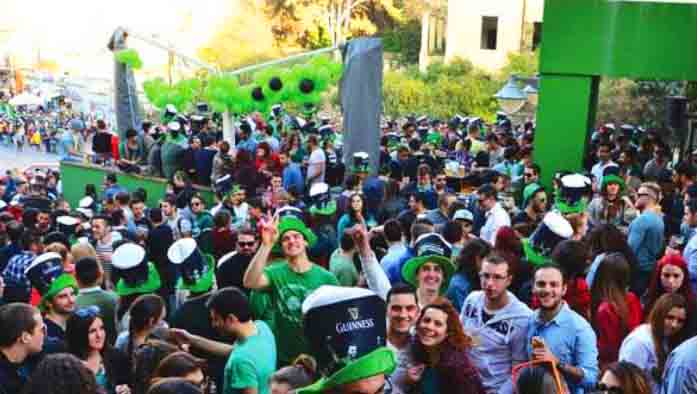 People Celebrating in St. Julian's
events for st. patrick's 2024
Events to be listed closer to date.
St. Julian's Local Council Announcement

Updated 15th March 2023: All the below is according to the St. Julian's Local Council;
The following are roads that will be closed on the day of St. Patrick's (Friday 17th March). These will be closed between 13:00 and Midnight (12:00):
The Shore of Spinola
Accesses to the Shore of Spinola.
Part of Triq Mikelang Borg (from the access of Triq il-Baltiku towards the Shore of Spinola)
Part of Triq il-Kbira k /m Triq Mons. Guido Calleja
Triq Gorg Borg Olivier (from where City of London Pub heading towards Spinola Shore)
Triq San Gorg
Triq Ross
Part of Triq Sant' Andrija heading towards Triq Gort and Triq San Gorg
Triq Wied Ghomor
Parking lot at Xatt ta Spinola (Where Tiguglio)
Apart from that, the following roads will be classified as towin areas on the following date and times:
On Friday 17 March 2023, between 10.00 and midnight. (10.00 to 00.00)
Spinola Bay including parking (Where Tiguglio)
Ross Street
does malta have a public holiday?

No, in Malta it is a normal working day for everyone both for private companies and all government departments. All banks are open as usual everyone operates with the normal working hours.
Even though it is a normal working day, plenty of workers take a day off to celebrate and drink.
Why do the Irish celebrate St. Patrick's day?

St. Patrick's is a heritage, culture and religious celebration, celebrated on the 17th March of every year.
The feast is in honour of St. Patrick, the patron saint of Ireland.
St. Patrick was a Christian missionary who is said to have brought Christianity to Ireland in the 5th century AD.
It became an official Catholic feast day during the early 17th Century. Today it is a global celebration of Irish Culture especially by Irish communities and descents. 
In Ireland, this day is officially a national holiday, with parades, festivals, and other celebrations taking place across the country. The holiday is marked by wearing green clothing and accessories, as well as displaying shamrocks (the national symbol of Ireland) and other Irish-themed decorations.

How is it usually celebrated and what do people wear?

It is usually celebrated with public parades and festivals but these are not held in Malta although the Irish-Maltese Circle organise a parade at the capital city Valletta.
People wear green coloured clothing and green hats.
A real shamrock is usually worn on the lapel on St. Patrick's Day. The shamrock is associated with good luck.
A shamrock is a green plant where each stem has three round leaves around it. It is the national symbol of Ireland.
Legend says that Saint Patrick used the shamrock plats with three leaves on one stem to explain the Holy Trinity to the then Irish pagans.
Do the Maltese celebrate St Patrick's day?

Yes. In Malta it is celebrated on the same day of the 17th March.
The main gathering is at St. Julian's where thousands of people pack the St Julian's seafront area.
With drinking of local Farsons beers and foreign imported beers. Loud traditional Irish music is played over loudspeakers. Bars are purposely erected in the main road side car park called Spinola.
People start gathering in early afternoon and remain there till the early hours of next day.
What should be expected for those who have never been there

The St. Julian's area seafront is packed with thousands of people.

Many foreigners join the Maltese to celebrate this event.
Today it is a meeting point of many friendly communities of friends meet up to drink and chat for long hours up to the early hours of the next day.
Many bars and restaurants offer an ample variety of beers and drinks to satisfy the variety of requests by locals and foreigners who today live and work in Malta.
St. Patrick's Festival in Dublin, Ireland

It is celebrated between the Thursday 16th to Sunday 19th March 2023. Five great days and nights. - To be confirmed in 2024
St Patrick's day Malta and the local community 

The local community of St. Julian's who live in the surroundings are not happy at all about this event as it bring with it complaints about the excessive noise and excessive litter.
Sources and Further Reading

want to rent a car in malta?
We have used Discover Cars every time we rented a car. We highly recommend them due to their good service and good prices.
Get The Best Rates On Your Car Rental Now!
need to book a hotel for your malta visit?
Using Booking.com, enter your travel dates and number of occupants then rates will be available for hotels and apartments during your visit to Malta 
Book Your Hotel In Malta on Booking.com for the Best Rates!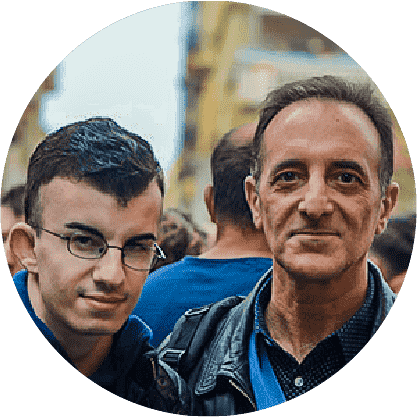 By Albert and Benjamin Magro