Activities in Malta August
Activities In Malta August 2022
several events in malta during august
Date Last Updated: 10th June 2022

The peak of summer with activities in Malta August 2022. Discotheques, festival and concerts are at their best. The weather is always very gorgeous, and plenty of events take advantage of it.
It is the month of festivals with the Delicata Wine Festival in Valletta and Gozo. The Marsovin Grape Harvest Feast is celebrated at their vineyards at Marnisi Marsaxlokk.
Disclaimer: On our website you will find affiliate links from which we make a small commission.
It is just the beginning of a month full of activities. Numerous feasts celebrated to the villages saint during this month with spectacular fireworks, colourful decoration band marches with the participation of most of the village people.
Click here to add your activity

What To Do Whilst Here In Malta in august

Top Things To Do In August
Activities in Malta August
Combine two very popular attractions in one. A boat ride to the famous Blue Grotto which will make you want to take dozens of photos for memories. Apart from this, you will visit the only fishing village on the Maltese islands Marsaxlokk.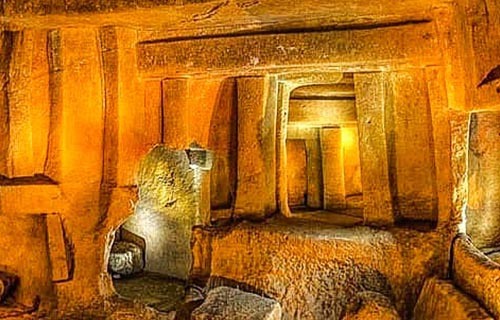 Discover one of Malta's oldest burial ground. Thousands of people visit every year. Hypogeum Malta is known to be one of the best preserved prehistoric sites in the world. An tour not to be missed. Tickets should be booked from weeks before. Make sure you get yours now!

Know what's going to happen when you land at the airport. Have your own driver and private vehicle that takes you directly to your accommodation easy and affordable. Book in advance not be disappointed. 

Top 8 Activities To Do
Activities in Malta August
1. The Delicata Classic Wine Festival Malta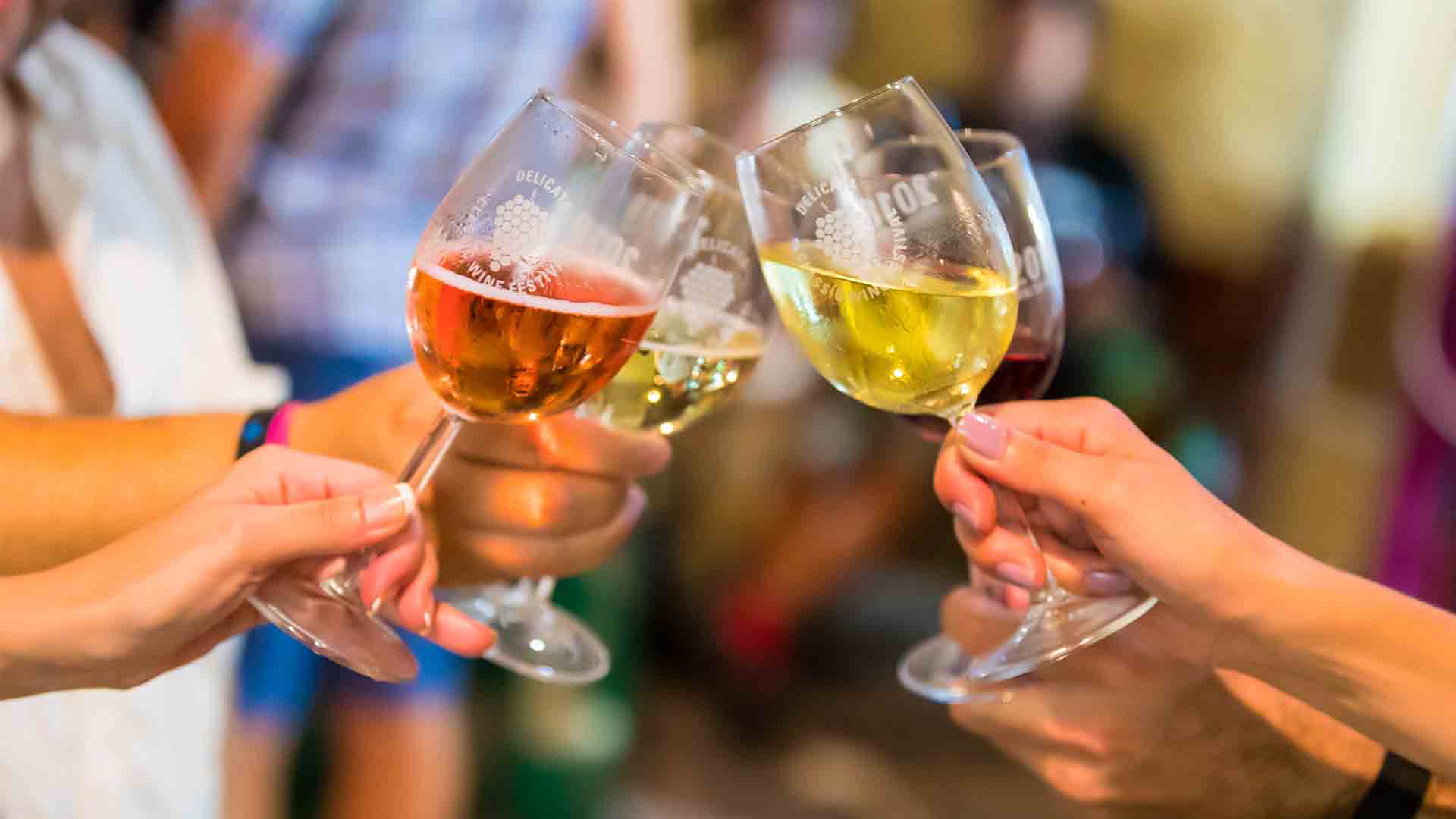 Courtesy of Delicata Wine Festival
The Delicata Classic Wine Festival was held in Valletta at the Upper Barakka Gardens for the first time immediately attracted many people to this innovative wine festival and to this inviting location with breath taking views.
Every end June or beginning July wine enthusiasts meet to taste some of the delicious refreshing Maltese wines the company has produced apart from a variety of food stalls offer a variety of foods for all tastes. Live entertainment blends the evenings well with participation of local musicians and bands.
Emmanuel Delicata family winemakers have been on the local scene since 1907, the oldest family-run winemaker on the islands where they have won international awards from Bordeaux and Burgundy in France to Italy and the United Kingdom apart from others.
details about wine festival
Venue: Upper Barrakka Gardens, Valletta
When: Saturday 13th to Sunday 14th August 2022
Time: 19:00 - 00:00
2. Malta International Food Festival 2022 (GOZO)
The Malta International Food Festival Gozo edition is hosted during summer in the village square of Xewkija just beside the imposing village church.
It is the ideal time to taste different world delicacies and wines hosted all together, it is a free street festival where you can also taste genuine Gozitan delicacies.
Live music by the local talent will set the pace to help you indulges in this overwhelming choice of different foods.

Malta International Food Festival details

Venue: Xewkija Main Square
When: TBA
Time: 18:00
3. Summer Daze Malta 2022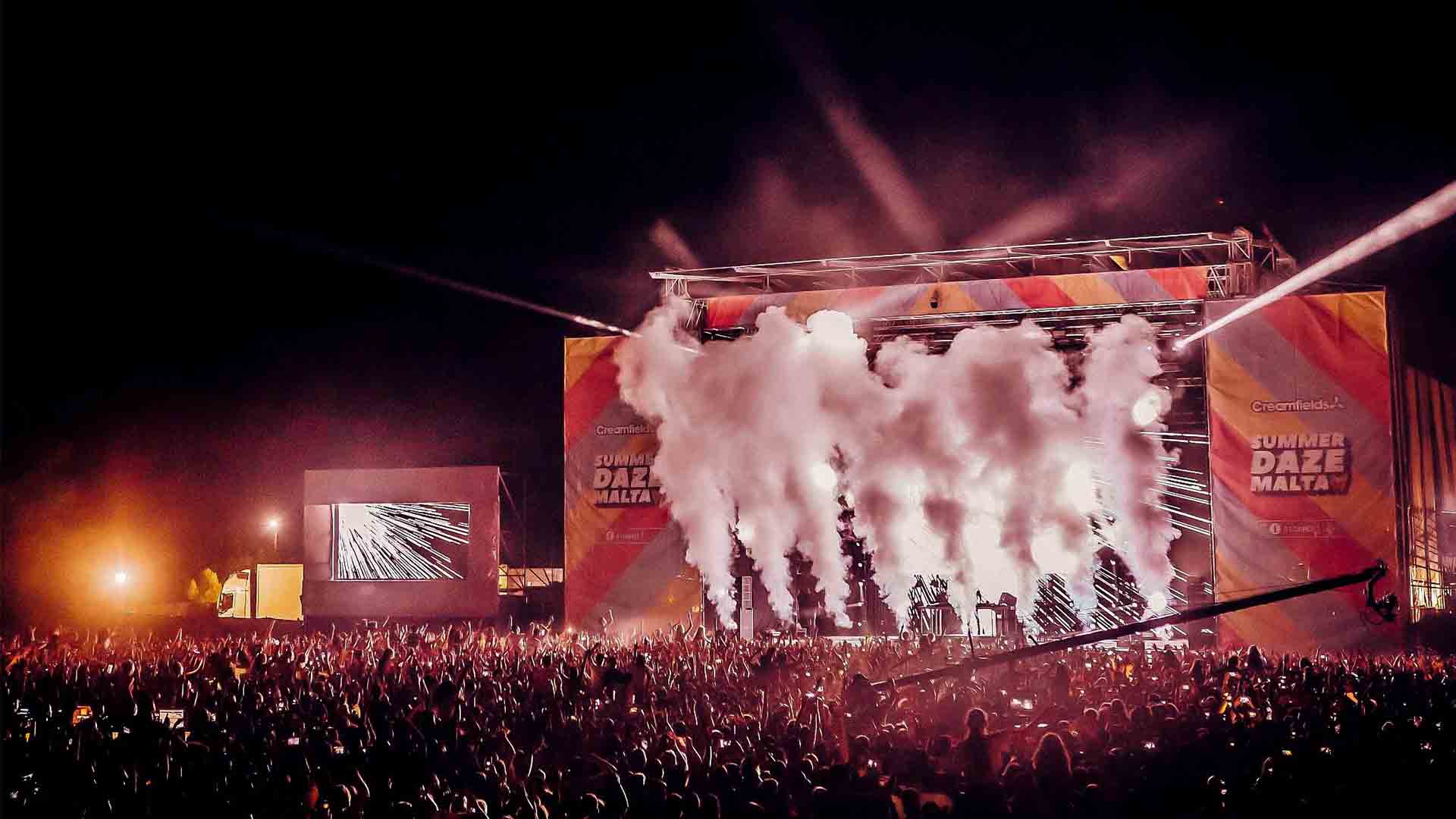 Summer Daze Malta takes place in August the height of the summer season offering some of the best in demand DJs and popular artists. Held in locations across the Maltese island, first and foremost at the amazing Picnic area National Park at Ta' Qali where the surroundings are transformed into a partying paradise. The popular summer Malta's Club Uno and Café Del Mar with a formidable sea view just beside the venue area typical stunning setting of this Mediterranean island.
Due to its popularity it takes place on various days with more performances to amaze the audience.
It offers outstanding sounds from like Rita Ora, Green Velvet, Tyga, Martin Garrix, David Guetta, James Arthur, Green Velvet, Alle Farben, Paul Kalkbrenner, Martinez Brothers, Loco Dice and Danny Howard.
Summer Daze is a combination between the internationally renowned clubbing brand Creamfields and BBC Radio One very popular for its extraordinary following.

summer daze festival details
Venue: Various locations around Malta

When: Wednesday 10th to Wednesday 17th August 2022
Age: People under the age of 14 years must be accompanied by an adult (18+)
4. The Delicata Classic Wine Festival Gozo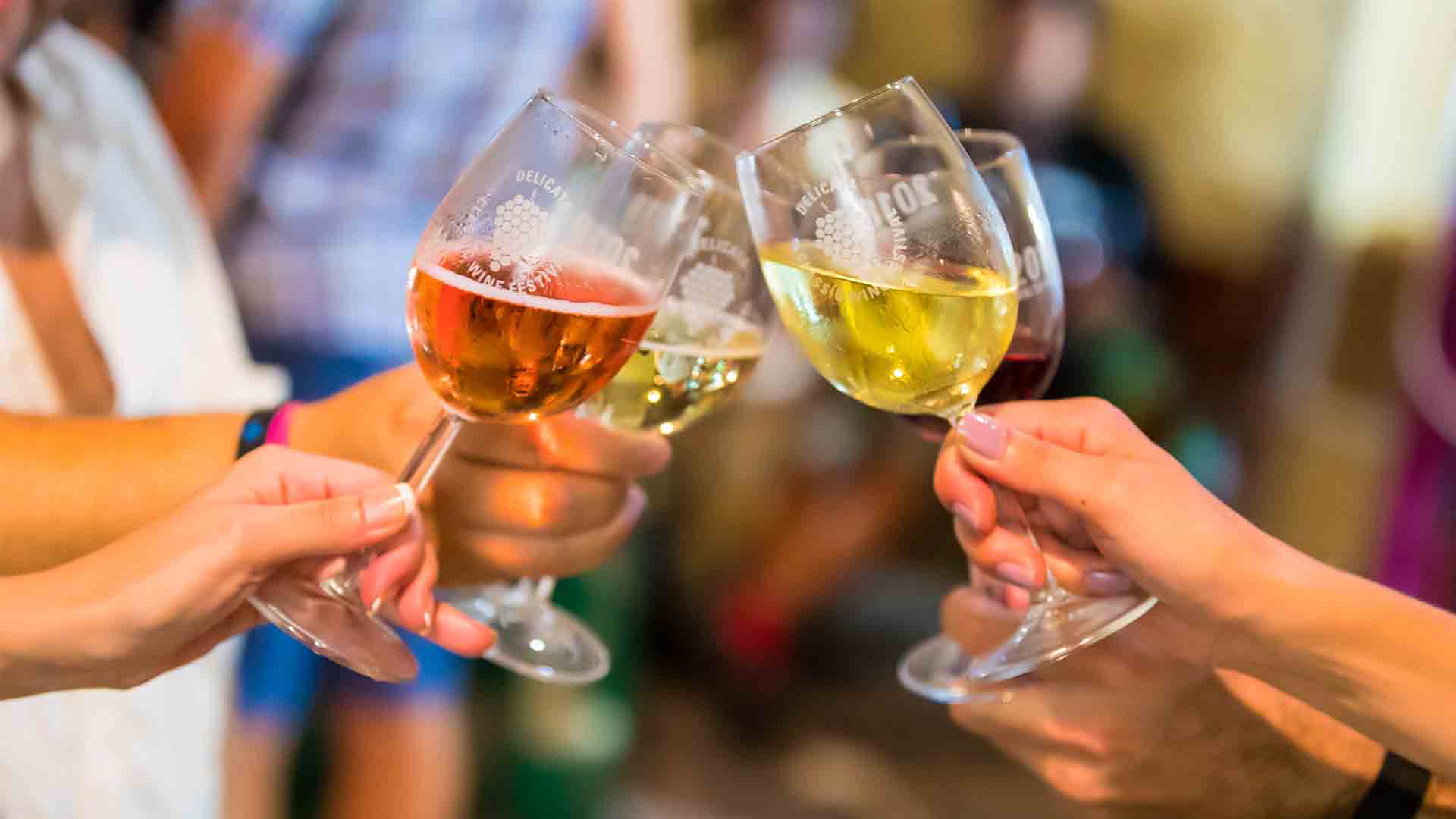 Courtesy of Delicata Wine Festival
Nadur village through the collaboration of the Local Council and Emmanuel Delicata family winemakers brings to life again the annual wine festival attracting many Maltese, tourists and Gozitans alike.
It is held during August where the islands enjoys many visitors who come here to relax so too this festival blends itself well.
It takes place at the Nadur garden overlooking a panoramic view of Gozo, the evenings blends themselves very well with wines, food entertainment and atmosphere. Upon arriving you can buy a souvenir wine glass where you can enjoy a variety of 20 Maltese grown grapes Syrah, Merlot, Sauvignon, Chardonnay and others.
Live entertainment is provided every night of the three day festival by Maltese and Gozitan musicians.

details about wine festival gozo
Organiser: Emmanuel Delicata Winemaker
Location: Ġnien Il-Kunsill, Nadur, Gozo
When: TBA
Time: 19:00 to 24:00
Website: www.delicata.com
5. Glitch Festival 2022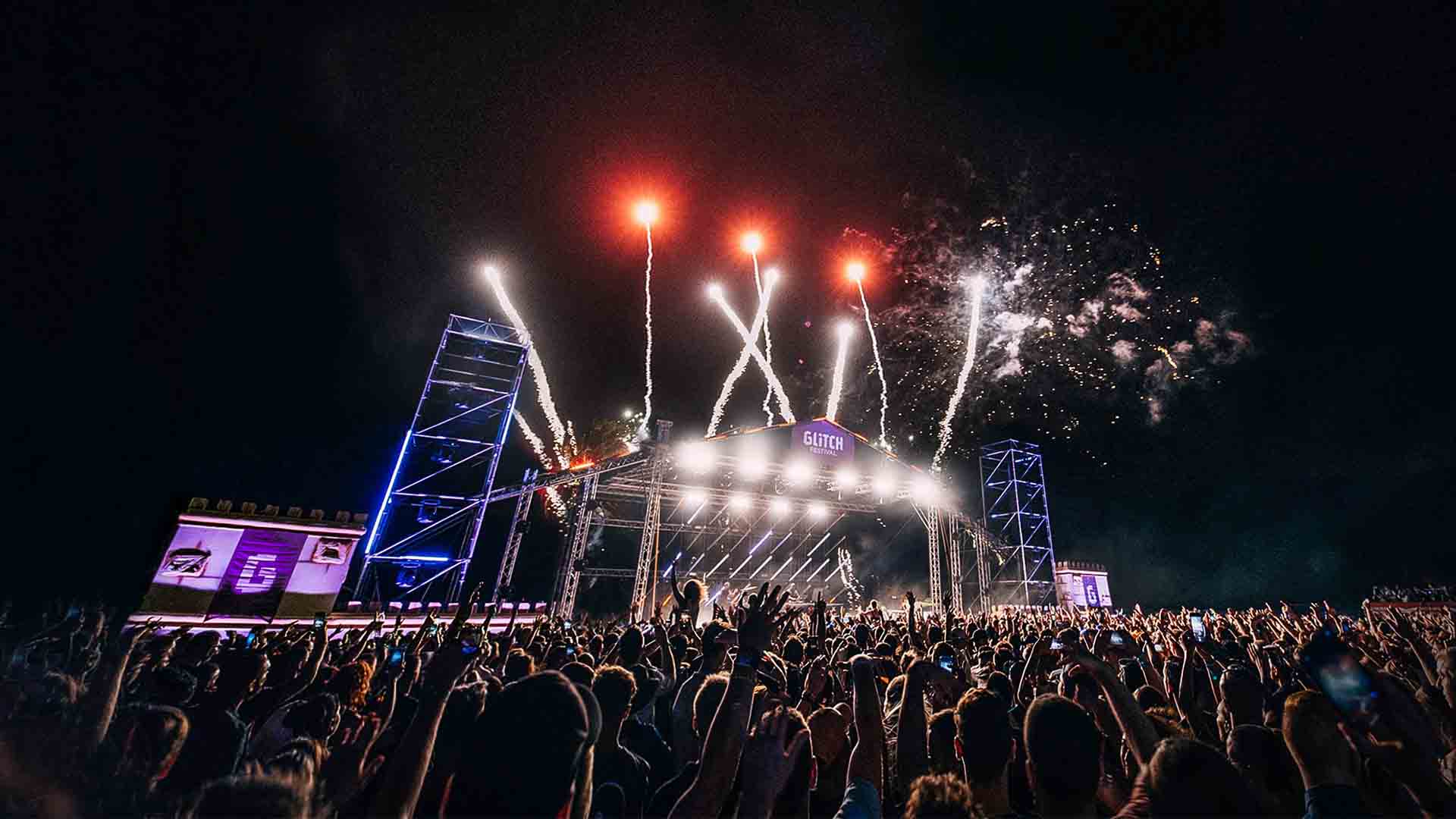 The Gianpula Village is the host for the Glitch Festival which is labelled as a Maltese house and techno gem. It is a highly anticipated event where electronic music enthusiasts from many different countries gather in Malta during the peak summer hot month to celebrate
A variety of events are held from boat parties, secret cave raves along the picturesque coastline.

information about glitch festival
Venue: Gianpula, Limits of Zebbug
When: Saturday 13th to Tuesday 16th August 2022
Find Glitch Festival Tickets Here
6. August Moon Ball
The August Moon Ball is an annual activity organized within the gardens of the Verdala Palace, Buskett. It is attended by around 1000 people everyone dress in evening clothes with the patronage of the President of Malta. A lavish dinner is served including live music apart from the incredible atmosphere the location can offer.
With a splendid setting of the magnificent country house and fortress. It was built by the Knights of St. John purposely located as a hunting lodge with fertile vegetation surroundings.
The Malta Community Chest Fund is the principle philanthropic organisation on the Island. It is under the Chairmanship of the President of the Republic of Malta.
This organization has been running for 30 years. It's main activity is to generate substantial amount of funds to use them for specific needs of the Maltese population for specific expensive medications people cannot afford and helping people who need operations abroad through
The aim is to help families and individuals in need and to help local organizations to keep up with their expenses in running charitable programmes.

august moon ball information
Venue: Verdala Palace Gardens, Siggiewi
When: TBA
Time: 19:00
Contact: +356 2205 3500 | +356 2122 6226
Book Tickets: www.augustmoonball.com or The Palace in Valletta or from San Anton Palace, Attard
7. Gozo Film Festival 2022
The picturesque bastions of the Citadel in the heart of Victoria is the focus for the featuring of the Gozo Film Festival. It aims to bring together short and feature movie productions from Gozo, Malta and foreign film-makes. It also aims to an element of productions for children and teenagers.
Throughout the three days there are organized workshops, lectures and documentaries through which those interested will have more opportunities to learn more about this industry or succeed to explore within themselves their capability and start participating in the various roles this sector provides.

details about gozo film festival
Location: Cittadella, Rabat, Gozo
When: Friday 19th to Monday 22nd August 2022
Entrance is free of charge
8. Gozo Ceramics Festival
A festival of ceramics takes place at Xlendi Bay in the peak of summer where the location is full of visitors. The Gozo Ceramic Festival takes place during the evening where local and international ceramic artists come together to display their personal capabilities of shaping, carving and decorating with their magical hands.
The evening is also combined with music and food which are two main ingridient to bring people together. There will be a ceramics art exhibition, a hands-on experience section for children with the help of experienced pottery teachers where the children get very busy crafting their own creations.

gozo ceramics festival details
Venue: Xlendi Bay, Gozo
When: Sunday 7th August 2022

Time: 19:00
Other Events In August Malta 2022
Steve Hackett Seconds out + More
Venue: MFCC - Malta Fairs & Conventions Centre, Ta Qali
When: Thursday 4th August 2022

Time: 20:30
Click here for tickets
World Club Dome Island Edition Malta 2022
Venue: Gianpula Village, Haz-Zebbug, Malta
When: Friday 5th to Sunday 7th August 2022

Time: Show times vary
Click here for tickets
The Weekender
Venue: Marrakech Malta, Haz-Zebbug, Malta
When: Friday 5th & Friday 12th August 2022

Time: 20:00
Tickets for the 5th August
Tickets for the 12th August
Techno - The Pioneers
Venue: Liquid Club, Triq Hal-Gharghur, San Gwann
When: Friday 12th August 2022

Time: 21:00
Click here for tickets
ARRIVAL – UK's Top ABBA Tribute Band
Venue: Hilton Conference Centre, St Julian's
When: Friday 26th and Saturday 27th August 2022

Time: 20:00
Click here for tickets
PINTA - Valletta Beer Festival 2022
Venue: Triton Square, Valletta
When: Friday 26th and Sunday 28th August 2022

Time: 18:00
Click here for tickets
Showers 2022 - We are back!
Venue: Café del Mar Malta, Saint Paul's Bay
When: Saturday 27th August 2022

Time: 14:00 to 22:00
Click here for tickets
Want To Share This Page On Pinterest? Pin It Here!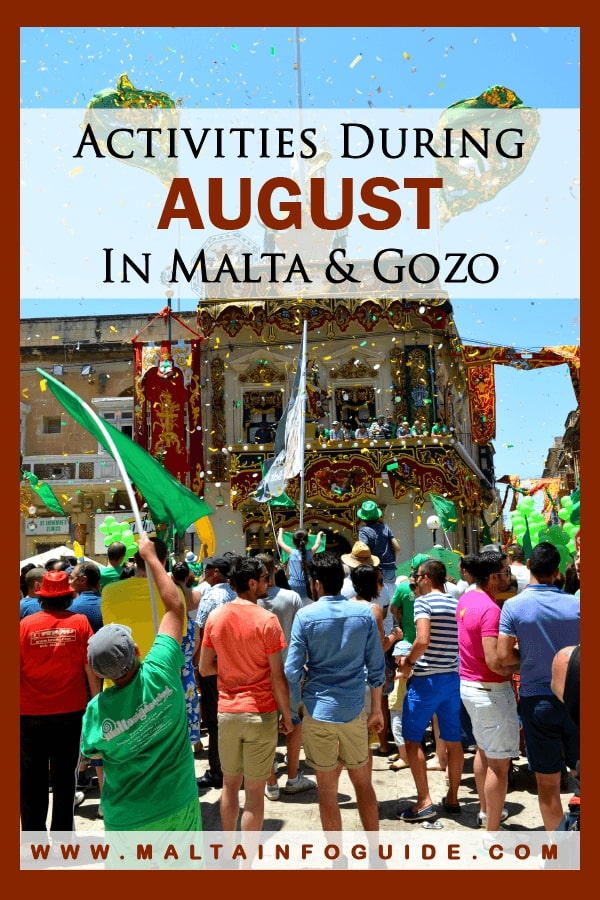 want to rent a car in malta?
We have used Discover Cars every time we rented a car. We highly recommend them due to their good service and good prices.
need to book a hotel for your malta visit?
Using Booking.com, enter your travel dates and number of occupants then rates will be available for hotels and apartment during your visit in Malta 
See Malta Hotels on Booking.com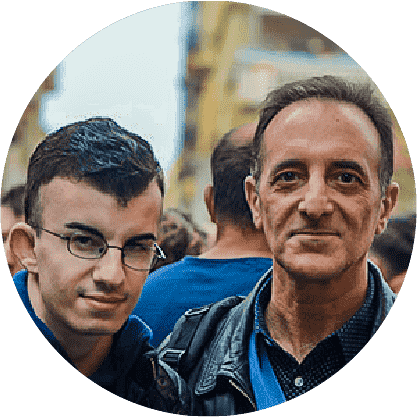 By Albert and Benjamin Magro