Getting To And Around Malta
Getting To Malta And Around
Coming To Malta?
See How To Get Here And Roam The Islands
Getting to Malta and going around is the ideal page hinting on every type of transport available.
You can come here by plane or by sea as Malta forms part of an archipelago. We have one airport called Malta International Airport where we have the national airline and low-cost international airlines flying to most European capitals and further out.
Disclaimer: We have affiliate links on this website where we receive a small commission at no extra cost to you.
Top Tours For This Summer
5% Coupon Code - 'maltainfoguide'
By sea either by ferry from Sicily with several trips every week, international cruises or by yachts where several marinas are available for berthing.
Transport on the island through the public transport which is well set up and can take you to all corners of the islands, other options, renting a car, take a hop-on hop-of tour or by taxis.
Get a glance to all that is available and start making your plans.
3 Ways of Getting To Malta
There are four ways to getting to Malta, by plane, cruise, private boat and a ferry from Sicily.

Arriving Here By Plane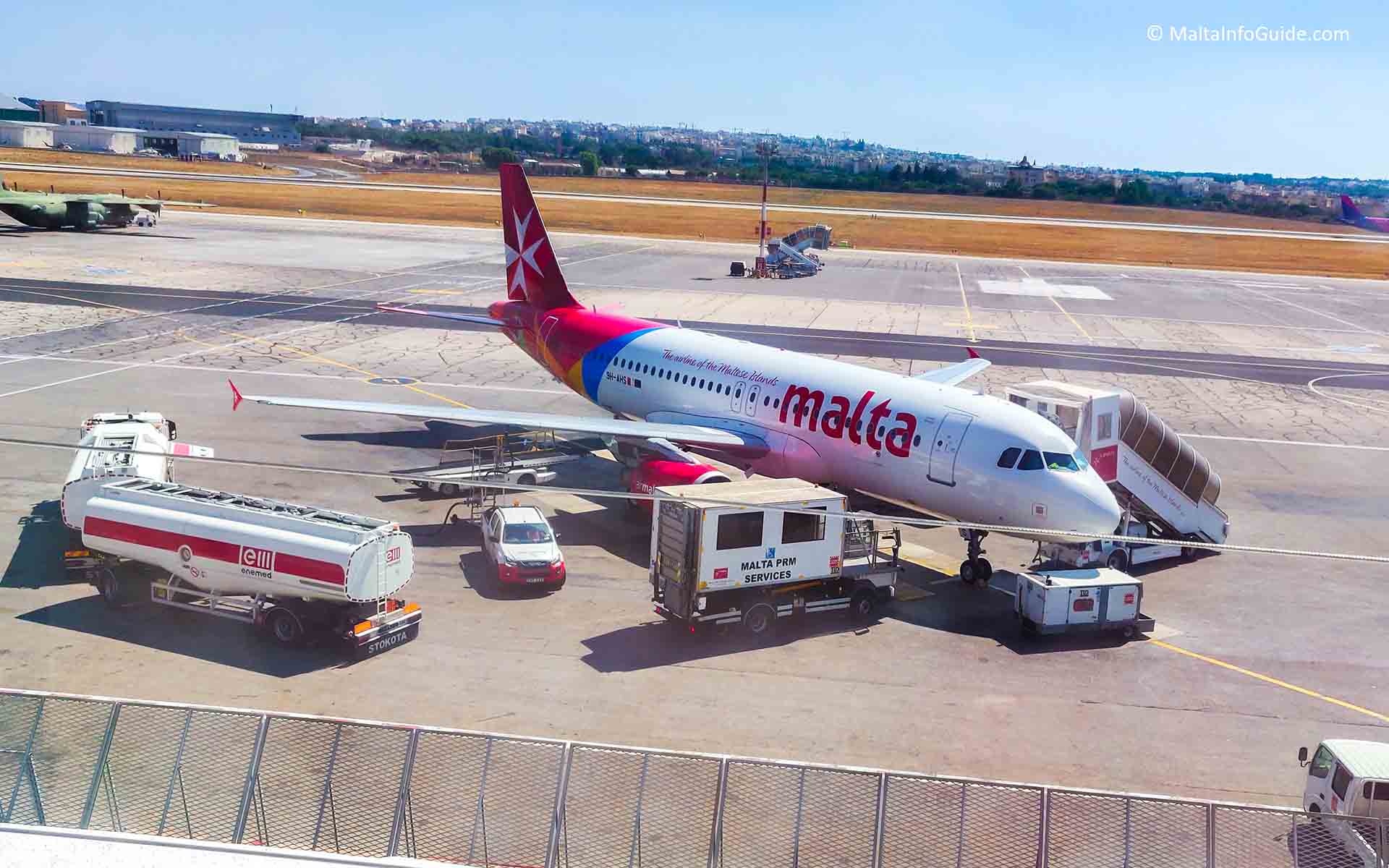 As we are in the centre of the Mediterranean Sea, it is the best to travel by plane to Luqa airport in Malta. Flight varies from 30 to 180 minutes and less from most European countries. We only have one airport called Malta International Airport. Here all commercial airplanes land at this airport.
Sicily is the closest island to Malta. From the city of Catania flight takes around 30 minutes.
Many offers on airlines are available. See the various airlines that operate from Europe and from other continents to Malta International Airport.
From the airport you can take transfers to anywhere in Malta.
From Sicily To Malta By Boat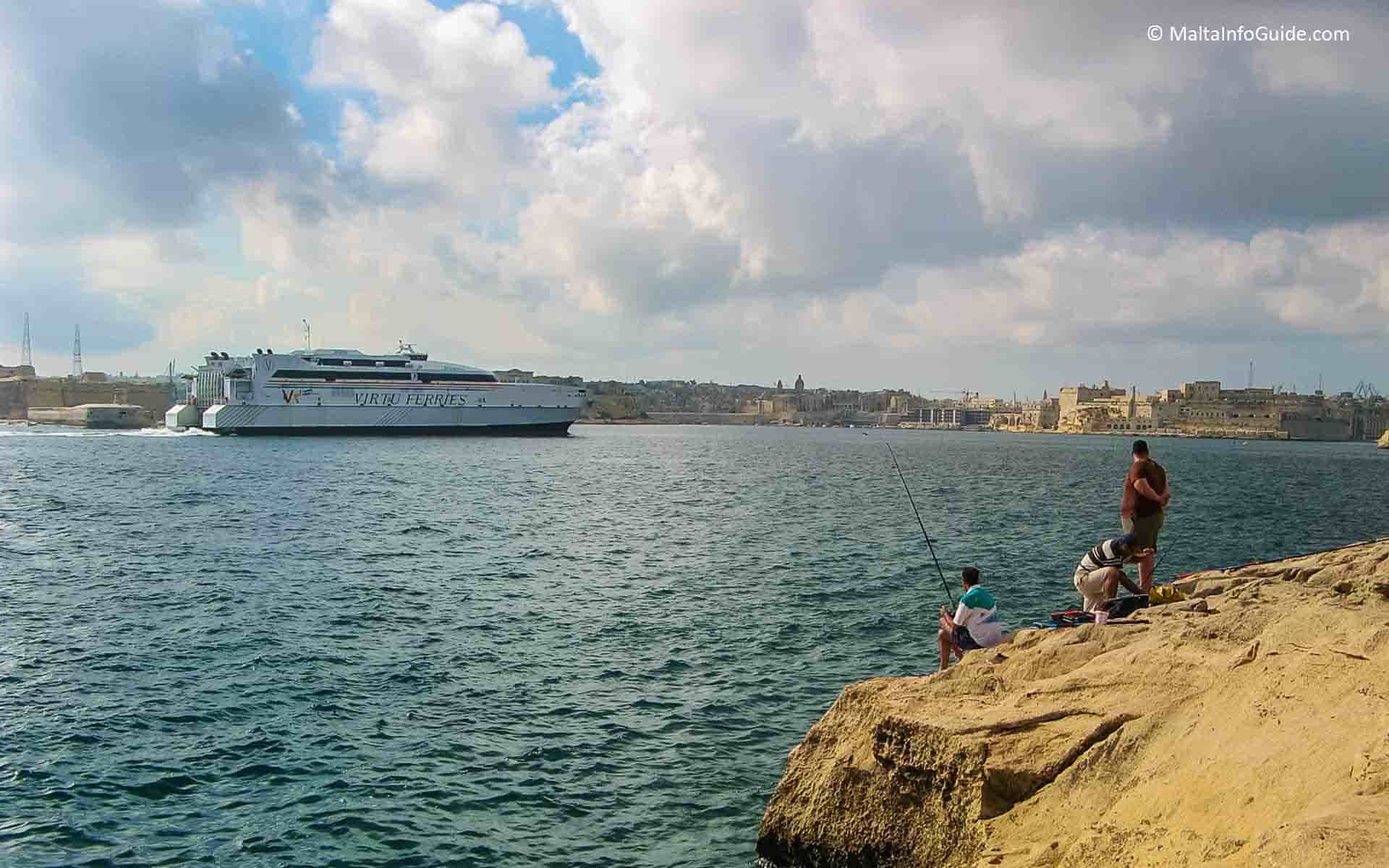 From Sicily there is a ferry service connecting Pozzallo with the port of the Grand Harbour Valletta in Malta and vice versa takes 1 hour 45 minutes. Operated by the Virtu Ferries a local Maltese company with a quick catamaran and frequent links.
It is used by Maltese and tourists to cross overland through Italy, Sicily and Malta and back up again to central Europe apart from transportation of freight.
There is no catamaran service between Pozzallo and Catania but the company organizes a coach transfer for both ways on each Friday, Saturday and Sunday taking two hours.
By Private Yacht Or Boat

Yacht owners can come easily down from European countries. The islands are served with two large natural deep water international ports and another one on the island of Gozo. 
Various marinas are available for berthing within these ports with berths up to 100 metres (325 feet) in length. These marinas offer the best world class facilities found in other ports.
Getting Around Malta By Sea
From Malta To Gozo By Ferry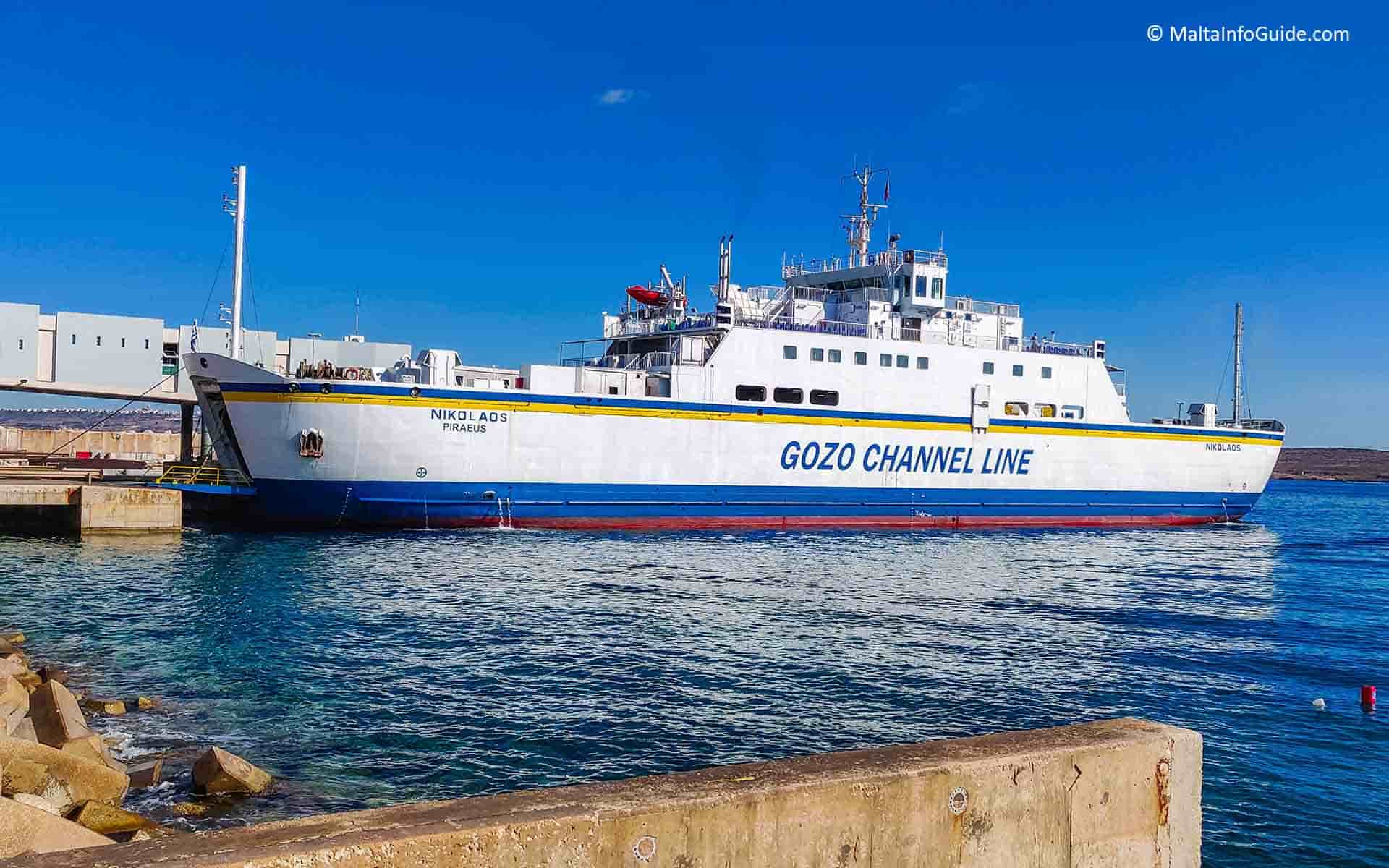 The Gozo channel takes 25 minutes leaving from the farthest point on our island Cirkewwa and arriving in Gozo at Mgarr natural harbour. These ferries only operate between these two posts.

There are four ferry boats for passengers and vehicle that offer a service from Malta to Gozo which operates daily all year round 24 hours a day with frequent trips, night trips with reduced rates. While crossing you can stay in your car or go upstairs to see the beautiful views of the island from another perspective during the day.
Ferry - Sliema, Valletta & Birgu/Bormla/Isla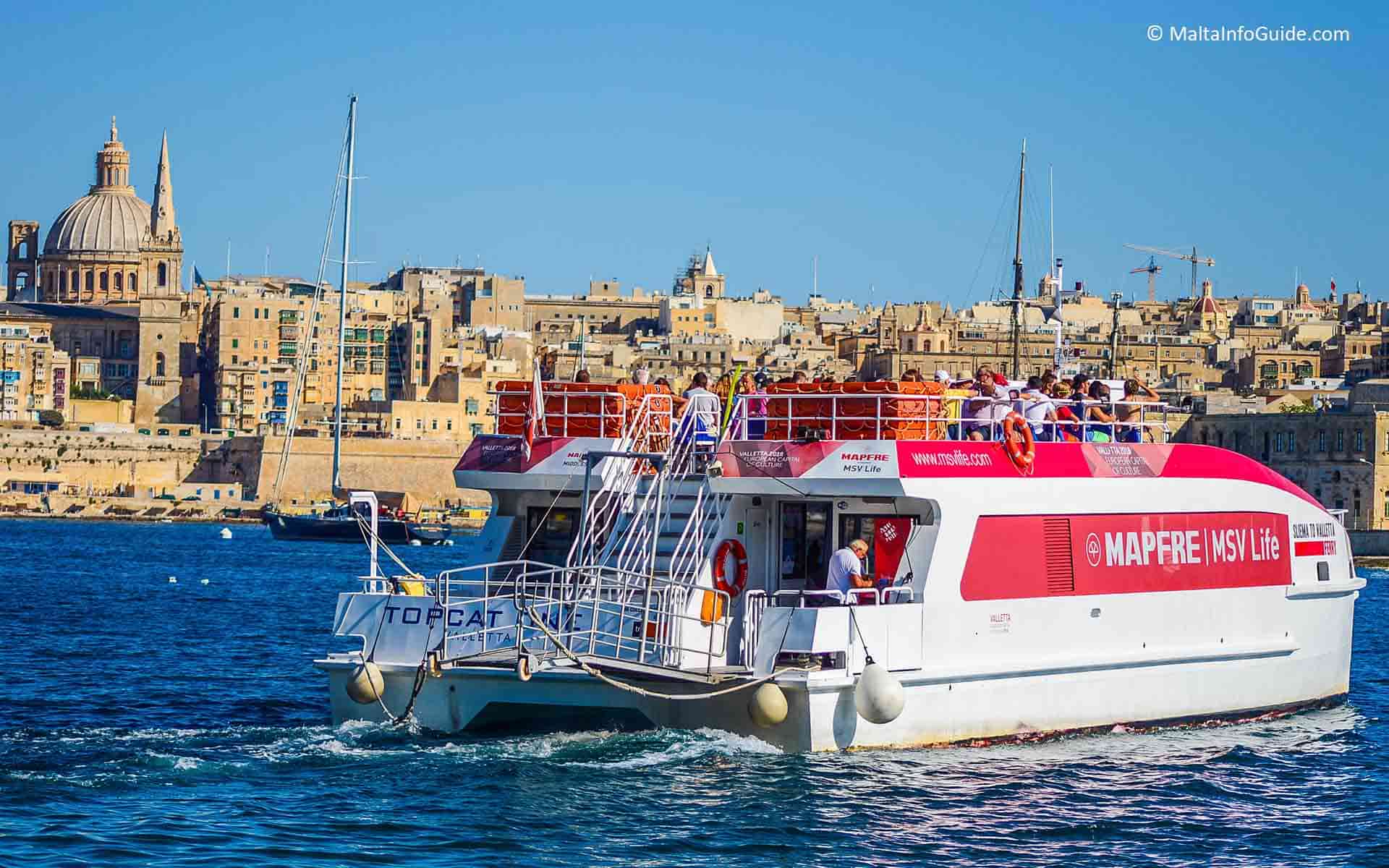 The service operates on a daily regular basis and is affordable to take you around saving your time from traffic congestion. It operates between Sliema and Valletta and Valletta to the three cities, namely Birgu (Vittoriosa), Bormla (Cospicua) and Isla (Senglea).
It is a very convenient way to see the natural views of the harbours as the views are great. It is another way to tour the best historical capital and towns surrounding it.
Getting Around Malta By Land
Malta Public Transport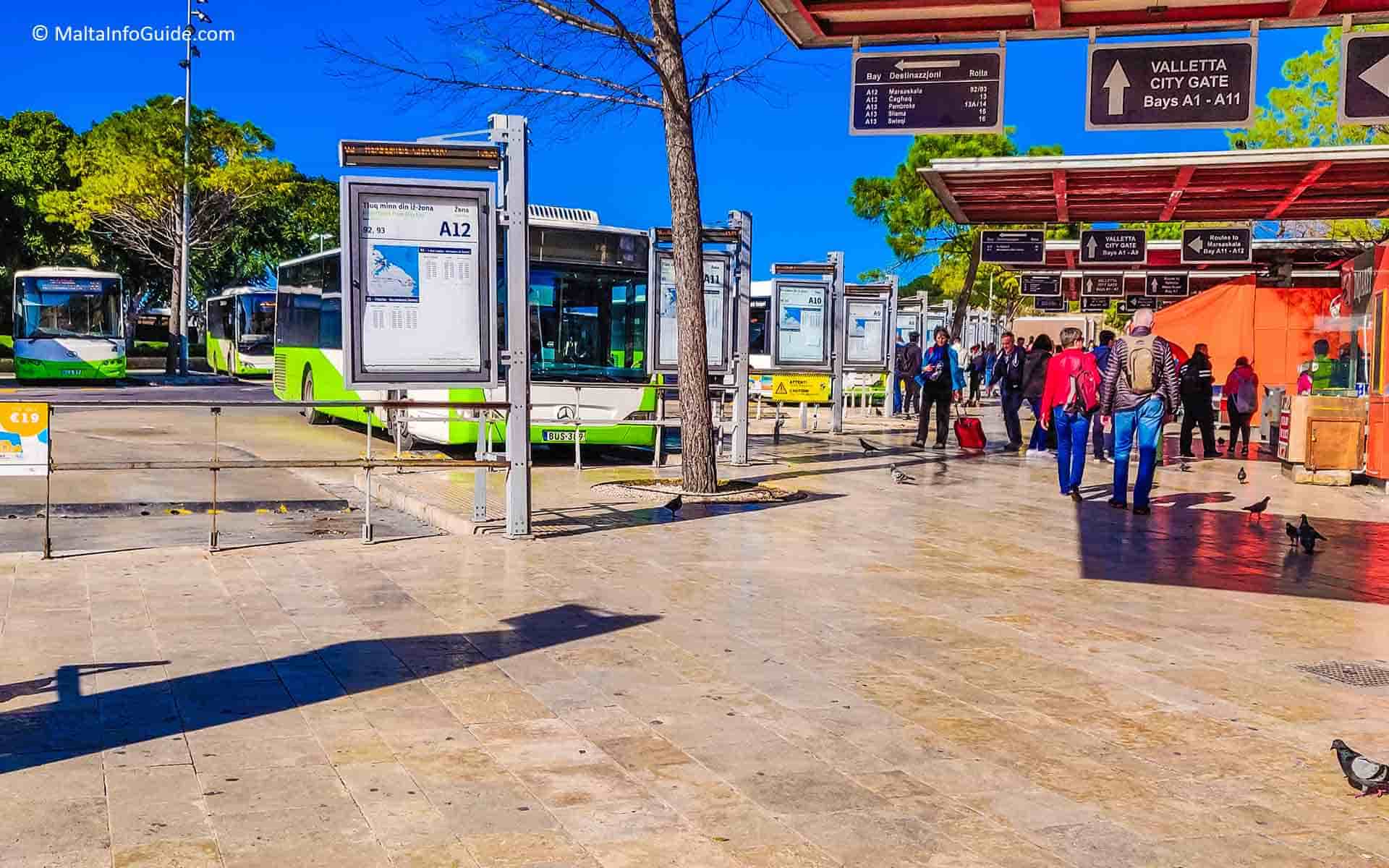 Malta offers an excellent bus service. A great alternative for those who do not wish to rent a car. The service is relatively cheap and covers all the important locations in Malta and Gozo, including historical locations, beaches, hotels, entertainment, restaurants, Gozo ferry service. The bus service is operated by Malta Public Transport.
If you intend to visit Malta for more than 3 days, we suggest using the Tallinja cards.
When landing in Malta, you have plenty of buses to reach to your hotel. Here is a list of buses that go directly to hotels from the Malta International Airport.

Travelling from one village to another is very easy and with this guide it has never been easier. Malta public transport also offers a night service for passengers travelling during the night or very early morning.
In summer, going to the beach is one of the most planned locations to visit. Getting to Malta and Gozo beaches is very easy by using this guide.
Between the months of September and June, students all over Malta and Gozo go to school and use the public transport. Students can use this guide to get to school much easier.
Malta Hop-On Hop-Off Buses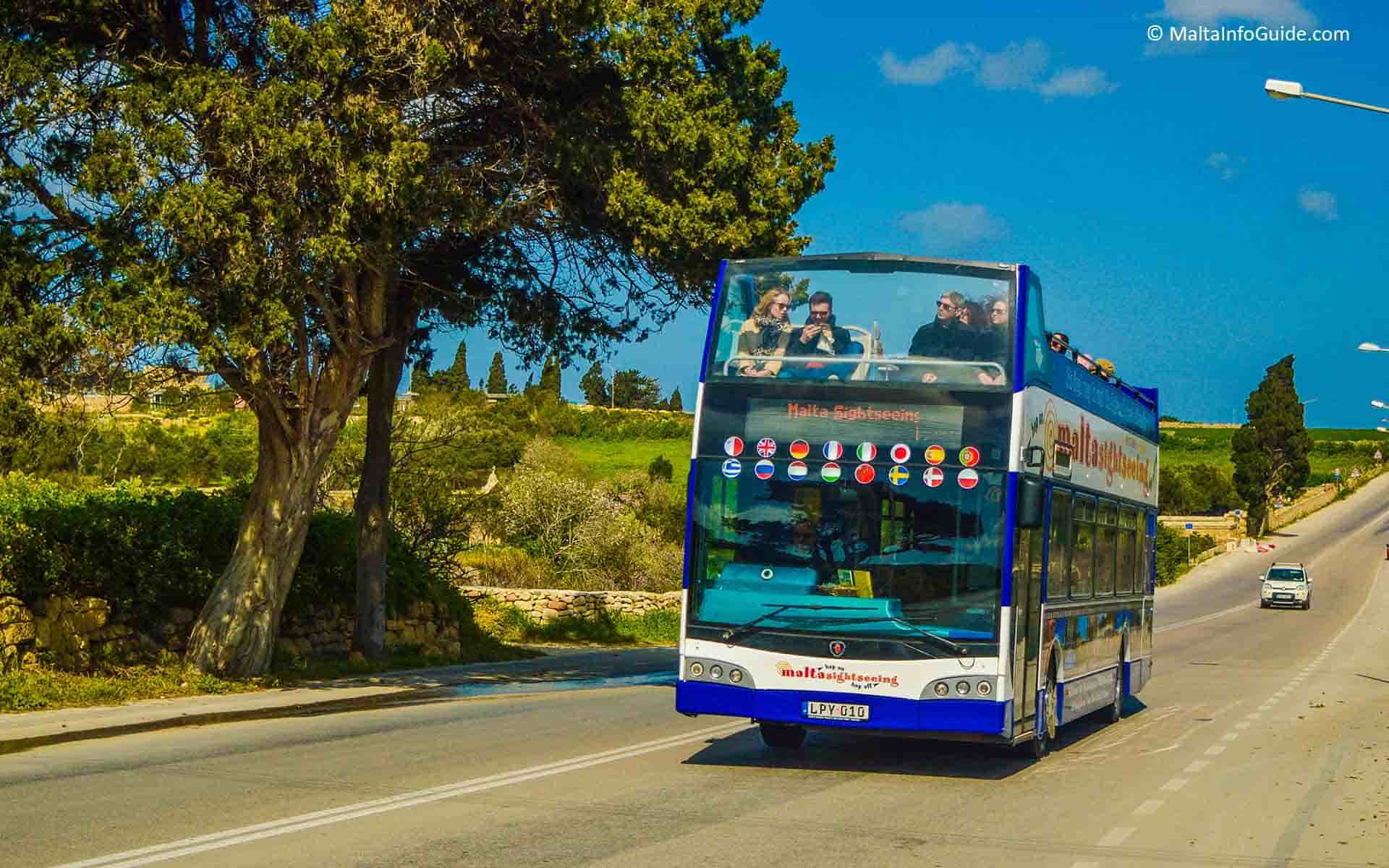 If you do not wish to rent a car, you can easily use the hop-on hop-off to visit the island. It is an excellent service that offers different routes, which includes the main important aspects of all Maltese history and cultural sites.
Booking is through the hotel reception desk or the hop-on hop-off company representatives. It is very easy to come across representatives in the main areas where you find them selling tickets. Main pick up areas can be St. Julian's, Sliema and Gzira. There is no need for pre-booking.
There are four routes that hop-on hop-off services offer which are the North Blue Tour, South Red Tour, Gozo Green Tour and the Night Tour.
Malta Taxi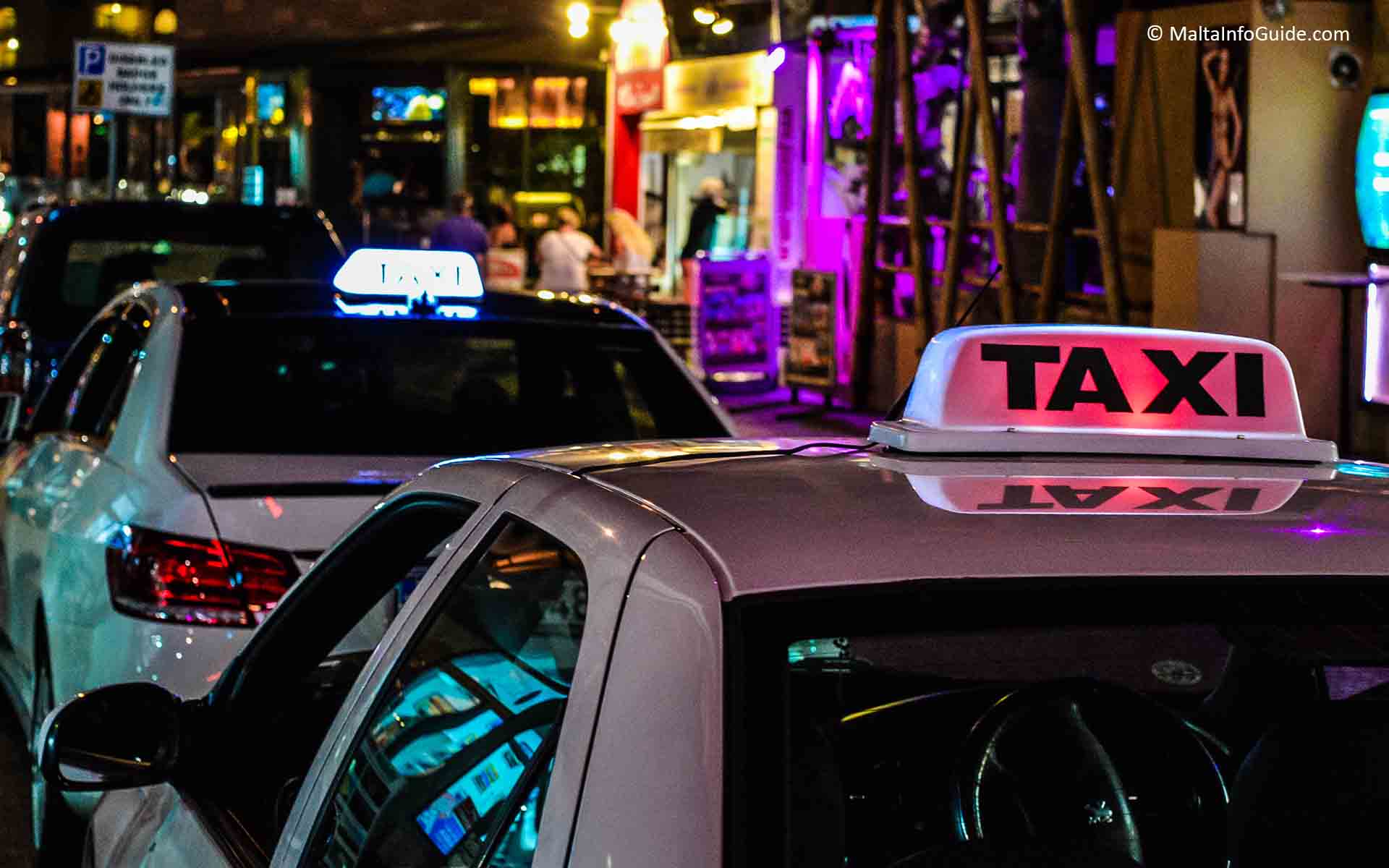 Taxis are not cheap but most of the companies have now established fixed rates for the most important locations. Wherever you are, you can call for a taxi which takes you where you wish.
Due to the many traffic and parking limitations taking a taxi has become more of a common aspect of everyday life.
Renting A Car To Drive Around Malta
If you intend driving in Malta, renting a car is quite easy through the various internet sites. On arrival at the Malta International Airport, you can get keys and information from the vehicle rental desks in the arrivals lounge.
There are plenty of petrol service stations around, so it will be very easy to fill up your gas tank. Round the island you find several speed cameras that you should be aware about.
There are various car hire companies. You can book your car rental by clicking here or when you arrive at Malta International Airport.

If you have made no arrangements but want to rent a car in Malta, you can still book it at the Arrivals Lounge. For departing from Malta leave the keys in a deposit box in the Departure Lounge next to the car-rental booths.
Here we drive on the left like the British, the Irish, and Ciproits. Getting around in Malta is very easy.
Nowadays with Google Maps it is very easy to find Malta on the map and use Google maps for directions. Be sure to source either a hard copy of a Map of Malta or online before your arrival in order to familiarize yourself and have a bit of an idea of what to expect prior to your arrival here.
Wondering what it is like to drive on the Maltese roads? With Malta having over 3000 km of roads, it can have its advantages and also disadvantages.
Malta car rental deals are preferably done before you come to Malta as this usually affords you a better deal where you can check prices and conditions of rental.
Although the Maltese islands are small, transport in Malta is essential to fully explore the beauties of the Maltese people.
Land transport is the most popular transport in Malta and Gozo.
More To See & Do in Malta

Other types of transport
Nextbike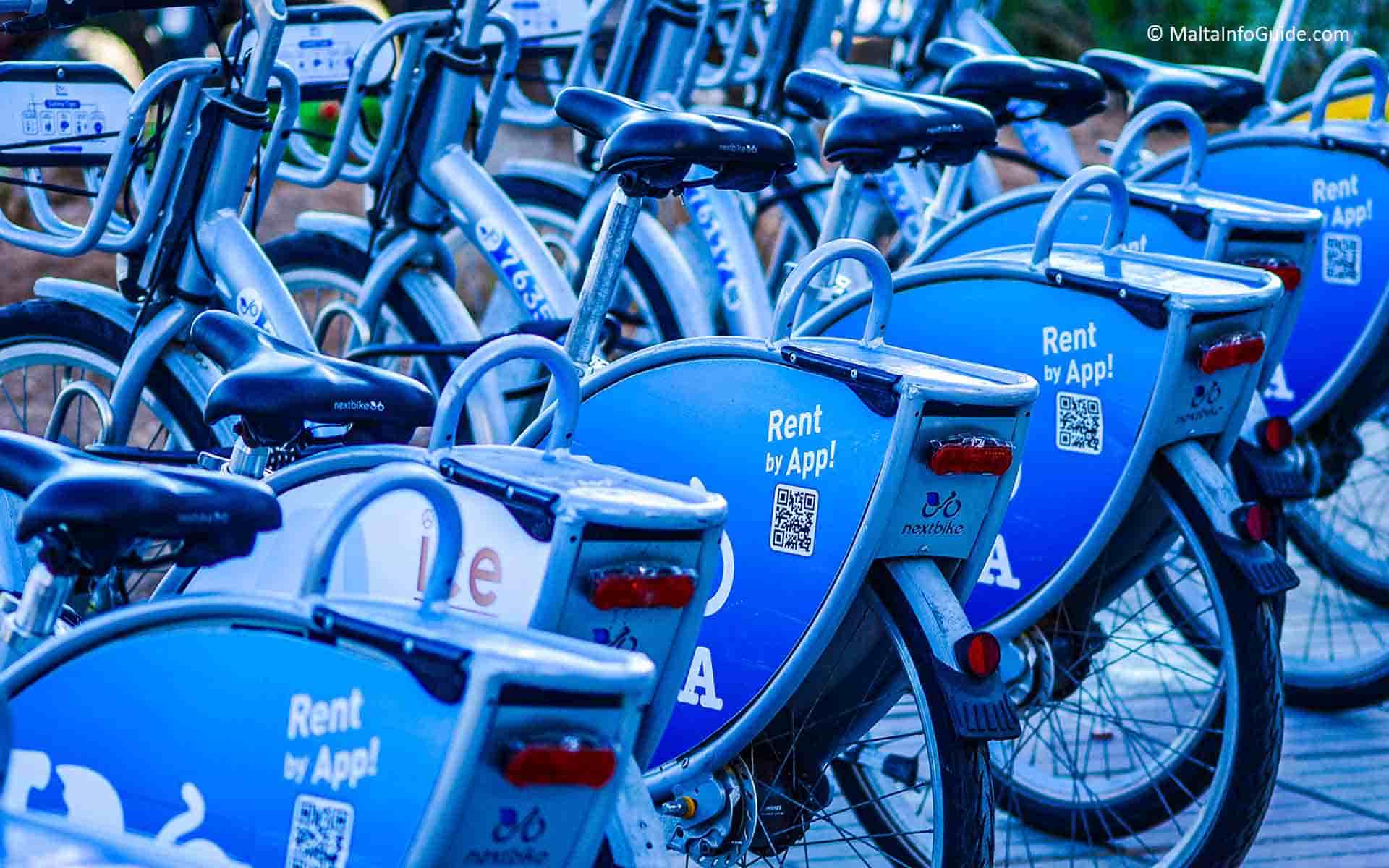 If you are interested to rent a bike whilst in Malta, there is the international company NextBike. The localities you find this are Swieqi, St. Julian's, Sliema, San Gwann, Mater Dei Hospital, University of Malta and Pembroke.
Renting Of Bikes & Bicycles

The vast natural landscape on the island offers you the opportunity to experience time to cycle and bike around. You will be amazed what a variety of beautiful landscapes Malta can offer you.
We advice you to be careful while riding a bicycle as most of the roads does not have a bicycle lane.
Malta Shore Excursions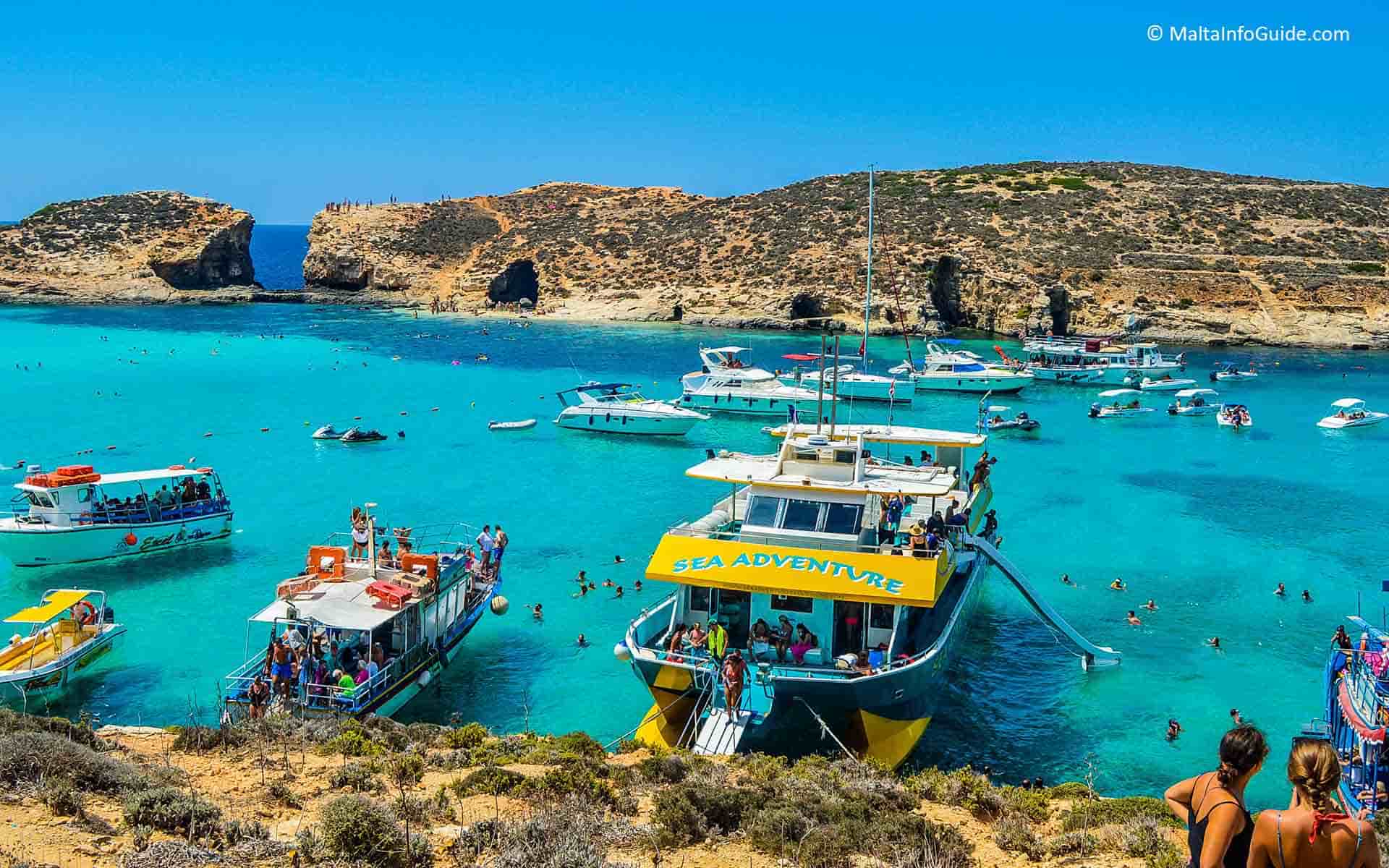 Various companies offer bus tours. These might be already be included with your holiday package. You will find booklets advertising tours which will enhance your holiday. They include local Maltese feasts, cultural tours, d Malta by day and also one day tours to Gozo, and their historical location.
Horse Drawn Carriage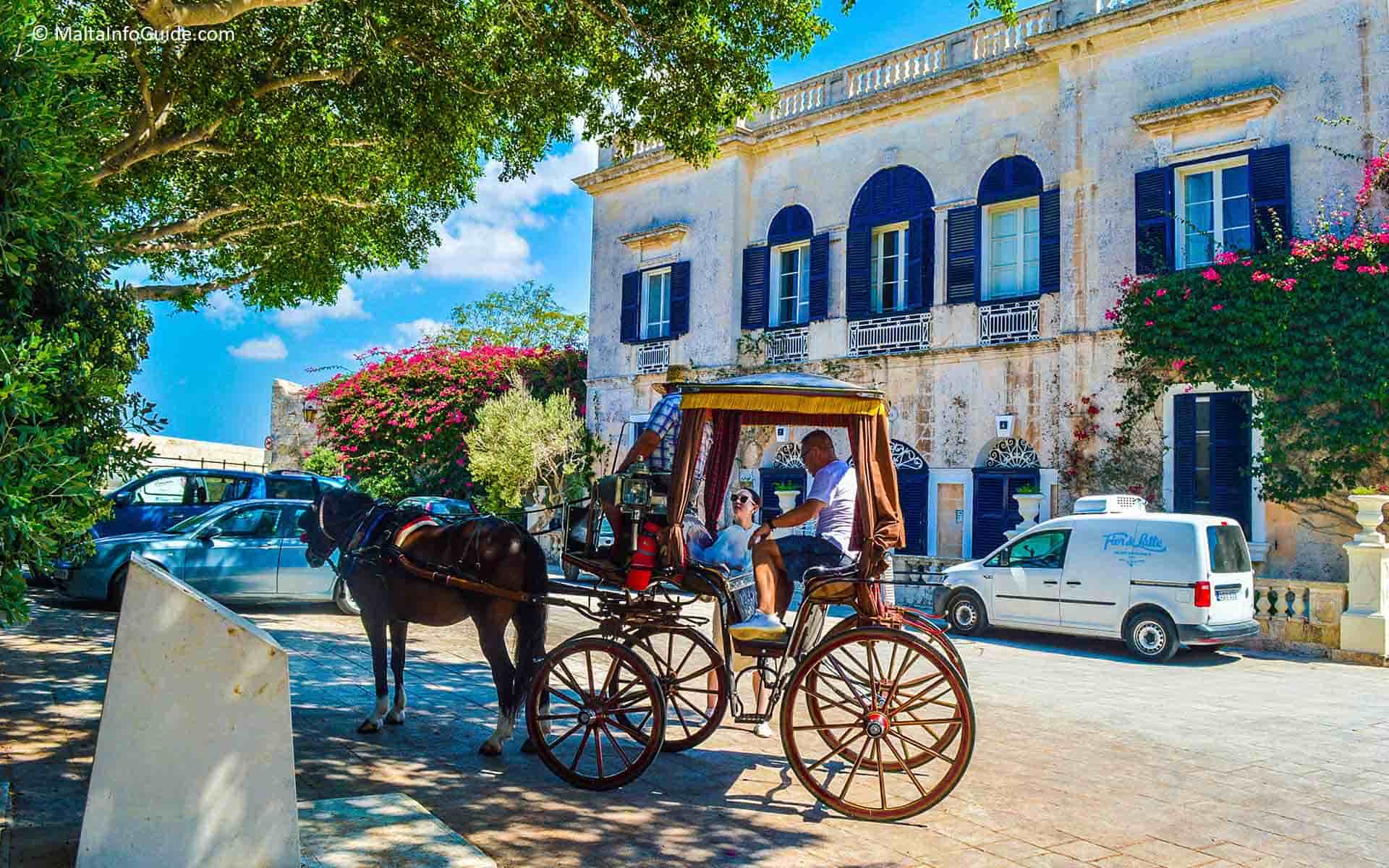 Today the horse drawn cab is only used to take tourists on tours outside Valletta and inside Mdina. It is one of the oldest traditional mode of transport. A pretty sight when you visit Mdina and see tourists riding going round the narrow streets. A picturesque sight.
You find the karozzin in popular areas of Valletta, Mdina, Sliema, St. Julians, Rabat, Bugibba and Qawra.  Always ask for the price before you embark and make sure they don't take any advantage as you being a tourist.
Malta Info Guide provides you with the best Maltese information for travelling in Malta. If you have questions, send them to us on the form below.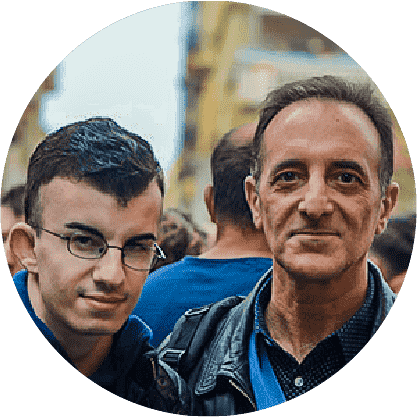 By Albert and Benjamin Magro
We have removed the Facebook comments to make the page load faster and also to improve your page experience.
If you have any queries or questions, you can send us a message through our MaltaInfoGuide Facebook Page or send us an email via our Contact Page.