Activities In Malta
April 2019
Many Things To Do In April To Fill Up Your Time

Activities in Malta April 2019 brings you activities to enjoy with your family.
Meanwhile April is the month for advent, Palm Sunday, Good Friday where many Maltese are fervently interested in exhibitions, performances and processions related to the Passion of the Christ. In every village you will find exhibitions by individuals, associations and band clubs. These are usually open during Holy Week.

Public Holidays: 19th - Good Friday
- 12th - Our Lady of Sorrows

On Friday 12th April almost all villages and towns in Malta and Gozo hold a procession in honour of Our Lady of Sorrows. The starting times are from around 17:30 to 18:00 and last for around 90 minutes.
Important dates during Holy Week:
- 14th - Palm Sunday
- 18th - Maundy Thursday
- 19th - Good Friday
- 21st - Easter Sunday
No village Feasts are held during April.
Click here to add your activity

During this month there are a variety of activities in which you can participate. Do not miss the Strawberry Festival at the village of Mgarr. The Malta International Fireworks Festival with the participation of various local well renowned village fireworks organisations apart from international participants. Have a good look at the following list and make your plans when visiting Malta during this month.
Exploring the Phoenician Shipwreck off Xlendi
Organiser: Heritage Malta
Location: The Citadel, Victoria, Gozo
When: Saturday 28th September 2018 to Saturday 31st August 2019
Opening Hours: Monday to Friday - 08:00 till 16:00
Admission: Free of charge
More information visit www.heritagemalta.org
Organiser: Gaulitana Festival
Location: Victoria, Gozo
When: Friday 8th March to Sunday 7th April 2019

More information visit www.gaulitanus.com/
Blue Grotto Malta & Grand Harbour Cruise
Gozo Faith & Traditions 2019
Venue: Gozo
When: Monday 1st to Sunday 21st April 2019
Strawberry Festival (Festa Frawli) 2019
The annual strawberry festival organised by the local council with the participation of the local agricultural community selling countless amounts of freshly picked strawberries. Other products mafe from strawberries are sold like smoothies, jam, milk-shakes, gateaux and cakes. Local folk groups offer their talents to entertain the crowds.

Organiser: Mgarr Local Council
Venue: Mgarr
When: Sunday 7th 28th April 2019 - Date has been changed due to bad weather
Time: 10:00 to 17:00
Email: [email protected]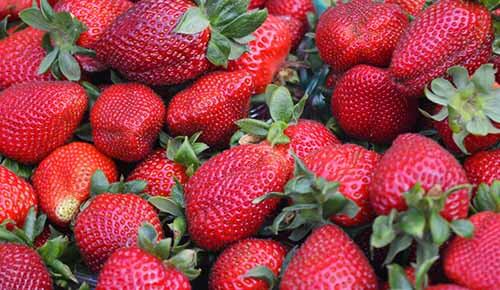 Venue: MFCC, Ta' Qali
When: Friday 12th April 2019
Time: 21:00
Tickets: www.ticketline.com.mt
Il-Mixja Tal-Gimgha Kbira - Puttinu Cares Walk
When: Thursday 19th to 20th April 2019
Time: Till 02:00
Malta International Fireworks Festival 2019
Various local and international fireworks factories participate presenting impressive shows of their capabilities. Fireworks has been a very long tradition for the Maltese since the time of the Knights of St. John.
Venue: Grand Harbour Valletta, Mqabba Malta & Xaghra Gozo
When: Wednesday 24th April to Saturday 4th May 2019
Phone: +356 2291 5000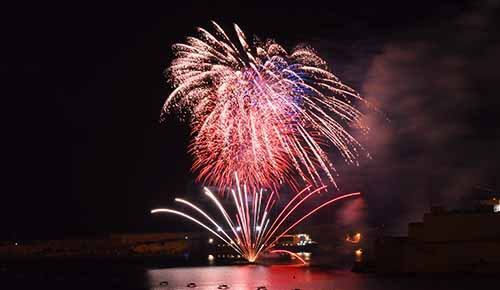 13th International Spring Orchestra Festival
When: Friday 26th April to Saturday 4th May 2019
Tickets: www.kultura.mt
Program: www.iso-festival.com/program.html
12th Malta International Scrabble Open
Organisation: Malta Scrabble Club
Venue: Luzzu Lido Rest, Qawra
When: Friday 26th April to Thursday 2nd May 2019
Time: 09:00 - 19:00
Artisan's Collective Malta
Venue: Msida Bastion Historic Garden
When: Saturday 27th and Sunday 28th April 2019
Time: 10:00 - 16:30
Admission:
27th April: Free
28th April: €2
More To See & Do in Malta
Venue: Xaghra, Gozo
When: Sunday 28th April 2019
Contact: +356 7979 7957
The half marathon starts from Xaghra and passes through Victoria, Sannat, Xewkija, Ghajnsielem, Qala, Nadur and goes back the the start in Xaghra Square. 
Malta International Music Festival 2019
When: Monday 29th April to Friday 10th May 2019
Time: 20:00
Tickets: www.showshappening.com
Program: www.maltafest.eu/concerts.html
Official Festival website: www.maltafest.eu
Email: [email protected]  
Add Your Activity
You have an activity which you wish to share? Share it!
Activities in April