Good Friday Processions Malta
Good Friday Processions Malta 2024
The Most Spiritual Holiday Of The Year
Date Last Updated: 3rd June 2023

Good Friday processions Malta have been held since as early as the 16th century. The passion of Christ is carried on a procession of statues symbolising the sacrifice Jesus had to bear to sacrifice His life for all. This day is celebrated as a commemoration when Jesus Christ died on the cross.

Malta commemorates Good Friday every year. It remains a prestigious days for the population. It is a time of reflection about the suffering of Jesus.
table of contents - Good Friday Processions in Malta

Good Friday is celebrated in the churches around the islands with an afternoon service. Afterwards processions are held in various villages with life-size statues. They are taken out from the parish church in a procession around the village streets.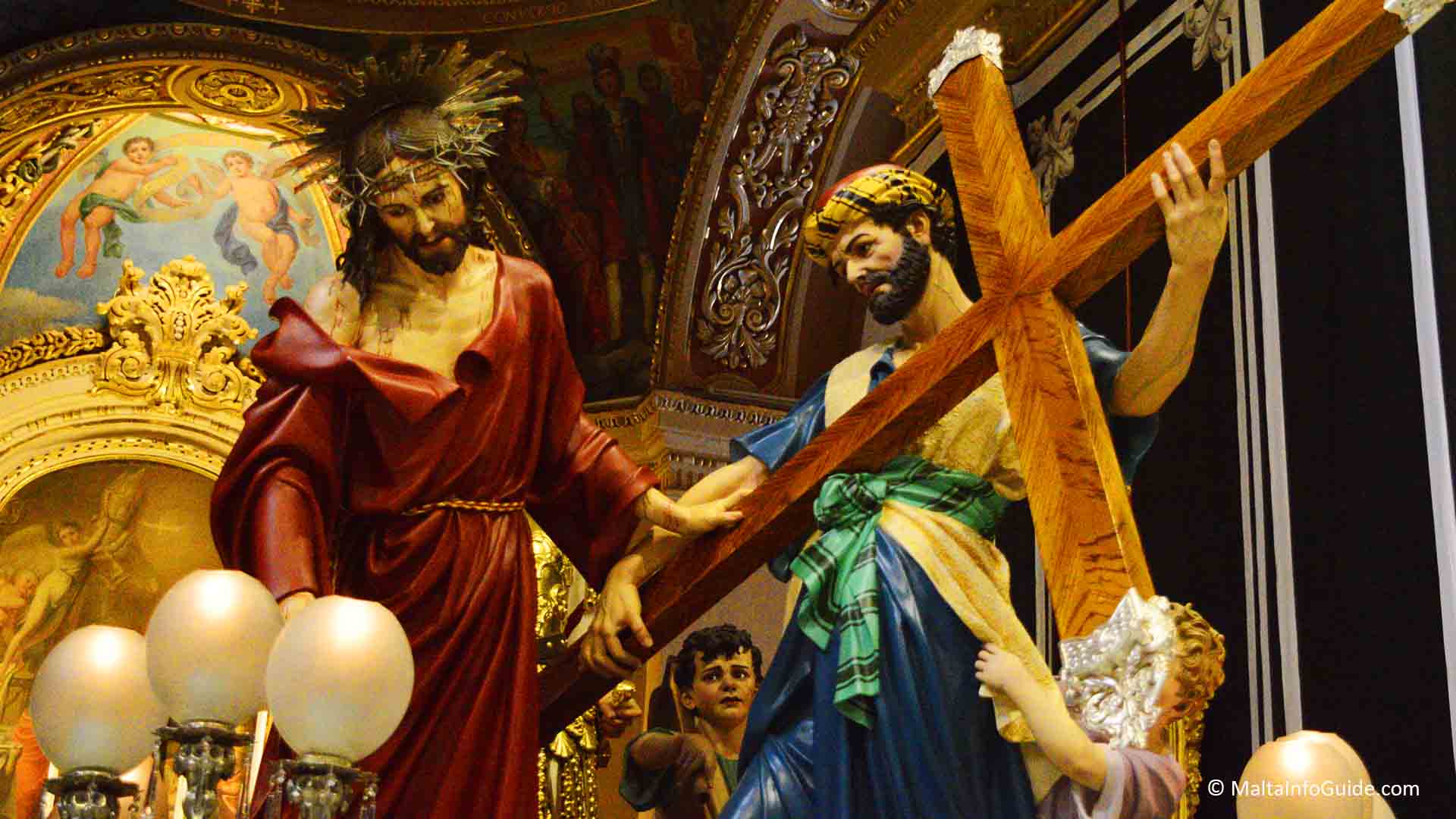 Every statue represents an actual episode during the Passion of the Christ. Each statue, depending on the size, is carried by a group of bearers from 6 to 10 men..
Easter Week Processions in Malta 2024
Palm Sunday is held on 24th March 2024
Good Friday is held on 29th March 2024
Palm Sunday Processions Malta

The following two villages hold their Good Friday Processions the Sunday before Good Friday which is Palm Sunday.
Ghaxaq - Postponed to Wednesday 5th April at 18:30.
*Gharghur - 16:30
*A two-act production in combination with the traditional Good Friday procession.

Good Friday Processions Malta

To see the procession route on Google Maps click the village in the orange colour.
Book your Zejtun Good Friday procession Tour here.
Easter Week Processions in Gozo 2024
Palm Sunday Procession Gozo

Xagħra - 09:15
Għarb - 09:45
Qala - 10:00
San Lawrenz - 10:15
Qala - 18:30 - This is a Good Friday procession being held on Palm Sunday.
Good Friday Processions Gozo

San Lawrenz - 15:00
Katidral - 18:00
Nadur - 18:00
Xagħra - 18:00
Żebbug - 18:00
Basilica of St. George in Rabat - This procession will take place on Thursday 6th April 2023 at 19:00
Holy week transmissions
TVM
Good Friday - Function 15:00, function from St. George's Church Hal-Qormi followed by the procession at 17:30.
NET TV
Good Friday - Function at 15:00, and at 17:30, Procession from the Basilica of St. George, Rabat, Gozo.
ONE
Good Friday - Function at 15:00, and at 17:00 the Procession from the Rahal Gdid Parish Church.
Links to TV Stations: TVM | Radju Malta | NET TV | ONE TV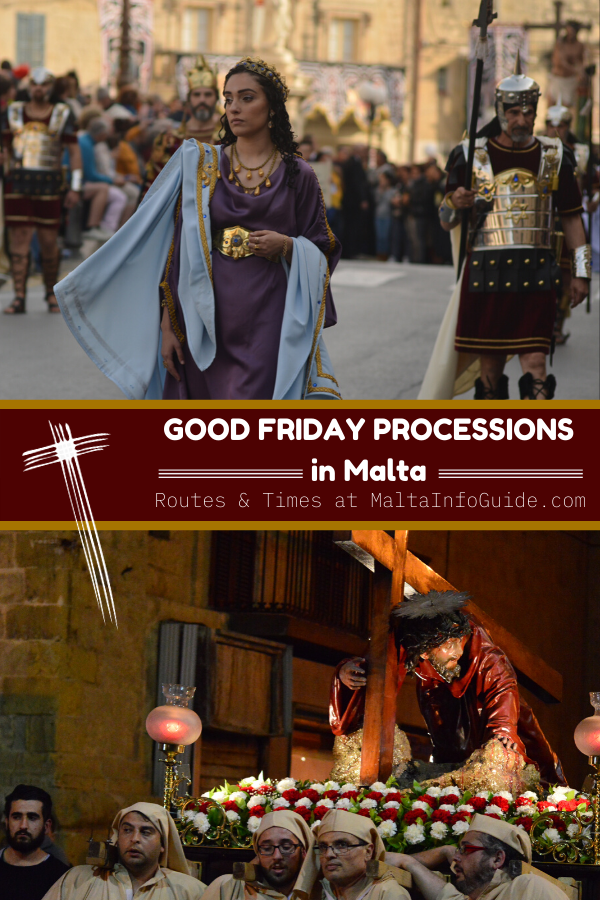 Procession Route Round the Villages
Zejtun Good Friday Procession Malta

The Good Friday Zejtun procession starts at 17:00 and finishes at 22:30.
It takes around 1 hour 30 minutes for all the procession to exit the church.
After going round all the streets, the procession starts to enter the church at around 21:30.
The Zejtun Good Friday procession walks through the following streets:
Exit St. Catherine's Church
Goes down Bon Kunsill
Turns right on San Girgor Street
Goes down Santu Wistin Street
Turns on Sant Antnin Street
Keeps straights onto Bugharbiel Street
Turns right on Felicia Abela Street
Goes down G. Curmi Street
Takes a right onto L-Isqof Emmanuel Galea Street
Left on San Girgor Street
Right on Beland Street
Right on Luqa Briffa Street (St. Thomas More College Zejtun)
Left on Santa Marija Street
Turn right on St. Mary's Church
Right on St. Paul's Street
Passes Misrah Karlu Diacono
Goes up Bon Kunsill Street
Passes Misrah Gregorio Bonici
Enters back in St. Catherine's Church
Valletta Good Friday Procession Malta

It starts at 18:00
The procession takes around 3 hours and 30 minutes.
It takes around 1 hour 30 minutes for all the procession to exit the church.
The route it take is as follows:
Starts from Ta' Giezu church in San Gwann Street
Left on St. Ursola Street
Left on Archbishop Street
Left on Merchant Street
Left on Melita Street
Left on St. Paul's Street
Right on St. Lucy's Street
Qormi San Gorg Good Friday Procession

The procession starts at 17:30
Walk down Triq il-Kbira
Right on Pjazza San Frangisk
Straight on Santa Katarina Street
Right on Pinto Street
Left on Dun Gwakkin Schembri Street
Left on Il-Vitorja Street
Left on Anici Street
Left on Triq Il-Kbira heading back to the church
Zebbug Good Friday Procession Malta

At 16:30 there will be a parade of soldiers and all the people taking part in procession.
At 17:30 the procession starts exiting the church.
By 19:00 all statues are out from church
At 21:00 the first statue starts entering back in the church
The route it take is as follows:

Starts exiting the church onto Misrah San Filep
Walks up Sciortino Street
Right on Vjal Il Helsien
Right on Imghazel Street
Right on Triq Il-Kbira
Right on Misrah San Filep to church
Naxxar Good Friday Procession Malta

Procession starts at 17:30

Exits church and goes down Triq Il- Kbira
Right on Main Street
Right on L-Imdina Street
Right on Salib Street
Left on Gdida Street
Right on Labour Street
Left on 21st September Street
Right on Zenqa Street
Right on Lucija Street and straight to the church
For a better look at the route, see the map below.
Ħal-Għaxaq Good Friday Procession Route
Exits church and goes down Triq Santa Marija
Left on Triq San Filippu
Left on Triq M Gerada
Left on Triq Dun M Sciriha/Triq Ġewwinija
Left on Dawret Ħal-Għaxaq and straight
Left on Triq Santa Tereza
Left on Triq Santa Marija and straight to the church
Things You Should Know For This Special Day
Up to some years ago everything used to stop, cinemas closed, restaurants, radio stations used to play selected music, but today you find that cinemas are open, you will find opened restaurants. All theatres will be closed. This is also positive for those who are not religious and have the right to the usual entertainment.

All tourist accommodations are business as usual including Malta International Airport, all public transport, taxis, tours and the hop-on hop-off buses.
It is officially a public holiday.
Government departments, businesses and schools are closed on this day.
The Gozo ferry that operates between the islands operates its normal schedule and more probably it will be enhanced with the number of trips due to the large number of Maltese that visit Gozo all through the weekend.
Things You Can Do On This Day
If you wish to say prayers in front of the Holy Eucharist you can do so at the church side altars or in a separate area beside the church. This will start on the night of Maundy Thursday 08:00 to 11:00 and Good Friday morning from 07:00 to 12:00. They are extraordinarily decorated with white flowers and church décor.
You find exhibitions in all towns and villages. We suggest that you visit the village core surround the parish church and their you will surely find a few exhibitions to visit.Tthese are usually open from Maundy Thursday around 20:00 to Good Friday 13:00.   

Some of the exhibitions will be located around the parish church surrounding. So it will be easy to locate.

In the afternoon you can attend to one of the processions. Click here to look at the list of villages and towns.
Things to know if you intend visiting
There are some processions that take place the Sunday before and different times of starting.
All processions start and end from the main parish church.
Most processions take at least an hour to exit the church due to the number of statues and the many villagers participating within.
There are those which take almost two hours to exit the church like that of Zejtun.
All procession are beautiful to see. The most popular are those of Zejtun, Mosta and Qormi.
Important to take with you a camera as this experience is unique. You have to go to other countries to see similar processions but every country has its own characteristics.
There are villages which offer chairs as seating against a charge to see the procession. These are always located close to the centre close to the church.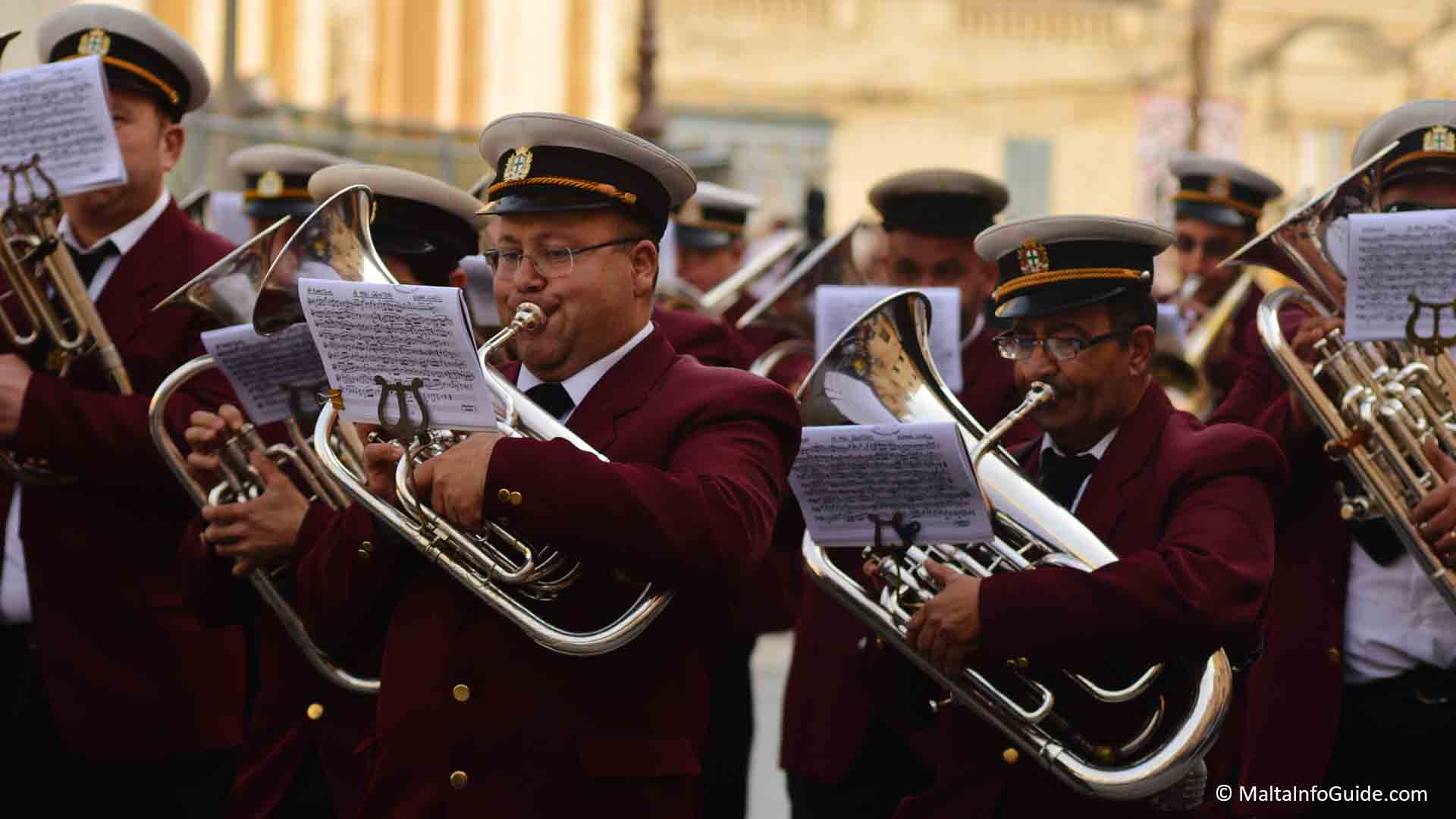 How to Get To The Processions
If you have a rented car, parking might be difficult since the main streets leading to the centre will be closed due to the procession. Also many Maltese visit these processions. You have to look around the nearby streets.

You can also use the public transport, plan your route and leave your accommodation enough time before to arrive in time. Always ask for the last bus leaving the village back to the Valletta terminus.
You can always call a taxi and it will take you directly to the village or closest to the village core.
Use the map below to know which villages do the processions.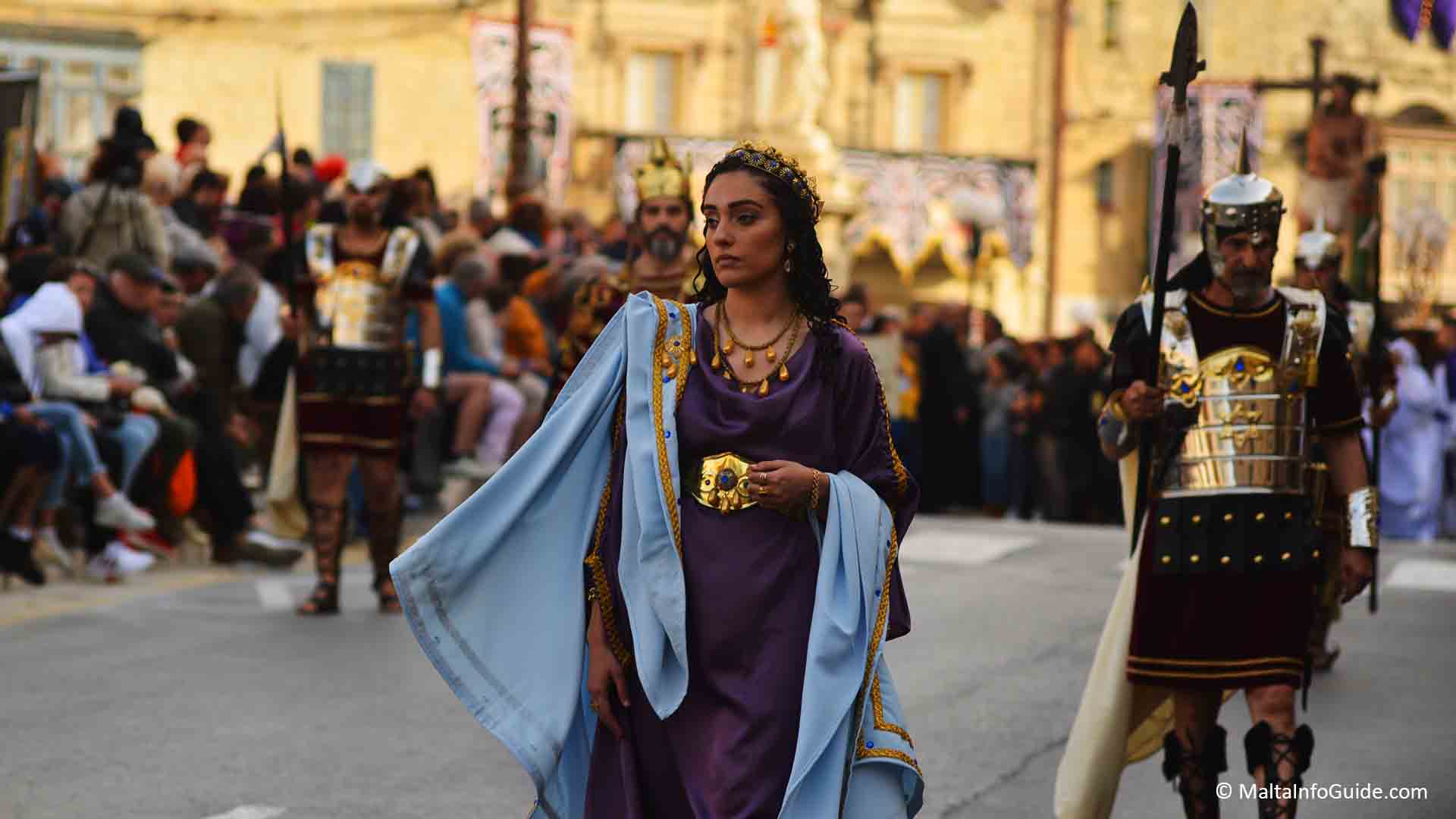 Information about Good Friday Traditions
Participants

Men, women and children participate wearing a variety of costumes such as Roman soldiers and Biblical characters. They walk in between the statues representing a different stage of the passion. 
Hundreds of people from every village participate with such a sincere devotion and dedication from young ones to old persons who would have participated all through their life from year to year.
Brass bands

The village brass bands participate throughout the procession by playing solemn music written purposely for the occasion. It is to be noted that these marches are very popular with the locals.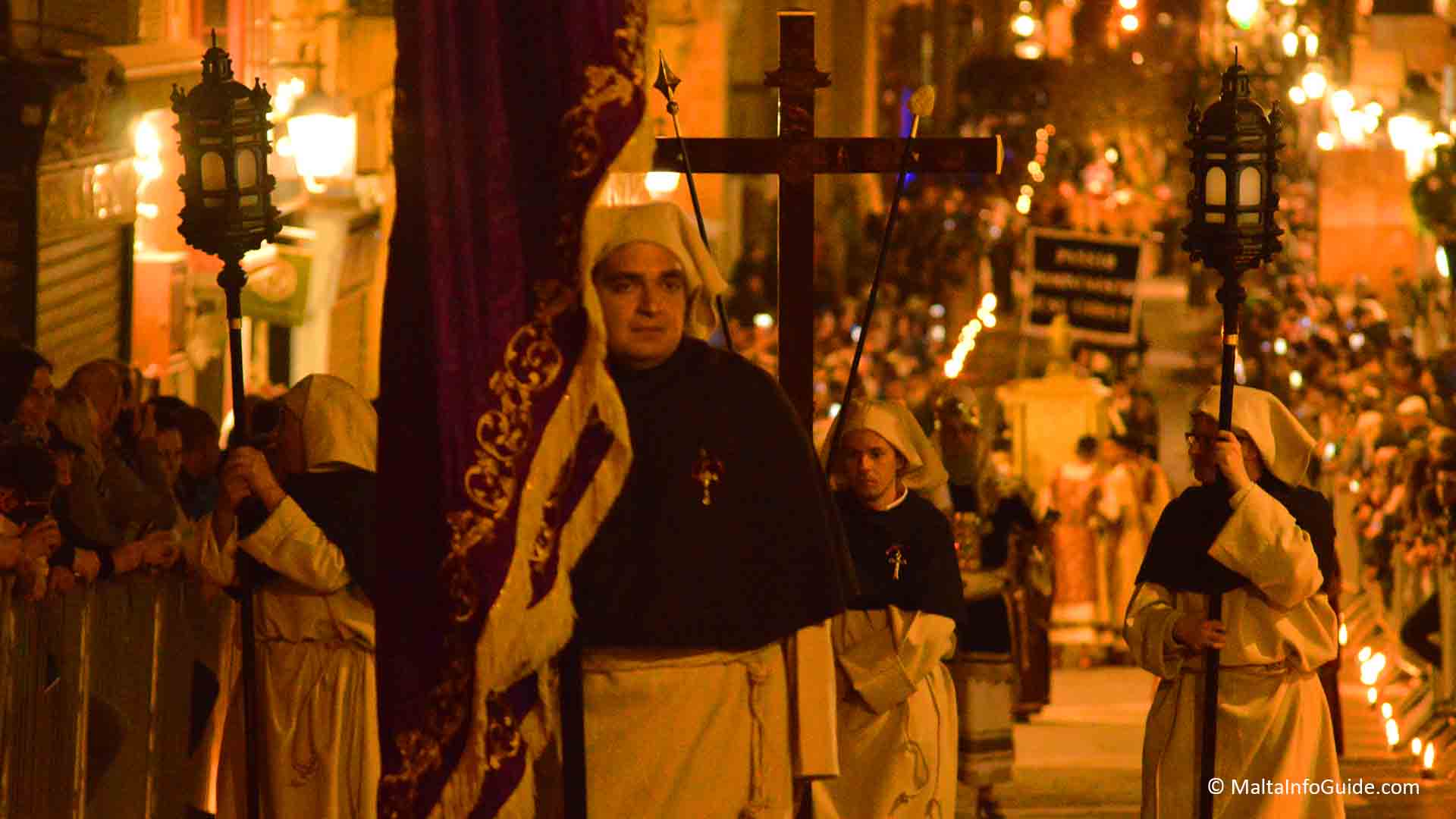 Church bells and rattle

From the church bells that usually are played during every day of the year to the unusual sound of the cuqlajta (rattle) as a sign of mourning is played from Maundy Thursday till Saturday evening before the Easter church mass is celebrated. For Maundy Thursday village celebration church times click here.

The Local People

Many locals are drawn to go and see the processions of their own village or to another village. They return to see the procession passing through one of the streets. It gives a lovely and definite history of Malta and its values and also has various medieval traditions.
Many foreigners come during Holy Week for their holiday to participate and enjoy the cultural attractiveness of these religious activities. They are provided with pre-paid chairs in the first part of the procession when coming out of the church.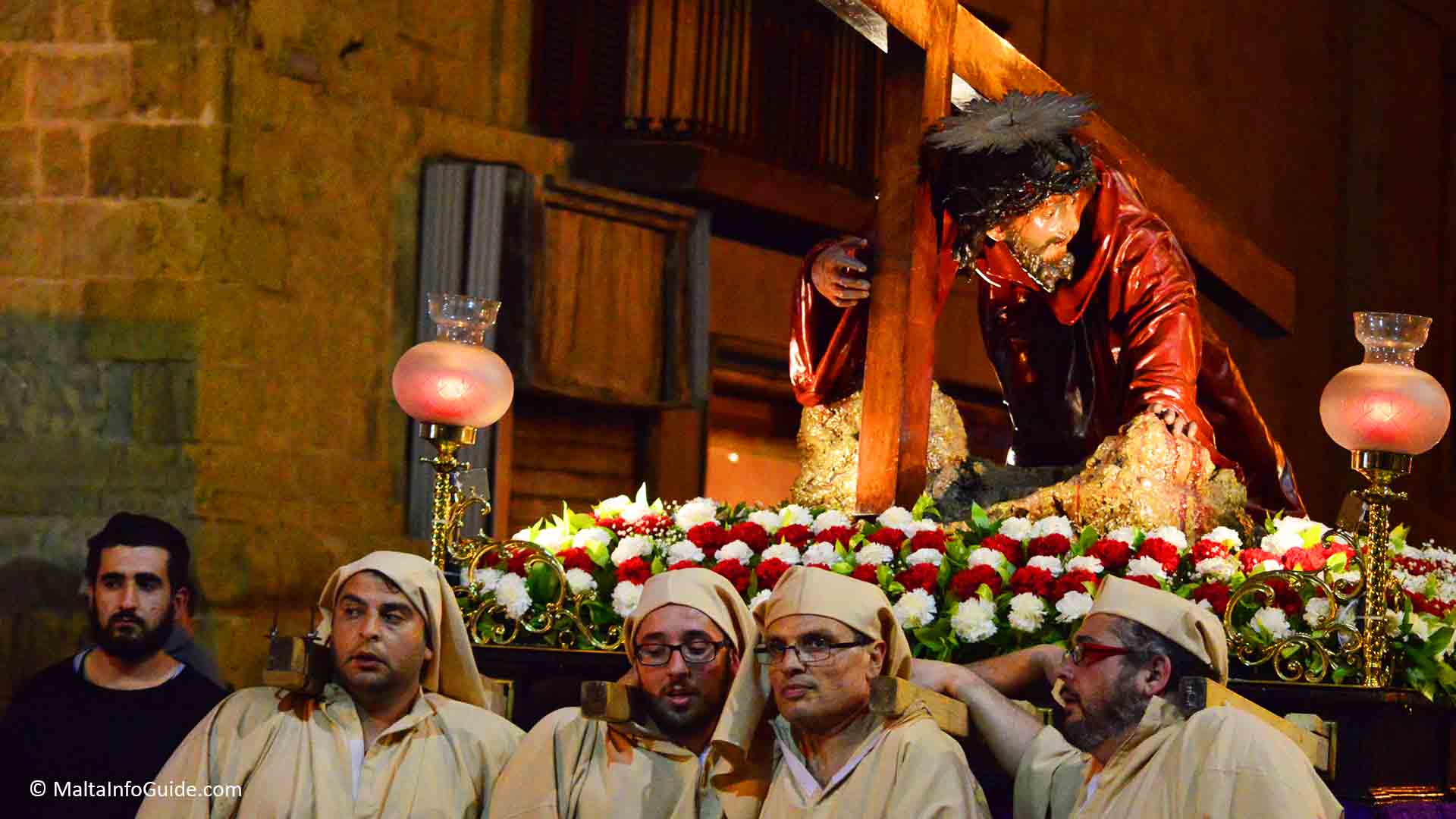 The First Processions

The idea behind the processions in Malta started from the Sicilian and Spanish influences. The first procession in Malta started in early 16th century to dress up in traditional costumes first in Rabat followed then in Valletta.
During the 18th century baptized slaves and condemned persons participated through the procession as a penance to walking during the procession dragging chains tied to their bare feet as an act of faith or penance.
Other countries hold traditional celebrations similar to ours, from Italy, Spain, Puerto Rico and the Philippine.
Questions About Good Friday
This year, Good Friday will take place on the 29th March 2024. It is always celebrated two days before Easter Sunday, the day of the resurrection of Jesus Christ.

For Christians, Good Friday is one of the most significant days of the year since it celebrates the death of Jesus Christ. On this day we remember the suffering Jesus did while being crucified on the cross.
Good Friday fasting is a way to honour Jesus' sacrifice, reflect on his suffering, and deepen one's relationship with God, reminding Christians of the significance of his crucifixion.
Processions may take between 3.5 hours to 5 hours including the exiting and entering of the procession from the church.
Yes Good Friday is always a public holiday in Malta which always falls on a Friday.
In the afternoon a procession is held in a number of villages on both islands with life-size statues carried by statue bearers and many other people dress Biblical characters.
In the morning many Maltese go around several villages to visit the sepulchre for prayer. At the same time they visit the churches adorned with the processions statues.

All the churches around the island celebrate Good Friday with an early afternoon liturgy made up of three parts: the Liturgy of the Word, the Veneration of the Cross, and the Holy Communion.

Then afterwards, a procession in a number of villages is held with life-size statues carried by statue bearers and many other people dress as Roman soldiers and Biblical characters.
They usually start between 17:00 and 17:30. There are some that are held a week before on Palm Sunday. The events usually last several hours and attract many tourists and locals.
Just as every other day of the year, the regular daily schedule would apply.
Good Friday is one of the most solemn days in the Catholic Church's liturgical calendar. It is a day of fasting, prayer, and reflection on the crucifixion of Jesus Christ.
want to rent a car in malta?
We have used Discover Cars every time we rented a car. We highly recommend them due to their good service and good prices.
Get The Best Rates On Your Car Rental Now!
need to book a hotel for your malta visit?
Using Booking.com, enter your travel dates and number of occupants then rates will be available for hotels and apartments during your visit to Malta 
Book Your Hotel In Malta on Booking.com for the Best Rates!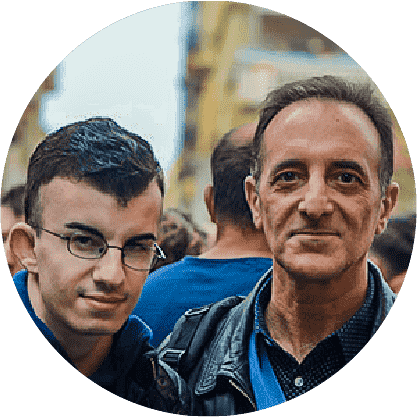 By Albert and Benjamin Magro